Anaheim breaks tourism record for fifth straight year with 24.2 million visitors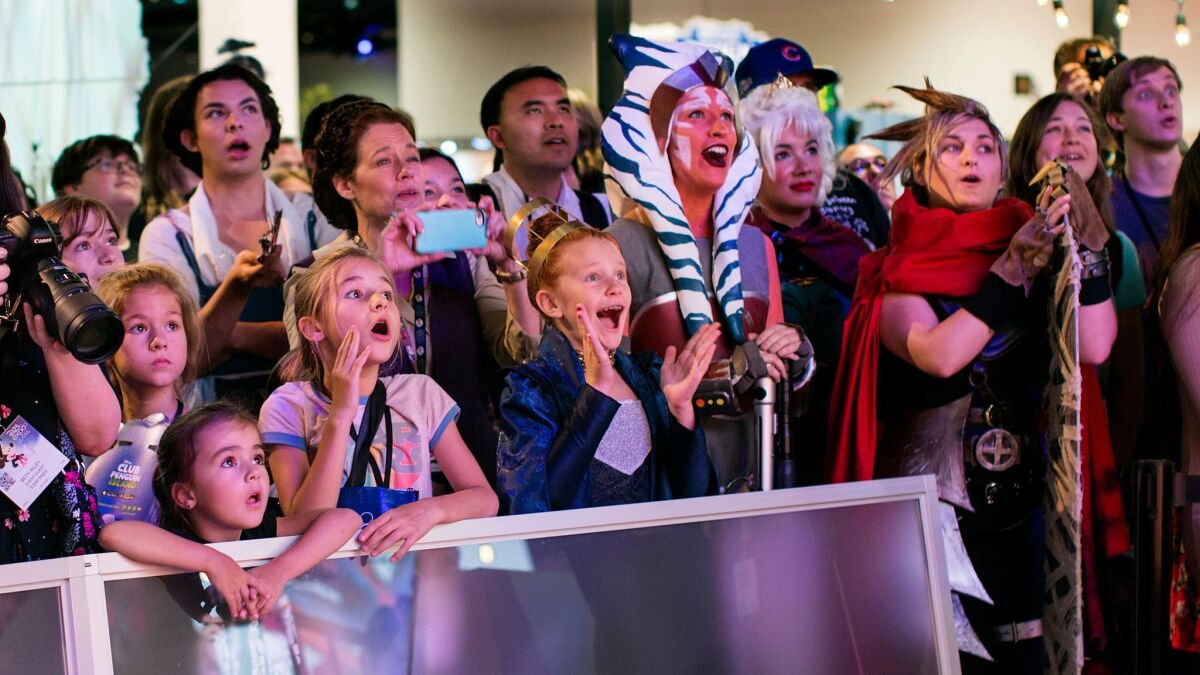 A bigger convention center and two popular theme parks helped the city of Anaheim break its tourism record — again.
Anaheim welcomed 24.2 million visitors in 2017, about a 5% increase over the 23 million visitors in the previous year and more than 30% higher than 2012, according to Visit Anaheim, a nonprofit marketing organization for the city.

For the record:
7:45 p.m. Feb. 12, 2018A previous version of this story stated an incorrect size for the recent expansion of the Anaheim Convention Center. It was expanded by 200,000 square feet.
Already home to the biggest convention center on the West Coast, Anaheim completed the seventh expansion of the facility last year, a project that helped the city break its tourism record for the fifth straight year.
Anaheim tourism officials attributed the growth partly to the 200,000-square-foot expansion of the 1.8-million-square-foot convention center and a surge in attendees to conferences held at the facility, including the North American Music Merchants show, the Natural Products Expo West, the OC Auto Show and VidCon, a conference for online video enthusiasts.
Anaheim also is home to Disneyland and California Adventure Park, two of the most popular theme parks in the country.
"Tourism means an increase in jobs, revenue for small businesses and is a key spoke in our local economy's wheel," said Jay Burress, president and chief executive officer of Visit Anaheim.
Neighboring Los Angeles County also set a record for drawing big-spending tourists in 2017, marking the seventh straight year that the previous record was broken.
The county hosted 48.3 million visitors in 2017, a 2.2% increase over the record 47.3 million tourists in 2016. But the number of international visitors to the U.S. has been dropping since 2016, plunging even further since the start of 2017.
Tourism experts blame the drop on a strong U.S. dollar, which makes visiting the U.S. more expensive, plus increased security measures to enter the country and harsh anti-immigrant rhetoric from the Trump administration.
Anaheim tourism officials said they won't know how the decline in international tourism has affected the city's visitation numbers until they get more detailed data on foreign visitors in May.
To read more about the travel and tourism industries, follow @hugomartin on Twitter.
---
Sign up for the California Politics newsletter to get exclusive analysis from our reporters.
You may occasionally receive promotional content from the Los Angeles Times.