Woman says she had Steve Wynn's child after 1970s rape, according to police report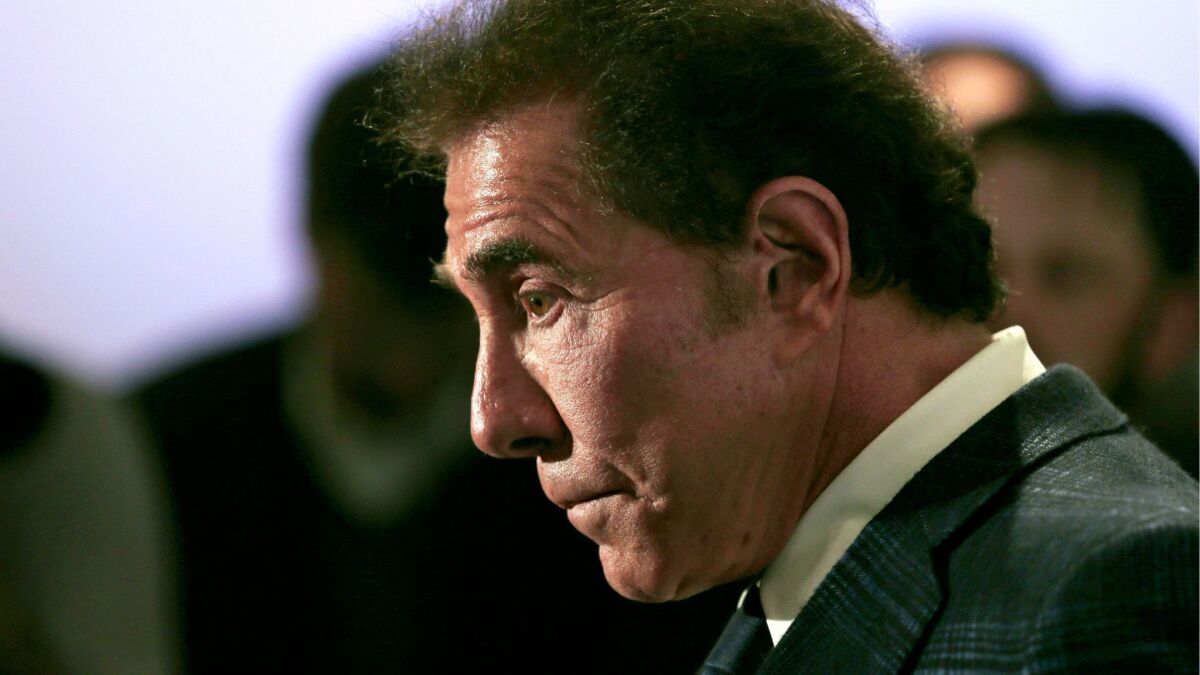 A woman told police she had a child with casino mogul Steve Wynn after he raped her, while another reported she was forced to resign from a Las Vegas job after she refused to have sex with him.
The Associated Press on Tuesday obtained copies of police reports recently filed by the two women with allegations dating to the 1970s. Police in Las Vegas revealed earlier this month that they had taken the statements after a news report in January revealed sexual misconduct allegations against the billionaire.
Wynn has vehemently denied the accusations and attributed them to a campaign led by his ex-wife, whose attorney has denied that she instigated the report by the Wall Street Journal.
One police report says a woman told officers that Wynn raped her at least three times around 1973 and 1974 at her Chicago apartment. She reported she got pregnant and gave birth to a girl in a gas station restroom.
In one instance, the woman claimed that Wynn pinned her against a refrigerator in her apartment and raped her. She said he then made a phone call, kissed her on the cheek and left. The report does not explain how Wynn allegedly entered the apartment or whether Wynn and woman knew each other. The woman said she did not give him a key.
The second police report says a woman told police she had consensual sex with Wynn "several times" while she worked as a dealer at the Golden Nugget downtown Las Vegas casino-hotel, but "felt coerced to perform the acts." She said she was forced to resign when she turned him down.
"In the [s]ummer of 1976, Wynn approached her in the back hall and wanted her to go with him," according to a report filed Jan. 29. "(S)he told him, 'no,' she was done and had someone she was seeing. She was soon after accused of stealing $40 and forced to resign."
The women's names are redacted on the reports, and police said they do not identify people who say they are victims of sex crimes.
The Las Vegas case will not be investigated because the statute of limitations in Nevada is 20 years.
Wynn resigned as chairman and CEO of Wynn Resorts on Feb. 6, less than two weeks after the Wall Street Journal reported that a number of women said he harassed or assaulted them and that one case led to a $7.5-million settlement.
Ralph Frammolino, spokesman for Wynn, did not immediately respond to an emailed request for comment.
Wynn Resorts is facing scrutiny by gambling regulators in Nevada and Massachusetts, where the company is building a roughly $2.4-billion casino just outside Boston. Regulators in Macau, the Chinese enclave where the company operates two casinos, are also inquiring about the allegations.
In addition, groups of shareholders have filed lawsuits in state court in Las Vegas accusing Wynn and the board of directors of Wynn Resorts of breaching their fiduciary duties by ignoring what the lawsuits described as a longstanding pattern of sexual abuse and harassment by the company's founder.
Sign up for the California Politics newsletter to get exclusive analysis from our reporters.
You may occasionally receive promotional content from the Los Angeles Times.