Rent prices in the Southland may be topping out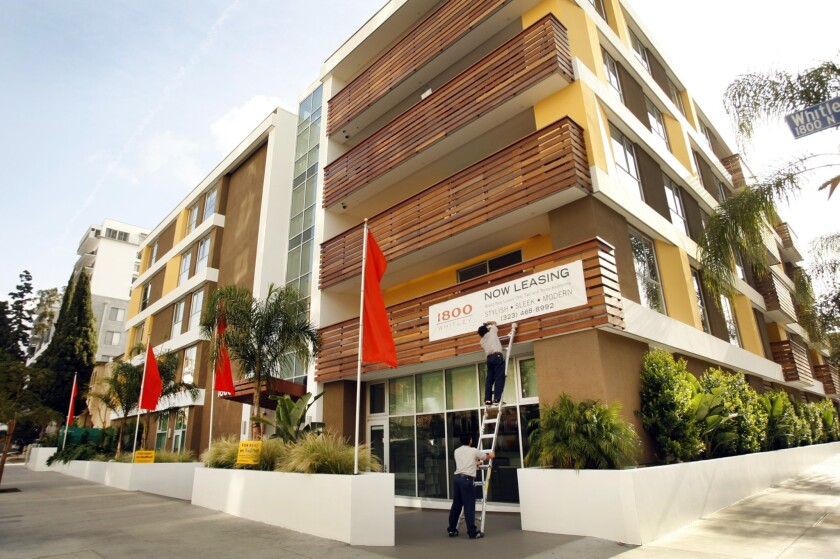 Rents in Southern California may be running out of room to climb.
The growth in apartment rents has slowed noticeably this year, according to new figures out Wednesday, the latest sign that housing is becoming too expensive for many Angelenos.
The average price for an apartment in Los Angeles County hit $1,471 in the second quarter, according to real estate data firm Reis Inc. In Orange County it reached $1,611. That's an increase in both places — up 2.5% in Los Angeles compared with last year, and 2.4% in Orange County — but slower than the national average increase of 3.3% and far behind the scalding pace set in technology hubs like the Bay Area and Seattle.
It's a sign, experts say, that without stronger job and income growth, the pricey Southland rental market may be topping out.
"It becomes a sustainability issue," said Reis senior economist Ryan Severino. "Can tenants keep pace with rent increases? For most workers, income growth isn't sufficient."
When adjusted for inflation, median household income in Southern California has fallen 11% since 2007. And while Southern California has regained most of the jobs it lost in the recession, wage growth has been weak, especially for lower-income households that are more likely to rent. Meanwhile, housing prices, both to rent and to buy, have surged over the last two years.
This dynamic is why Los Angeles often scores worse on housing affordability measures than more expensive markets such as San Francisco. There, the average rent hit $2,141 in the second quarter, but typical household incomes are nearly one-third higher.
And it is starting to put a damper on how high Southland landlords can push the price of their apartments, even with vacancy rates at a rock-bottom 3%. It's an unusual situation, said Richard Green, director of the Lusk Center for Real Estate at USC.
"We're in a place we've never been before," Green said. "The very low vacancy rate says rents should go up. The affordability problem says they can't."
There are certainly places where rents are still climbing.
Rental experts and real estate agents say the surging Silicon Beach tech scene is driving up prices in Santa Monica and Venice. Downtown Los Angeles is seeing once-unheard-of rents, such as studios starting just under $2,000 in a new building in Little Tokyo. Indeed, apartment buildings are popping up across the region at a pace not seen since before the recession, many of them geared to well-off young professionals.
But for the vast swath of renters in Los Angeles — whose median household income, according to the Census, is $40,000, less than half what homeowners earn — there's only so much money to spend on housing.
Already, 33% of Southland renters spend at least half their income on monthly rent, according to a report by Harvard University's Joint Center for Housing Studies. And if wages are flat, every little bit that rent goes up means something else has to go, said Larry Gross, executive director of the tenants advocacy group Coalition for Economic Survival.
"Where do you cut back?" Gross said. "They're running out of ways."
Twitter: @bytimlogan
---
Your guide to our clean energy future
Get our Boiling Point newsletter for the latest on the power sector, water wars and more — and what they mean for California.
You may occasionally receive promotional content from the Los Angeles Times.