Bernie Sanders to speak out for higher wages for Disneyland workers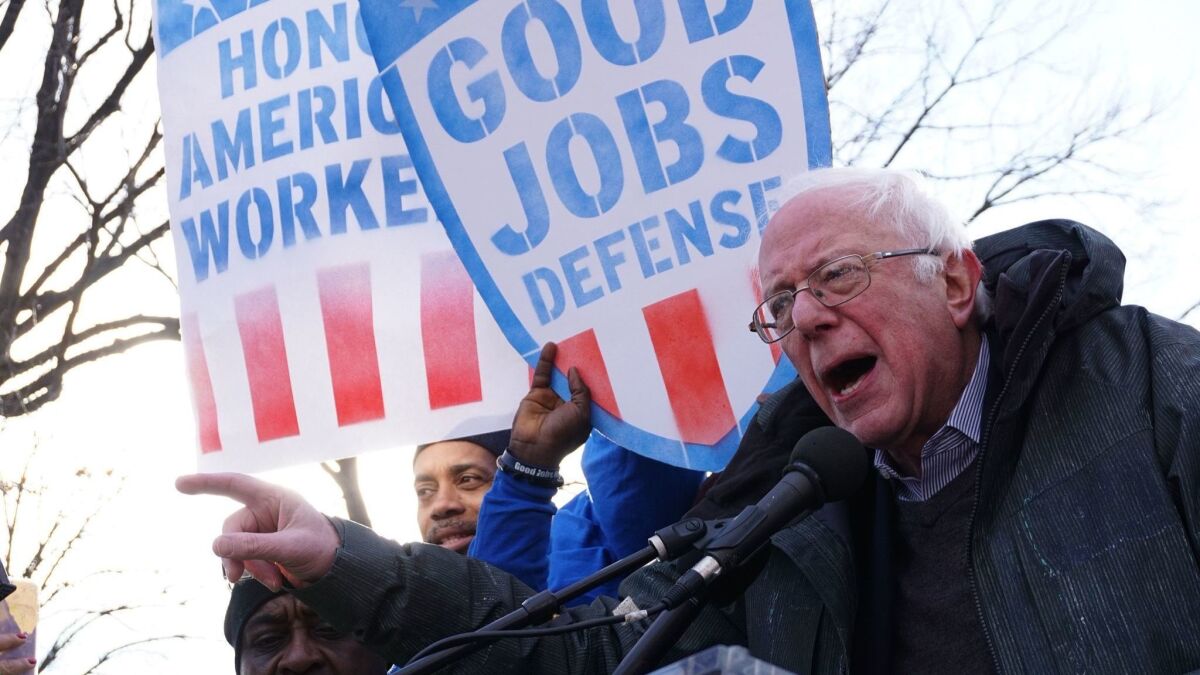 Former Democratic presidential candidate Bernie Sanders is injecting himself into the campaign by Disneyland resort workers demanding to get paid a "living wage."
The U.S. senator from Vermont will be a featured speaker at a June 2 rally in Anaheim, alongside union leaders who have been calling for higher wages for workers at Disneyland, California Adventure Park and three hotels at the resort.
A coalition of unionized resort workers filed some 20,000 signatures a month ago with the Anaheim city clerk seeking to qualify a measure for the November municipal ballot that would require large employers accepting city subsidies to pay at least $15 an hour.
To qualify for the ballot, the unions needed to collect the signatures of 10%, or 13,150, of the voters in Anaheim. The city clerk has yet to verify the signatures.
Opponents of the measure, including the Anaheim Chamber of Commerce and the Disneyland resort, say the higher salaries will increase the cost of doing business and scare off future development.
"If this measure qualifies for the ballot, it will be an important issue that will give Anaheim residents a lot to think about given its negative impact on jobs and investment in our community," said Todd Ament, chairman of a coalition of businesses in opposition to the measure.
"It's hard to see how a former Presidential candidate and U.S. Senator from Vermont contributes to that process, rather than just grandstanding on a local issue for his own purposes," Ament said in his statement.
Union leaders say the proposed measure won't harm the local economy because it targets only a subset of companies that employ at least 100 people and accept a city subsidy.
In 2016, the Anaheim City Council voted to give Walt Disney Co. a tax break of about $267 million over the next 20 years to build a luxury hotel at Disneyland. Construction of the 700-room hotel is expected to be completed in 2021.
If adopted, the measure would require that workers are paid a minimum of $15 an hour starting Jan. 1, 2019, with salaries rising $1 an hour every Jan. 1 through 2022. Once the wages reach $18 an hour, annual raises would be tied to the cost of living.
To justify the pay increase, the workers union points to a survey released in February that found 73% of Disney employees who were questioned said they don't earn enough to pay for such basic expenses as rent, food and gas.
The online survey, underwritten by the same coalition of Disneyland labor groups, also said that 11% of resort employees have been homeless or have not had a place of their own in the last two years. The survey was conducted by the Economic Roundtable, a nonprofit research organization in Los Angeles, and the Urban & Environmental Policy Institute at Occidental College.
Following the 10 a.m. rally at the River Church Arena, Sanders will head to a town hall meeting in Carson. The event is being held for Los Angeles and Long Beach warehouse workers and truck drivers who are seeking to change their status from independent contractors to employees to improve their pay and working conditions.
To read more about the travel and tourism industries, follow @hugomartin on Twitter.
---
Sign up for the California Politics newsletter to get exclusive analysis from our reporters.
You may occasionally receive promotional content from the Los Angeles Times.