The Beverly Center got a $500-million makeover. Will that do in the era of Amazon and outdoor malls?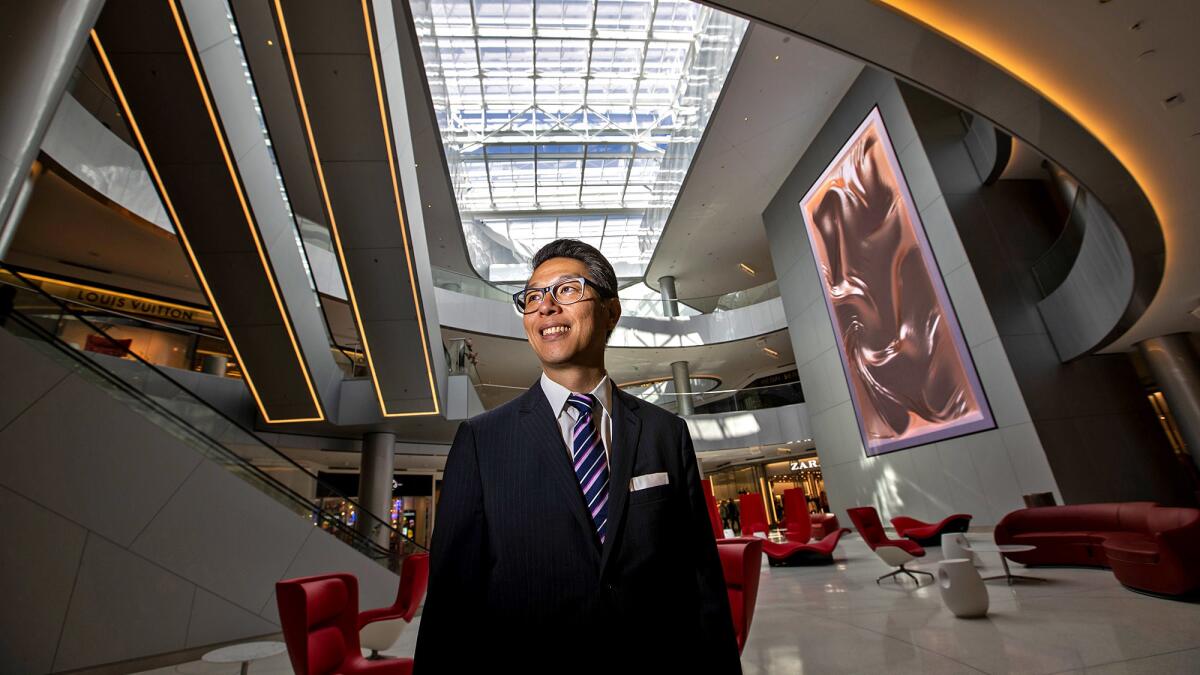 The owners of the Beverly Center in Los Angeles, one of the region's largest malls, just bet $500 million that people still want to shop indoors.
The hulking structure was the height of urban chic when it opened in 1982 in a choice location next to Beverly Hills and West Hollywood, not far from the fashionable Rodeo Drive and Melrose Avenue retail strips.
The eight-story mall boasted the first Hard Rock Cafe in the United States and was a magnet for tourists as well as prosperous locals. But tastes changed in recent years in favor of sun-drenched outdoor "lifestyle" centers that combine shopping with dining and entertainment, and many struggling traditional malls opted for makeovers.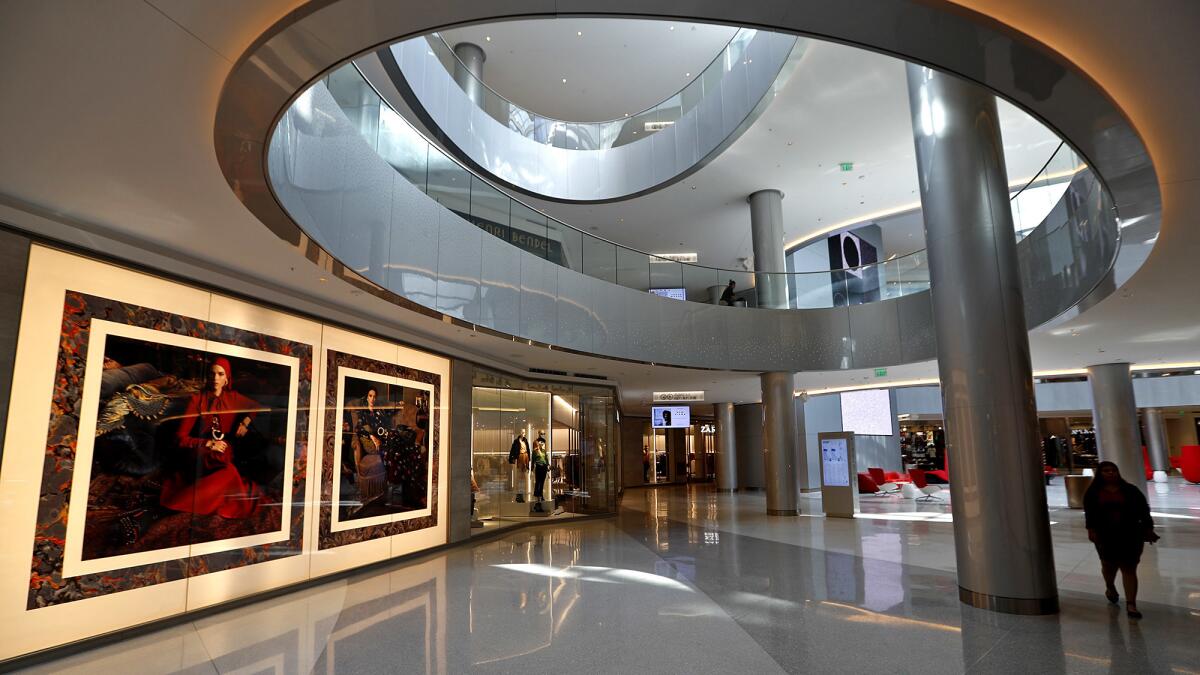 The Westside Pavilion, another indoor Los Angeles mall dating from the 1980s, is being converted to mostly office space after losing its anchor department stores in an industry shakeout intensified by the rise of online competition.
And Beverly Center's closest competitors, the pioneering Grove lifestyle center and the recently revamped Westfield Century City, take advantage of Southern California's sunshine and encourage visitors to dine, meander and kick back in the outdoors when they're not browsing in stores.
In that competitive environment, the Beverly Center was losing market share in recent years, said William S. Taubman, chief operating officer of owner Taubman Centers Inc.
So the Bloomfield Hills, Mich., company has sought to turn the center's indoorsy nature into a virtue while also jazzing up its restaurant options in an upgrade meant to pump new life into the 36-year-old mall. The owners are celebrating the completion of the years-long makeover this weekend.
"Light is critical in L.A., and we were never going to be able to compete with the lush gardens and fountains at the Grove," Taubman said. "But being the only enclosed retail center [in the area] gives us the opportunity to be with the customer all the time."
To that effect, a large portion of the roof was replaced with a 25,000-square-foot ribbon of skylights. Curvilinear air wells were bored into walkways to let the sun shine down to each level and improve sight lines.
Walls were removed on parts of floors 6 and 8 and replaced with sweeping windows overlooking the Hollywood Hills and downtown skyline. "It was so dark before," General Manager Ralph Barnes said.
To help create an enveloping atmosphere, Taubman set up temporary and permanent art installations including an LED video screen more than three stories tall in the center court of the mall.
Currently it displays mesmerizing, undulating images created by L.A. media artist Refik Anadol that sometimes appear to escape the screen's boundaries and prompt some visitors to settle into modernistic custom furniture arrayed below to watch.
Inside is a new emphasis on food, which is unsurprising. Mall food in general has traveled light years since the Beverly Center opened with a modest food court and the burgers and wings served with pulsing music at Hard Rock Cafe.
Westfield Century City recently launched popular Italian food marketplace Eataly, and the Grove opened French pastry chef Dominique Ansel's first full-service restaurant.
Taubman is opening nine street-level restaurants, including upmarket Italian seafood restaurant Cal Mare and Farmhouse, a New American-style eatery featuring seasonal dishes. Other restaurants in the mall such as Eggslut and Easy's offer fast-casual fare, and another big sit-down restaurant by three-Michelin-starred San Francisco chef Joshua Skenes is coming next year.
"We had the worst food in the market," Taubman said.
Greg Gotthardt, an analyst at FTI Consulting, said Taubman had no choice but to upgrade the culinary offerings.
"Having strong food is key to bringing people to a location and giving them something to do besides shopping once they get there," he said. "It's just a key piece of making sure that the mall experience is interesting to people."
The Beverly Center has been a "highly productive" mall for publicly traded Taubman since it opened, but the makeover was "well overdue," said D.J. Busch, a retail analyst at Green Street Advisors, noting the recent upgrade of Westfield Century City and additional top-level competition nearby.
"If Taubman wanted to compete with Century City, the Grove and other assets in the market, a major renovation of [their] high-quality center that just got a little tired over time was necessary," he said.
However, upgrades costing hundreds of millions of dollars are no guarantee of success for malls in today's retail environment.
Mall anchors Macy's Inc. and J.C. Penney Co. have said they would close hundreds of stores in the face of falling sales, and Credit Suisse predicted that 20% to 25% of the nation's shopping malls will close in the next five years.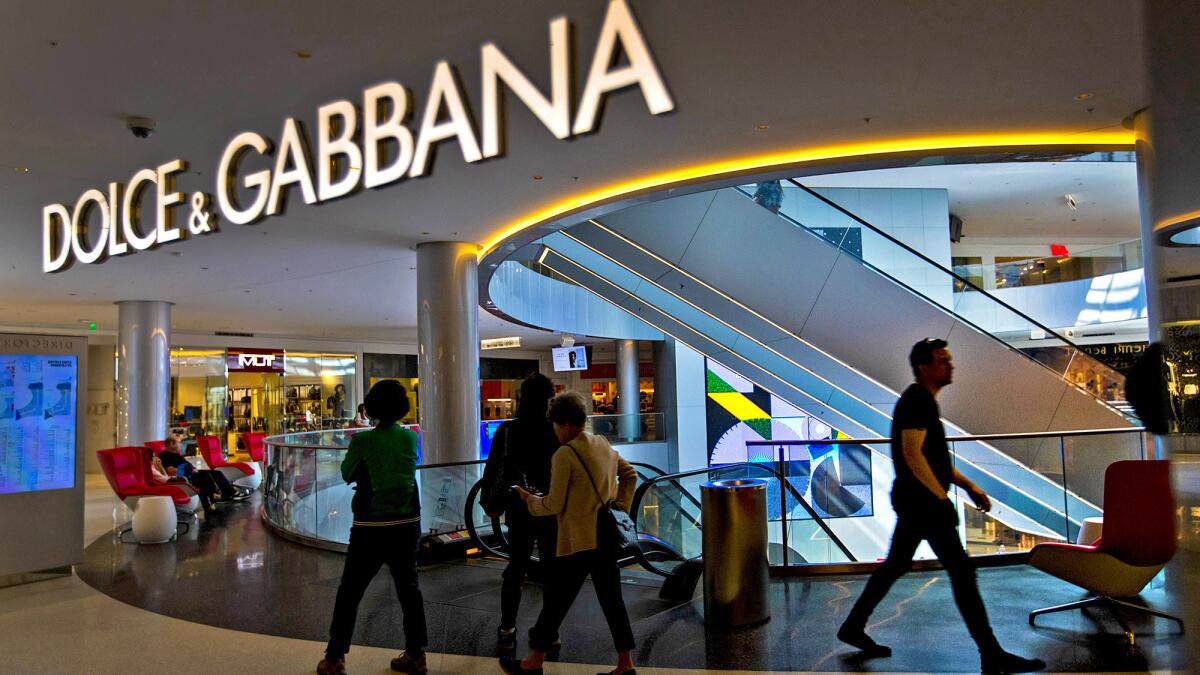 Westfield Corp. completed its $1-billion renovation of its Century City mall last year, then announced a few months later that the company would be sold to French commercial real estate giant Unibail-Rodamco. Some analysts took that as a signal the controlling Lowy family had decided the industry's best days were behind it given the strength of Amazon and other online competition.
Redeveloping a dated mall on a tight block in the middle of a city is hard, expensive and potentially risky, Busch said. Taubman could have reasonably sold it but instead plunged ahead with the expensive upgrade.
"Will they get a suitable return on their investment capital? It remains to be seen," he said, "but they have certainly changed the trajectory of the asset."
In a conference call Tuesday to discuss quarterly earnings for the real estate investment trust, which owns some two dozen malls worldwide, Taubman boasted that the renovation has already reaped results.
"Sales per square foot were up double digits this quarter and remain on track to reach historic peak levels this year," the chief operating officer told analysts. "We expect a substantial growth to continue."
Other structural changes were made at the shopping center.
Like other indoor urban malls of its era, the Beverly Center was also tightly focused on customers arriving by car, turning a blank face to the streets surrounding its oddly shaped block: 3rd Street and Beverly, La Cienega and San Vicente boulevards.
"We were like a bunker," Taubman said, "and we didn't connect to 3rd Street or the surrounding community."
As part of the makeover, the owners punched an entrance into 3rd Street that has a wide drop-off station, optional valet parking and Room Service, a members' club catering to stylists who assemble wardrobes for film and television shoots or wealthy clients.
Outside, the once-beige center was painted white and clad in a perforated steel facade. Exterior lighting changes with the seasons and coordinates with public events, such as bathing the building in rainbow colors during the L.A. Pride Festival.
The Beverly Center now has a luxury wing that is second in the state only to Rodeo Drive, Barnes said, with its collection of stores such as Tiffany, Versace, Balenciaga and Gucci selling their top-end merchandise.
Among the mall customers who frequent the most posh stores are Chinese tourists who like to mix purchases of the fancy brands with fast-fashion from stores such as Zara and high-end streetwear from Traffic Los Angeles, Barnes said.
Traffic has been in the Beverly Center since 1984 and recently underwent a makeover of its own that includes floor-to-ceiling suede leather curtains around dressing rooms and corrugated leather covering the walls. Co-owner Michael Moldovan said he thinks the Beverly Center attracts people on missions to buy instead of hanging out.
"People come here to shop," he said, "not stroll with babies."
Twitter: @rogervincent