Black Friday mayhem may be a thing of the past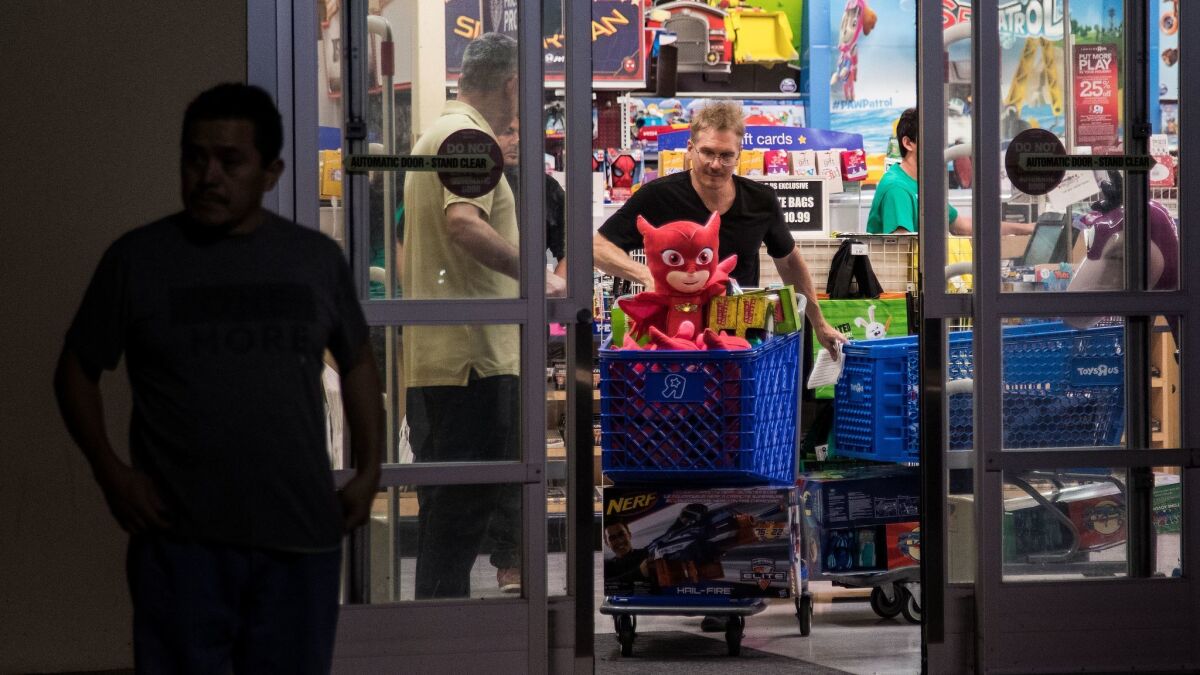 Chae Woong Bae and his girlfriend had steeled themselves to brave the Black Friday shopping chaos they'd watched on TV back home in South Korea.
But when the pair arrived at 4:30 a.m. Friday at a Target in North Hollywood for their first Black Friday outing, they were the only ones in line. No one else joined the queue for an hour, ahead of the store's opening at 6 a.m.

For the record:
3:15 p.m. Nov. 24, 2017An earlier version of this story misspelled the name of shopper Chae Woong Bae. His name is not Chae Woong Bag.
"On the TV, we see people fighting each other, so at first, we were a little scared to come today," said a disappointed Bae, 22. "I didn't expect it to be so quiet."
Once known for frenzied crowds that jostled for deals in packed stores, Black Friday in Southern California has become a more subdued scene. The rise of e-commerce has made savings available to anyone, anywhere — at any time.
To compete with online sellers, and each other, brick-and-mortar retailers have pushed discounts days and even weeks before the day once considered the critical barometer of the holiday shopping season.
The result: Consumers said stores and malls were less packed and more relaxed. It was a welcome change for some.
"If I had walked in and there was a massive crowd, I would have walked right out," said Amanda Solomon, 25, as she shopped with her mother at the Macy's at Westfield Century City mall.
"It wouldn't be worth the savings," her mother, Irene Castaldo, 63, chimed in.
National retail chains that open on Thanksgiving have largely moved doorbuster deals to Thursday night, making Black Friday a calmer shopping experience.
To get the same type of crowd "you've got to have the same type of early-bird specials on Friday as Thursday," said Britt Beemer, chairman and founder of America's Research Group, who has tracked holiday sales trends for 30 years. "And nobody does that."
Though stores may not seem as busy on Black Friday as in years past, analysts expect holiday retail sales to jump in 2017, a result of higher consumer confidence and gains in employment and disposable income.
The National Retail Federation predicts that retail sales in November and December could total between $678.75 billion and $682 billion, up from $655.8 billion last year.
Market research firm IHS Markit forecasts holiday retail sales rising 4.2% compared to last year — the strongest growth rate since 2014.
Many Americans will also get paid on the first Friday of December, according to the U.S. payroll tracker from IHS Markit, helping spread holiday spending across additional weekends.
"It's calmer, it's a little more organized and a little more uniform," said Chris Christopher, executive director of U.S. and global economics at IHS Markit. "Black Friday is still important, but it's not what it used to be."
Employees stocking shelves at a Toys R Us in Ontario early Friday morning outnumbered shoppers, though business picked up around 7:30 a.m. Workers said there had been large crowds after the toy retailer opened its doors at 5 p.m. the night before.
Bigger in-store crowds aren't necessarily better, said Danny Marin, a West Covina resident who started shopping at 4 a.m. on Friday. While he saw some crowds at the stores he visited — Wal-Mart, Kohl's, Big 5 Sporting Goods, Dick's Sporting Goods and Best Buy — it wasn't as hectic as he remembered.
"It's more fun like this because you're able to shop," Marin said.
Paula Rosenblum, co-founder and managing partner at Retail Systems Research, said the Black Friday shift away from the "doorbuster frenzy" means shoppers are looking for more than just discounts.
"What's going to drive people into stores is really an experience," she said.
Some stores are already trying to capitalize on that — the Coach store at the Citadel Outlets in Commerce offered 70% off the entire store for Thanksgiving and Black Friday shoppers, said Chelsea Hartnett, spokeswoman for the outlets.
"They know that they're competing with online sales, so they're doing what they can to make sure the in-store experience is where the shopper wants to be," she said.
This year, more than 164 million people are expected to shop during Thanksgiving weekend and into Cyber Monday, according to a survey released last week by the National Retail Federation. Of those people, 70%, or 115 million, said they were planning to shop on Black Friday.
Many are making purchases online. As of 7 a.m., consumers had already spent $640 million online on Black Friday, an 18.4% increase compared with last year, according to Adobe Analytics.
But brick-and-mortar stores still offer one perk an online storefront can't: instant gratification. Kenneth Saengkeo, 16, and his family drove nine hours from Orem, Utah, to California for the holidays. On Thursday night, they ended up at the Citadel Outlets.
Kenneth was nearly first in a line that at one point totaled more than 800 outside the Nike store. Seeking jackets, hoodies and running shoes, the teen staked out his position because he was "too impatient" to wait for his items to arrive in the mail.
Even frequent online shoppers ventured out to see the fuss.
Diego Gasca, 25, headed to the mall with his partner, Evan Garland, to go Black Friday shopping for the first time. The West Hollywood couple typically order from Amazon.com, but chose to visit the Citadel Outlets on Thursday night and Westfield Century City on Friday morning for fun.
Breaking their online shopping habits wasn't easy. With every potential purchase, Gasca and Garland checked prices online to make sure they were getting the best deal.
"We had some pants at Macy's we almost bought," said Gasca, a dance instructor. "Then we found them online for a lot cheaper."
Times staff writer Michael Livingston contributed to this report.
Twitter: @smasunaga | @emsimani | @irisslee | @jaclyncosgrove
---
UPDATES:
3:10 p.m.: This article was updated with comments from analysts and shoppers in Southern California.
10:40 a.m.: This article was updated with comment from shoppers at a Kohl's in Ontario.
This article was originally published at 7:55 a.m.
---
Sign up for the California Politics newsletter to get exclusive analysis from our reporters.
You may occasionally receive promotional content from the Los Angeles Times.