How Staples Center and the Kings learned to make ice from thin air
Executives from Staples Center and the Los Angeles Kings were willing to hear a start-up's pitch about slicing energy costs and improving the quality of the arena's ice sheet, which has never enjoyed a great reputation among professional hockey players.
But when they heard they could do all that and more using a machine that pulls water straight from the air, their first reaction was to laugh out loud.

For the record:
11:40 a.m. July 10, 2018This article and the accompanying video incorrectly spelled the last name of Lee Zeidman, president of Staples Center, Microsoft Theater and L.A. Live, as Seidman.
"It sounded crazy, just too good to be true," Kelly Cheeseman, chief operating officer for the Los Angeles Kings and AEG Sports, said of the idea floated at the meeting two years ago. Cheeseman was sold after a test at the Kings training facility brought "great reactions from the players right away."
Now, the El Segundo company behind the machine, BluEco Technology Group, has teamed up with the Kings and Staples Center owner-operator AEG Worldwide to sell the devices to hockey arenas and other big facilities.
More important, some experts say this type of technology may address some of the world's worsening water-scarcity problems.
BluEco Technology Group is so new that it doesn't yet have a headquarters building and employs only four people. What it does have are machines, each the size of two refrigerators strapped together, that can pull large amounts of water from indoor air.
The water is so pure it freezes clear, hard and dense — good enough to rival the best ice in the National Hockey League, said Staples Center and Kings executives, who began testing the devices in time for the Kings' most recent season.
In addition to producing the kind of fast ice that hockey players love, the BluEco machines reduce reliance on city water supplies, clean the arena's air and create a more comfortable environment for fans, the executives said. The system helps Staples Center's air conditioning system run more efficiently and lowers the humidity inside so that the chillers don't need to run as hard to keep the ice frozen.
"I was intrigued by helping the quality of the ice, but I was most intrigued by the ability to save on energy costs," said Lee Seidman, president of Staples Center, Microsoft Theater and L.A. Live. "We spend in the low seven figures on our utility bills here."
Staples Center will be able to reduce energy consumption by more than 8.2 million kilowatt-hours a year and water consumption by more that 500,000 gallons a year, he estimated.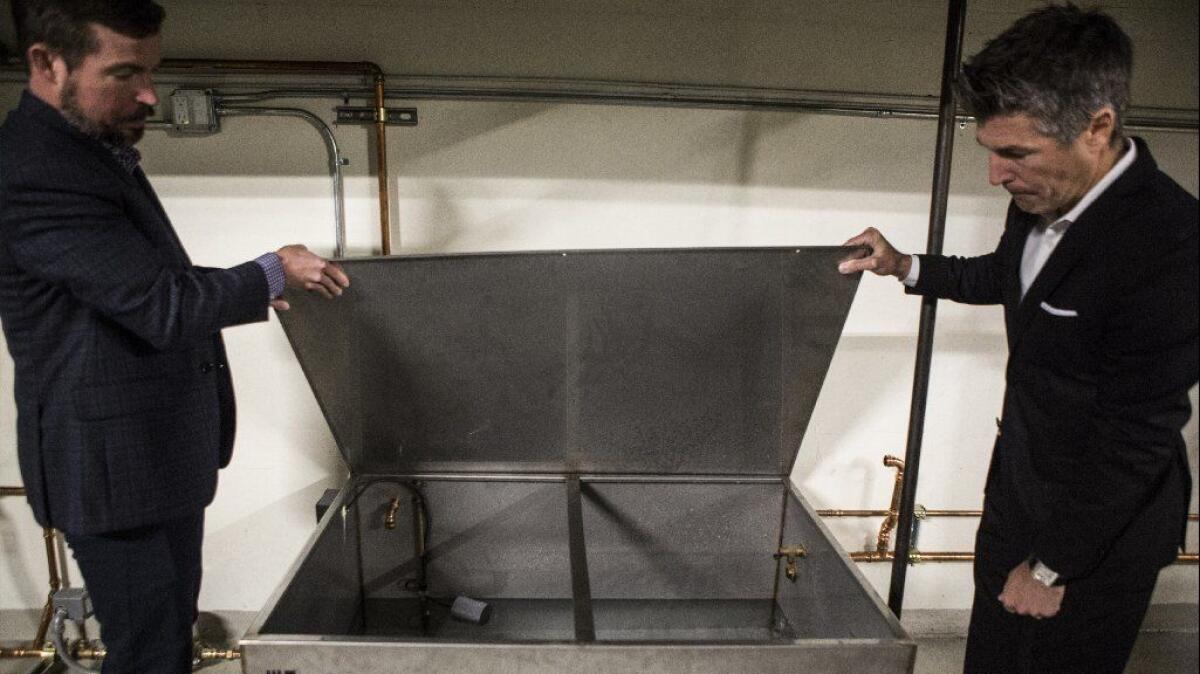 BluEco President Scott Morris has hopes of selling his machines initially to hockey arenas but notes that the technology is important for other reasons.
Access to fresh water is one of the world's most pressing problems. More than 5 billion people could suffer water shortages by 2050 because of climate change, increased demand and polluted supplies, according to a United Nations report.
Closer to home, California had a severe drought from 2011 to 2017. California reservoirs remain at levels far below historical averages. That, experts say, underscores the need to produce more drinking water to supplement stressed municipal supplies.
"We know we can create water in any atmosphere, any place in the world. And we know that the water that we would produce would be the highest quality, the purest form, and can be utilized for many, many things," Morris said.
"Drinking was really what we were focused on, and we will always continue to focus on making that pure water as efficiently and effectively as possible."
USC professor Kelly Sanders, an expert in energy, water management and power generation, said machines such as BluEco's have potential.
"I wouldn't view them as a silver bullet solution, by any means, for augmenting large fractions of a region's water supply," he said. "But they might prove valuable, especially in times of crisis, to supplement drinking water needs."
Scientist Peter Gleick, co-founder and president emeritus of the Pacific Institute in Oakland, said such devices "could work in situations where expense is not an issue or where there are no alternatives. Solving the world's water problem is not rocket science. It's harder than rocket science."
Ice hockey arenas were considered a best initial use for the technology because the machines could create enough savings in other areas, such as reduced electricity costs, to offset the expense.
Seidman said other uses could include generating water for landscaping.
Morris' company uses a proprietary technology called "liquid-crystalline turbex."
"What we are doing is stripping the moisture out of the air," Morris said. "We strip the particulates out, which makes it great for the fans, great for the customers."
Morris told the Kings and AEG about the machines in 2016 and since then has worked to make them "modular and plug and play." Now, there are 20 of the machines at Staples Center that are capable of generating about 500 gallons of water a day. The machines cost $125,000 to $150,000 each.
Morris has years of experience in pulling water from the air.
For about a decade, he served as president of Aqua Sciences Inc., which used a slightly different technology. That Florida company specialized in disaster relief and military support, producing high-quality drinking water in trouble spots such as Haiti after its 2010 earthquake and Puerto Rico after last year's hurricane.
BluEco represents the first commercial venture for the technology, which had to be tweaked to work with indoor air. Ten other National Hockey League teams have said that they are interested in assessing how well the technology might work in their venues, Morris said.
"Producing large quantities of high-quality water is the core of our business." he said. "As long as we do that, the benefits for the players and the teams to the general managers to the arena owners and to the bottom line is tremendous."
The BluEco-Staples Center venture is a good example of sports venues doing more than merely consuming vast amounts of energy, said Justin Zeulner, executive director of Green Sports Alliance, which has nearly 600 organizations and fans representing 15 sports leagues in 14 countries.
"This is a better way to play," he said, "that has a lot of unintended and positive consequences."