Boeing beats Lockheed for $9.2-billion Air Force trainer program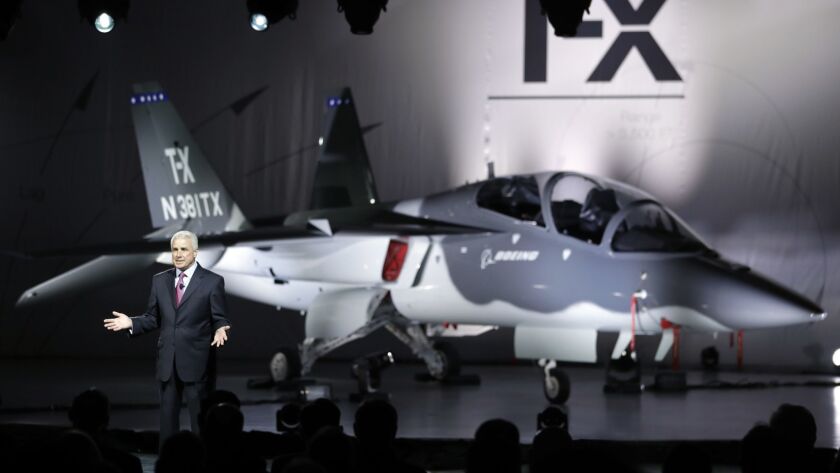 Bloomberg
Boeing Co. defeated Lockheed Martin Corp. to win its third prize in a recent flurry of defense contracts, snaring a U.S. Air Force contest valued at as much as $9.2 billion to build training jets to hone the flying skills of future aviators.
The 351 to 475 training aircraft and 120 ground-based training systems would be produced at Boeing's St. Louis plant through 2034, the Air Force is planning to announce on Thursday. The service is initially issuing a contract for $813 million, including engineering and manufacturing development.
With the win, Boeing swept the trio of high-profile contracts awarded before the Sept. 30 close of the federal fiscal year. The aerospace giant also scored a potential $13-billion franchise to build MQ-25 carrier-based refueling drones for the U.S. Navy, and with Leonardo SpA jointly won a $2.38-billion contest to replace a fleet of Huey helicopters guarding the Air Force's intercontinental ballistic missile sites.
The victories end a string of disappointments for Boeing, from the 2015 stealth-bomber competition that went to Northrop Grumman Corp., and the joint strike fighter contest won by Lockheed's F-35 in 2001.
Boeing's stock price rose less than 1% to $367.39 at the close in New York. Lockheed also advanced less than 1%, to $346.05.
The winning streak provides a boost to Boeing's Defense and Space division, which is poised to rebound after shrinking for most of the last decade. Boeing's military arm has been eclipsed by the rapid growth of its commercial-jet unit this decade. The defense division accounted for 23% of sales last year, down from 50% in 2010.
The T-X Trainer program will replace the Air Force's half-century-old fleet of T-38 supersonic jets that have helped prepare fighter pilots for combat since John F. Kennedy was president.
Boeing may go on to claim hundreds of overseas orders for planes and spare parts stretching over decades as the Pentagon program spurs other countries to upgrade their trainer fleets. The Teal Group of Fairfax, Va., forecasts a global market for 2,441 turbofan-powered trainers valued at $30.3 billion over the next decade, according to a December research report.
The contest pitted an all-new aircraft and flight simulators created by Boeing and Stockholm-based Saab AB against entries based on existing models from a Lockheed-Korean Aerospace Industries partnership and from Rome-based Leonardo, bidding through its DRS subsidiary. Northrop Grumman Corp., Textron Inc., Sierra Nevada Corp. and Raytheon Co. were among the companies that dropped out of the competition.
Military aircraft contests have been few and far between in an era of budget constraints, so even contracts for less-sophisticated jets such as trainers are highly prized as prime defense contractors like Boeing work to keep airplane designers sharp and factories humming.
With the trainer contract, Boeing's St. Louis manufacturing base secures work that preserves jobs after production eventually ends for the F-15 Eagle and F/A-18 Super Hornet. The Chicago-based planemaker is working to secure new orders to preserve the Missouri industrial base and engineering acumen gained with the 1997 acquisition of McDonnell Douglas Corp.
The Boeing jet melds a twin tail reminiscent of the Super Hornet with a General Electric Co. engine and systems honed through Saab's Gripen jets. The real innovation comes from the advanced manufacturing techniques developed in the company's secretive "Black Diamond" initiative that sought to modernize the way Boeing manufactures military and commercial jets.
The advances used on the T-X Trainer jets range from using 3-D printing for the plane's ductwork to a canopy developed with injection molding that shaves a six-week process down to eight days, executives told reporters after the Boeing model was unveiled in 2016.
Capaccio and Johnsson write for Bloomberg.
---
Your guide to our new economic reality.
Get our free business newsletter for insights and tips for getting by.
You may occasionally receive promotional content from the Los Angeles Times.