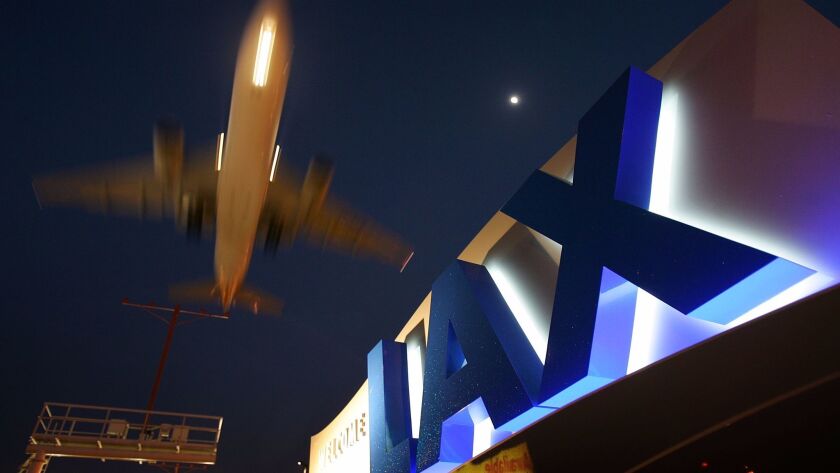 California's travel industry grew in 2016 for the seventh consecutive year, according to Visit California, the state's nonprofit tourism agency.
Preliminary findings in the group's annual report suggest that travel spending in the state was $126.3 billion, up about 3% from 2015. The industry supported more than 1 million jobs, up 3.4% from last year.
Travel-generated state and local tax revenue totaled $10.3 billion in 2016, an increase of 3.8% over the previous year. And the industry now amounts to about 2.5% of the state's gross domestic product.
This growth was influenced by the strengthening economy, said industry consultant Dean Runyan, an author of the report released Thursday. "California is a very popular destination, both nationally and internationally, and consumers in the U.S. and elsewhere have done a little bit better this last year," he said.
"The whole tourism sector really follows the growth of the economy," said Carl Winston, director of the school of hospitality and tourism management at San Diego State. "People are feeling a little better; they're spending a little more money."
Los Angeles County also reported a boost in travel spending.
In 2016, the 47.3 million visitors to L.A. County spent an all-time high of $21.9 billion in the region, a 6.3% increase in spending compared to 2015, the Los Angeles Tourism and Convention Board announced Tuesday.
L.A. County's average hotel occupancy rate reached 81.3% last year, surpassing 80% for the first time in county history, with a record 29.2 million hotel room nights sold countywide, the tourism board said.
"These remarkable achievements mark a sixth straight year of industry milestones, reaffirming tourism as a powerful driver of economic growth for Los Angeles," said Ernest Wooden Jr., chief executive of the Los Angeles Tourism and Convention Board.
According to Caroline Beteta, Visit California's president and chief executive, the state is the No. 1 tourism destination in the country, with an industry 2.5 times larger than Florida's. Out of the 268 million tourists in California last year, roughly 75% were Californians, 18% were from other states and 7% were from outside the country.
But Trump administration ​​​​policies — including a controversial ban on travel from six majority-Muslim countries that a federal judge has blocked — may have a negative impact on foreigners visiting California in 2017.
"There's a lot of anti-Trump sentiment" overseas, Winston said. "The travel ban … coupled with the fact that the dollar got pretty strong under Trump — it makes people less inclined to come here."
Beteta called it a "fluid situation," suggesting safety and the price of fuel also may affect travel to California.
Runyan thinks Trump's executive order will have a minimal effect on the state's tourism.
"The visitation from the affected countries in the Middle East as a portion of all visitation to California is really not very large," Runyan said. "We'll have to wait probably till next year to see what the effect is."
Twitter: @makedaeaster
---
UPDATES:
May 9, 11:30 a.m.: This article was updated with tourism statistics from Los Angeles County.
This article was originally published at 5:55 p.m. May 4.
---