Long Beach cargo logistics firm to pay $3.5 million in back wages and benefits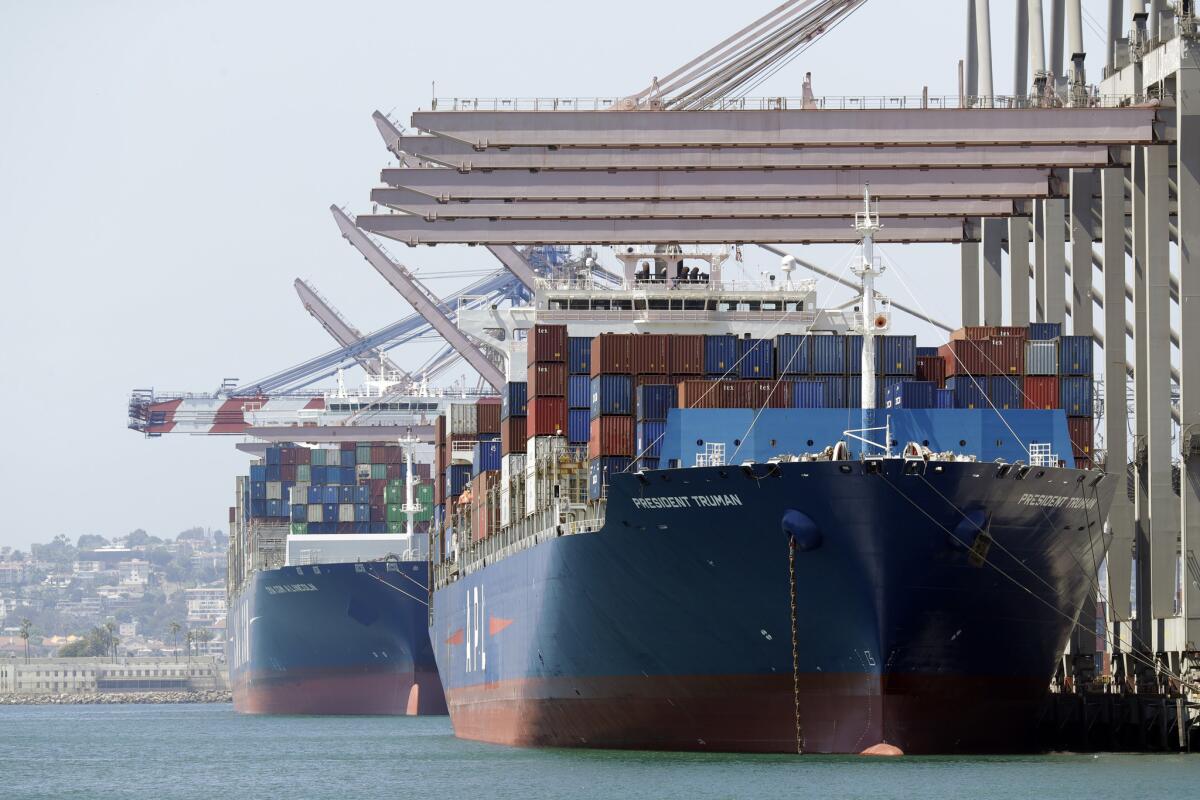 The U.S. Department of Labor said logistics firm California Cartage Co. will pay $3.5 million to nearly 1,500 warehouse workers, after investigators found the Long Beach company failed to pay wages and benefits required under federal law.
The penalty, announced last week, covers employees who from November 2014 to November 2016 worked at a customs station near the ports of Los Angeles and Long Beach, the Labor Department said. California Cartage received federal dollars to move goods at the Carson location so U.S. Customs and Border Protection could inspect the shipments, an arrangement that subjected the company to federal pay and benefit requirements.
In a news release, the Labor Department also said the company failed to ensure that its subcontractors followed those requirements.
"No contractor receiving federal funds to provide services to the government should gain an economic advantage by paying workers below the wages and fringe benefits required by applicable law," Kimchi Bui, the department's district director for the wage and hour division, said in a statement.
A department spokesman said California Cartage reached an "internal settlement agreement" with the agency over the investigation and declined to release it without a Freedom of Information Act request.
California Cartage, which neither admitted nor denied wrongdoing as part of the agreement, referred questions to NFI Industries, a New Jersey-based company, which acquired California Cartage and its affiliated companies in 2017.
In a statement, NFI Industries noted the alleged violations occurred before it acquired California Cartage and its affiliates. NFI said all employees at the customs station are "now paid the required prevailing wage and welfare rates in compliance with applicable laws."
"NFI and its Cal Cartage family of companies remain committed to creating a best-in-class working environment for all of their employees throughout the United States and Canada," the statement said.
Wage theft is a pressing issue nationwide, particularly in the logistics industry where many truckers argue they are misclassified as independent contractors. Since 2011, the California labor commissioner's office has awarded port truck drivers more than $46 million in cases where they contended they were misclassified as contractors.
The Labor Department said its allegations covered warehouse workers, not truck drivers. California Cartage provides both warehouse and trucking services and has been scrutinized for its labor practices before.
In January, Los Angeles City Atty. Mike Feuer sued three of its affiliate trucking companies, alleging the firms exploited their drivers by misclassifying them as independent contractors, an arrangement that sometimes resulted in take-home pay of only pennies.
And in May, the Los Angeles City Council rejected a proposed agreement for California Cartage to continue using a federal trade program at a Wilmington warehouse, citing accusations of labor law violations. At the time, California Cartage called the council's decision "very disappointing" and "based on misinformation and unsubstantiated claims."
Follow me @khouriandrew on Twitter
---
UPDATES:
4:40 p.m.: This article was updated to include comment from NFI Industries.
This article was originally published at 2:40 p.m.