California gains just 5,500 jobs in May; unemployment stays at record-low 4.2%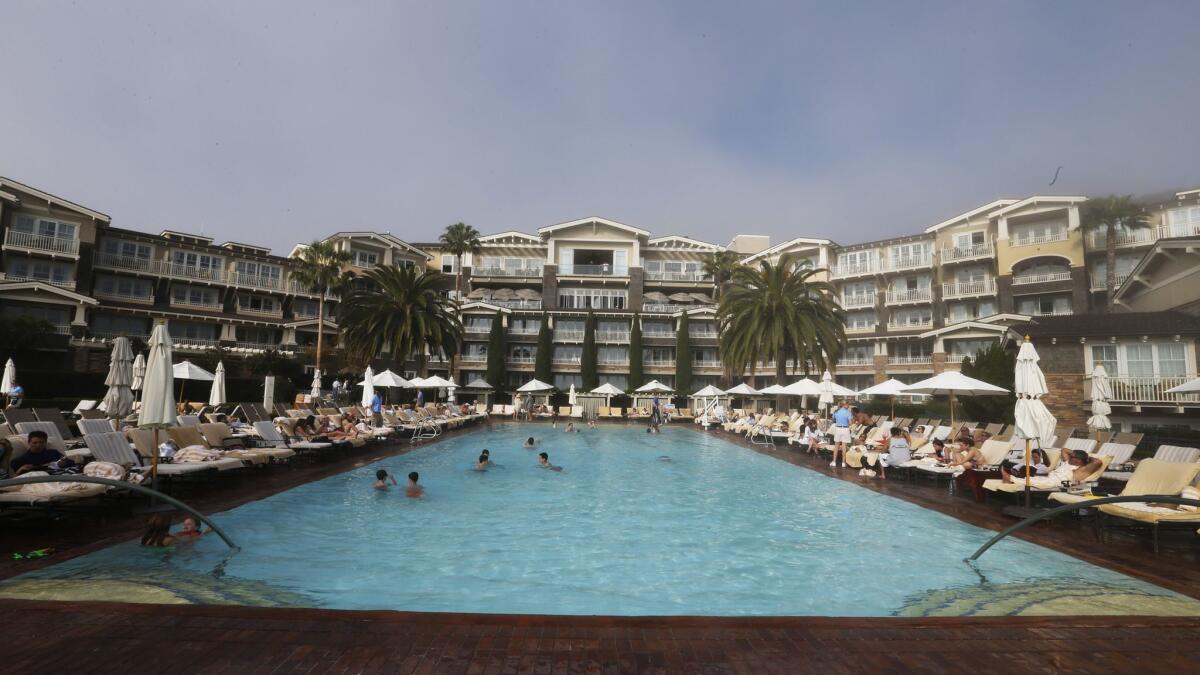 The California economy cooled a bit in May as employers added just 5,500 net jobs. The unemployment rate held steady at a record low of 4.2%, according to data released Friday by the state's Employment Development Department.
The numbers reflect a slowdown from April, when the state added 25,600 jobs, according to Friday's downward revision. Experts cautioned not to read too much into one month's numbers and said the job market appears strong.
"The economy," said Robert Kleinhenz, an economist with Beacon Economics, "is on cruise speed."
Last month, employers added jobs in four of California's 11 industry sectors.
The leisure and hospitality industry posted the biggest gain, with 7,900 jobs. Professional and business services added 2,500, and the information sector — which includes tech companies and Hollywood studios — added 2,200. The "other services" category, which includes businesses such as equipment repair shops and nail salons, edged up by 300 jobs.
Other industry sectors shrank.
The construction industry cut 2,900 jobs. Employers in the trade, transportation and utilities sector trimmed payrolls by 1,800. Education and health services and the government also saw declines.
Lynn Reaser, chief economist of the Fermanian Business & Economic Institute at Point Loma Nazarene University, said the slowdown in May doesn't change her conclusion that the economy is strong.
She noted that the state outperformed the nation last month: California payrolls grew 1.8% compared with the same month last year; nationwide, payrolls grew 1.6%.
"Some of this more tepid performance reflects the ebbs and flows of hiring from month to month," Reaser said in an email. She expects consumer spending to be solid this summer, supported by the tax cuts, job gains and rising wages.
Average hourly earnings in California were $30.52 in May, up 2.7% from a year earlier, according to data from the national Bureau of Labor Statistics. That's a pickup from April's 2.4% gain, but still far below what many workers would like to see. Consumer price inflation has been running around 2%.
There are challenges ahead, particularly for the state and local trade sector, Reaser said. On Friday, President Trump announced the U.S. would proceed with tariffs on about $50 billion worth of Chinese goods, drawing promises of retaliation from China. Separately, the administration is readying rules to curb Chinese investment.
If a trade war erupts and leads to a slowdown in goods movement, it would hurt the thousands of workers who move goods from ships at the ports of Los Angeles and Long Beach to destinations across the state and beyond.
So far, Kleinhenz said, the administration's trade policy won't put the brakes on economic growth. But he noted it appears scattershot and is causing uncertainty among businesses. A full-blown trade war "won't be good for the U.S. economy in the long run, nor for the Californian businesses and California households," he said.
Locally, the only region that lost jobs last month was Orange County, where employers cut payrolls by 3,500.
In Los Angeles County, employers added 5,300 jobs. San Diego County saw an increase of 1,800, Ventura County gained 700 and the Inland Empire added 4,000.
Follow me @khouriandrew on Twitter
---
UPDATES:
1:45 p.m.: This article was updated throughout with additional analysis and comment from economists.
This article was originally published at 10:15 a.m.