With clock ticking down to legalization, marijuana becomes a suburban affair
Reporting from Lancaster, Calif. —
All that's left of the onions at the Wheeler Farms shed here is the smell. The only crop around it is the field of discarded shopping bags flagged to the thorns of desert weeds.
For cannabis power couple Lisa and Bob Selan, though, this drive-by plot of high desert in suburban Antelope Valley could be a cornerstone of Los Angeles' medical marijuana market, which is days from expanding to include any adult who wants to take off the edge.
The Selans, whose clients include the largest cannabis dispensary organization in Los Angeles, hope to convert more than 45 acres of land into cannabis campuses, akin to movie studio lots, where pot entrepreneurs large and small can grow cannabis and convert it into medical products.
If all of the couple's plans work out, they could be offering more than a million square feet at the Lancaster onion plant, the surrounding land, and a second property they hope to purchase near Fox Field airport.
Already, legacy medical marijuana businesses looking to expand into the recreational, or adult-use, market have snapped up all of the 54,000 square feet in the onion plant's refrigerated cold storage, amid worries that they won't be able to keep up with supply pressure caused by the expanding market.
"They are coming in pretty much from all over, but primarily from Los Angeles," Bob Selan said. "Very few people have enough space to even grow enough for their shop."
Like housing, malls, auto dealerships and big-box stores, cannabis is fleeing the city and taking the first exit where land is cheap, rules are reasonable and markets are still within reach.
In this case, that would be the W. Avenue I exit from the Antelope Valley Freeway, a 70-mile drive past Santa Clarita and Palmdale, which have opted to sit out the cannabis development wave for the time being.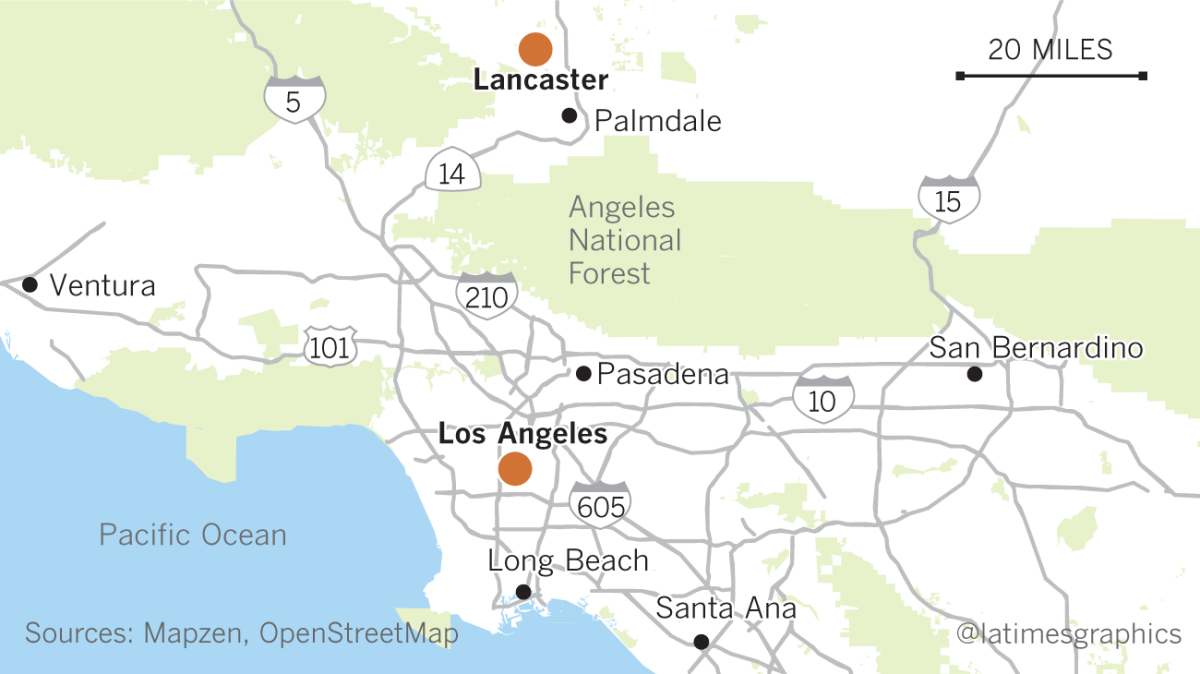 Lancaster has never been short of land or aspiration, hitching its fortune to railroads, farming, mining, military bases, prisons, the aerospace industry and, more recently, to Chinese manufacturing.
Often, Lancaster has had to compete with neighboring cities and offer incentives. In this case, it only had to persuade City Council members to reverse previous bans and approve a tax of $15 per square foot for cannabis cultivation, or 3% of manufacturing revenue. That could add millions to the city's coffers, with relatively few costs, according to city officials.
Lancaster's early gamble on the Los Angeles market won't pay off for months. But time is on the city's side. On Jan. 1, when California makes marijuana legal for all adults, Los Angeles will become the largest urban retail market for marijuana in the country — without any certainty about where all that pot will come from.
Regulations adopted just weeks ago by Los Angeles are so complicated that even a cottage industry of cannabis attorneys, like the Selans, can't figure out where it can be grown or distilled into other products.
"I think come January 1, it's going to be a mess," said Hilary Bricken, an attorney specializing in cannabis regulation. "It's going to be a nightmare."
Bricken said she can't be sure yet whether convoluted formulas and limits will allow one of her developer clients to offer tens of thousands of square feet in Chatsworth to large-scale businesses, or just 350 square feet for micro-cultivators.
"Just logistically speaking, with the amount of uncertainty and these complicated calculations, I don't think L.A. is going to be a hub for manufacturing and cultivation," Bricken said. "I think it's going to be a distribution-delivery hub, heavily focused on tourism, and not so much on the manufacturing and cultivation side."
That has left it to smaller cities to leap into the cannabis space on an a-la-carte basis.
While Long Beach, Lynwood and Maywood, for example, picked "all of the above" — commercial dispensaries, cultivation, manufacturing, distribution and testing — Calabasas banned everything but home delivery.
Lancaster voted in February to permit cultivation and manufacture of medical marijuana only, reversing previous bans to become the only city in the Antelope Valley to embrace the cannabis economy.
Cannabis was not an easy sell in a city known for its Christian conservatism. Longtime Mayor Rex Parris presided over a ban on cannabis-related businesses in 2009. A year later, he drew controversy when he publicly boasted that he was "growing a Christian community" in the city.
Parris said he became convinced of marijuana's pain-management benefits after having surgery in 2016 to remove a cyst on his brain — an example he used to persuade the city council. The Selans also took city officials on tours of marijuana facilities in Los Angeles.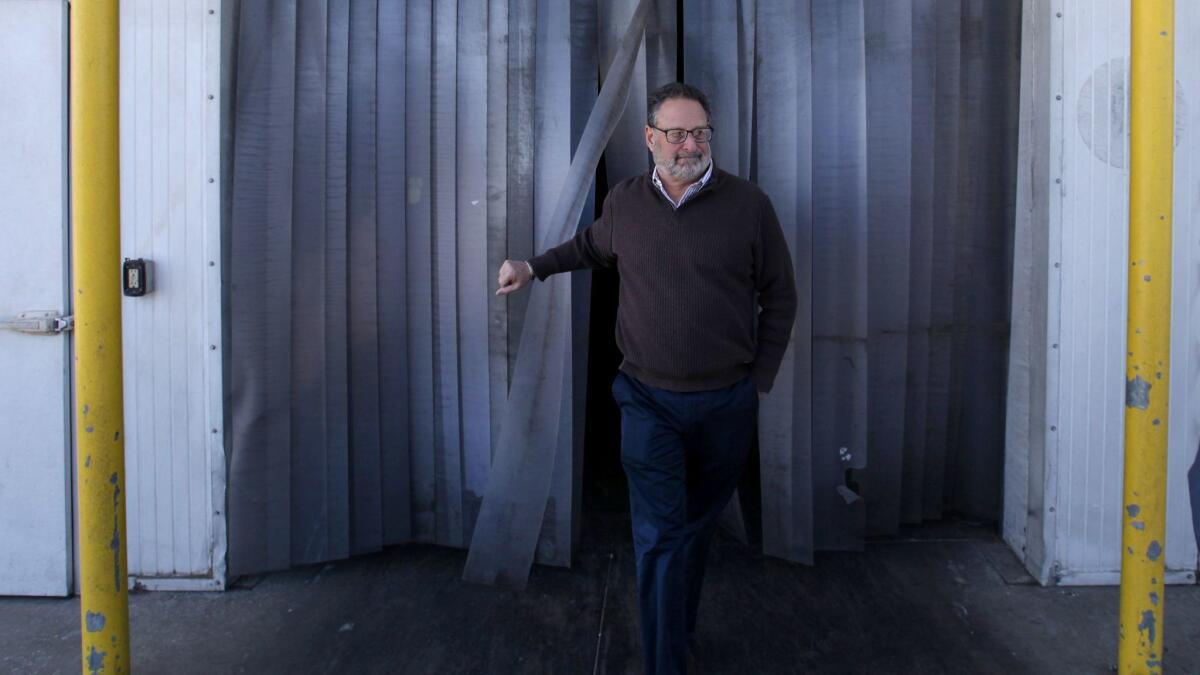 The Selans are rainmakers in the marijuana market — persuading cities to draft ordinances, then crafting real estate deals around those rules. They helped Los Angeles write Proposition D, passed in 2013, which granted immunity to the city's marijuana dispensaries.
The couple were among the entrepreneurs who flocked to Desert Hot Springs two years ago, when that city launched plans to become a regional cannabis hub. Daunted by the challenge of bringing electrical power and other infrastructure to the desert sites, they since have slimmed down plans there in favor of Lancaster, which already has that infrastructure.
Besides the 12 acres at the onion plant, purchased for $5.4 million in cash in October, the couple are eyeing 32 acres near Fox Field airport, where at least one other developer is offering cannabis-permitted space.
The Selans hope to offer turnkey facilities with roofs that take advantage of sunlight.
"We're trying to make it very simple for them," Bob Selan said. "We've thought of everything. We've hired cannabis efficiency experts who are designing the interior of the spaces. They can utilize our people or not."
One thing the future tenants can't do, however, is sell to the recreational market.
"There's people approaching us now to represent them that want to be in the adult space, but we've told them they can't go to Lancaster — at least not now," Bob Selan said.
"We really respect that," Lisa Selan said. "Let's do it the way they want it, and see what happens."
Follow me: @LATgeoffmohan
---
UPDATES:
Jan. 2, 2:40 p.m.: This article was updated with information from Lancaster Mayor Rex Parris.
This article was originally published Dec. 29, 2017 at 11 a.m.