Carnival is set to take over the Spruce Goose dome, expanding its Long Beach cruise facility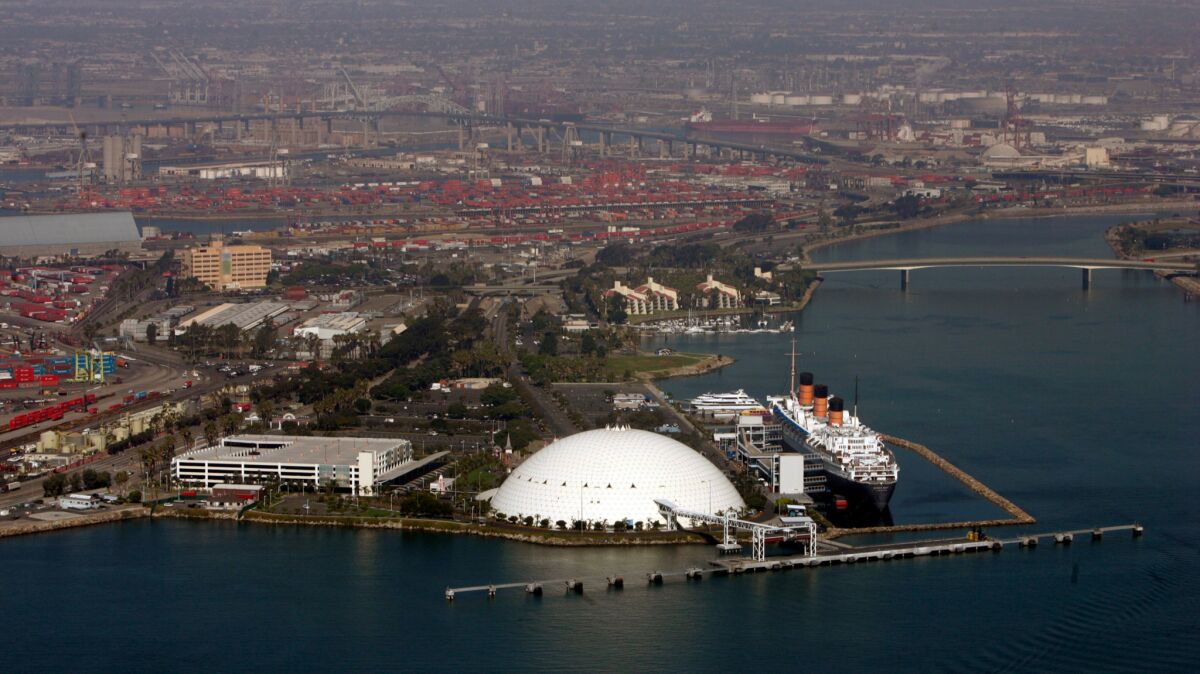 The giant white dome that once housed Howard Hughes' famed Spruce Goose aircraft is getting a new long-term tenant: Carnival Cruise Line, which plans to sail larger ships to Long Beach amid a resurgence in the cruise industry.
Carnival will expand its Long Beach Cruise Terminal operation from 66,000 square feet to 142,000 square feet. It had been using half of the 33-year-old dome but will take over the entire building next year.
Hughes' giant H-4 Hercules was moved out of the dome in 1992 and shipped to a museum in McMinnville, Ore. In addition to serving as Carnival's cruise terminal, the dome had been used for various events, including an ice-sculpture attraction during the holiday season.
Carnival Cruise Line President Christine Duffy said in an interview that the expansion reflects increasing demand for cruises — and the company's desire to draw new customers from throughout Southern California.
Carnival had long wanted to expand in Long Beach but was stymied because the lease holder of the cruise terminal and surrounding area has changed hands several times over the last few years, she said.
"We've been in Long Beach for 15 years, and we are interested in bringing more capacity to this market," Duffy said.
Carnival reached its expansion agreement with Urban Commons, a Los Angeles company chosen by Long Beach last year as the leaseholder of the 45-acre Queen Mary complex, which includes the dome, built at a cost of $4 million to hold the Spruce Goose.
Urban Commons, which is proposing to build a $250 million retail and entertainment complex on the site, said in a statement that it will try to "identify alternative areas" for the ice sculpture attraction and others that had been held in the dome. It said that might include developing "new temporary or permanent structures."
The dome also has been a popular filming site. It was the location for the bat cave and Wayne Manor sets in the Warner Bros. films "Batman Forever" and "Batman and Robin."
The cruise industry has rebounded after a series of mishaps, including the 2012 wreck of Carnival Corp.'s Costa Concordia off the coast of Tuscany.
Duffy noted that Carnival Corp., the parent company of Carnival Cruise Line, recently reported record second-quarter net income of $370 million, compared with $193 million a year earlier.
"Cruising continues to be popular, and we continue to look for opportunities to grow," she said.
Stewart Chiron, a cruise industry expert and president and CEO of Miami-based website CruiseGuy.com, said it makes sense for Carnival to expand operations in Long Beach.
"Hopefully, signs are showing renewed interest by cruise lines to also base more ships there for year-round and seasonal departures," he said.
Completion of the Carnival cruise project is expected by late 2017. It will involve adding facilities so that passengers can embark at the same time others are disembarking. Carnival currently makes embarking passengers wait at the port while disembarking passengers exit the ship.
Carnival now launches three- and four-day cruises to Baja California, seven-day voyages to the Mexican Riviera and 14- and 15-day trips to Hawaii and Alaska from Long Beach.
The ships that now serve Long Beach carry 2,000 to 2,500 passengers; the expansion would allow Carnival to sail the Carnival Splendor to Long Beach, a 952-foot long ship that can hold 3,012 passengers, Carnival officials said.
To read more about the travel and tourism industries, follow @hugomartin on Twitter.
ALSO
Delta considers no-frills seats on international flights
New security lanes at LAX could help you bypass the slowpokes
See what's killing haunted houses and other independent Halloween attractions
---
UPDATES:
4:40 p.m. This article was updated with a quote from Stewart Chiron, CEO of CruiseGuy.com, and more details on the cruise industry's resurgence.
12:15 p.m.: This article has been updated with additional comments from Carnival Cruise Line President Christine Duffy and more details regarding the port expansion.
This article was originally published at 10 a.m.
---
Sign up for the California Politics newsletter to get exclusive analysis from our reporters.
You may occasionally receive promotional content from the Los Angeles Times.