In first lawsuit of Mulvaney era, CFPB sues Irvine lender with long list of legal problems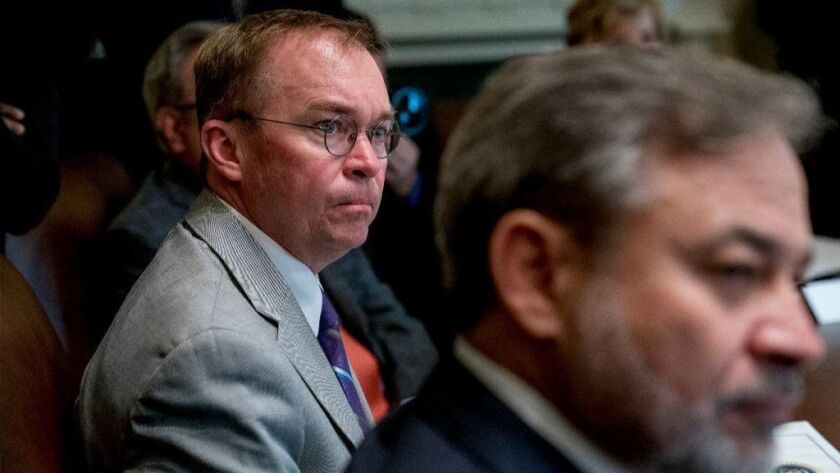 The Consumer Financial Protection Bureau is accusing an Irvine company of targeting pensioners with high-cost deceptive loans.
The case filed in federal court in Santa Ana might not in recent years have garnered much attention, but these days the mere filing of a lawsuit by the agency is noteworthy.
The action taken Thursday against Future Income Payments is the first time the agency has taken a company to court since White House budget chief Mick Mulvaney was appointed by President Trump to run the CFPB on an interim basis last November.
The bureau has brought a handful of other cases in that time, but they were filed as settlements. By comparison, the bureau announced the filing of 10 contested lawsuits last year before former director Richard Cordray, an Obama appointee, stepped down.
For consumer advocates, the legal action is a stark reminder of how much less active and aggressive the bureau has become under Mulvaney, who signaled on taking the job that the bureau would only pursue cases against the most egregious offenders.
In a January memo, Mulvaney said the bureau works for financial firms as much as for consumers and that it should not "push the envelope."
"If the CFPB loses a court case because we 'pushed too hard,' we simply move on to the next matter," he wrote. "But where do those that we have charged go to get their time, their money, or their good names back?"
He went on to say that "bringing the full weight of the federal government down on the necks" of financial companies should be "the most final of last resorts."
In taking action against Future Income Payments, the bureau is targeting a group of companies with a long track record of regulatory problems.
The companies, run by executive Scott Kohn, offered lump-sum payments to pensioners in exchange for ongoing payments.
The CFPB complaint alleges the company charged effective interest rates of up to 183% on cash advances of up to $60,000. It's not clear how many borrowers the company had, but it claimed on its website to have completed more than $150 million in transactions, the complaint said.
The bureau and other regulators said the company was effectively a lender, but Kohn's companies, according to the CFPB's lawsuit, told customers these were not loans, that there was no interest rate and that the company's cash advances were cheaper than credit cards.
"In fact, defendants' product is a loan and is more costly than alternative financial products," the CFPB alleged.
In particular, the bureau said Kohn's companies lured in "vulnerable consumers, including senior citizens, disabled military veterans and their spouses, who are in need of immediate cash."
The company was accused of violations of the Consumer Financial Protection and Truth in Lending acts. The bureau is seeking unspecified fines and penalties, and wants Kohn's companies to reimburse customers.
Those allegations mirror ones already made by numerous state regulators, including the California Department of Business Oversight, Los Angeles City Atty. Mike Feuer and attorneys general or financial regulators in a dozen other states.
The CFPB has been investigating Kohn's companies since at least 2016, when it ordered the companies to turn over financial records. The companies fought the order, arguing that the bureau is unconstitutional.
Like some other financial firms, Kohn's companies argued that the bureau is not properly answerable to the president because its director, a presidential appointee, can be fired only under limited circumstances.
A federal district judge in Santa Ana disagreed and ordered the company to open its books. Kohn's companies appealed to the 9th Circuit. Christopher Jones, an attorney representing the company in that case, said it is "an open question" as to whether the appeal will continue.
Jones said he has not been asked to represent Kohn and his companies in the new CFPB case and could not comment. Kohn could not be reached for comment.
Consumer advocate Ed Mierzwinski of the U.S. Public Interest Research Group said it appears Kohn's companies deserve to be sued, but added he's disheartened that this is the only such case the bureau has filed under Mulvaney.
The agency under Cordray boasted that it provided more than $12 billion in refunds and debt relief to consumers from financial institutions — an assertion still on the website. For an agency that often took on big-name firms, Mierzwinski said, Kohn's companies seem like small-timers better left to state regulators or other agencies.
"If we're going to have a smaller, weaker consumer bureau that's afraid to go after big companies and only go after scam artists, that's not what it was created for," he said. "I hope this is not the first step toward only going after bottom feeders. It's great that they're going after this guy who's run a string of shady companies, but they should be thinking bigger."
The action against Future Income Payments comes at a time of upheavel at the agency, which has been in turmoil since Mulvaney was selected as its temporary chief following the abrupt departure of Cordray, now running for Ohio governor.
Mulvaney's appointment was challenged in court by Leandra English, a deputy director whom Cordray chose as successor until the end of his term. English dropped her case after suffering legal setbacks, but controversy over the agency's leadership has extended to the White House's nomination of Kathy Kraninger to replace Mulvaney for a full five-year term.
Kraninger was narrowly approved by the Senate banking committee last month on a party-line vote and awaits confirmation by the whole Senate. Democrats say that the little-known White House aide who works under Mulvaney as associate director for general government at the Office of Management and Budget lacks relevant experience in finance, banking regulation or consumer protection.
And just this week, more than a dozen members of the Senate Democratic caucus sent a letter to Mulvaney demanding answers about the status of the bureau's student loan enforcement efforts following the August resignation of the top official overseeing the $1.5-trillion U.S. student loan market.
Seth Frotman cited the White House's hostility toward protecting student borrowers in his resignation letter. The Democrats, in their own letter, said the resignation gave credence to concerns that under Mulvaney's leadership strict adherence to the CFPB's mission has given way to "political expediency."
The bureau did not respond to requests for comment on the Senate Democrats' letter.
Follow me: @jrkoren
---
Your guide to our new economic reality.
Get our free business newsletter for insights and tips for getting by.
You may occasionally receive promotional content from the Los Angeles Times.