Senate committee narrowly confirms Kathy Kraninger to head CFPB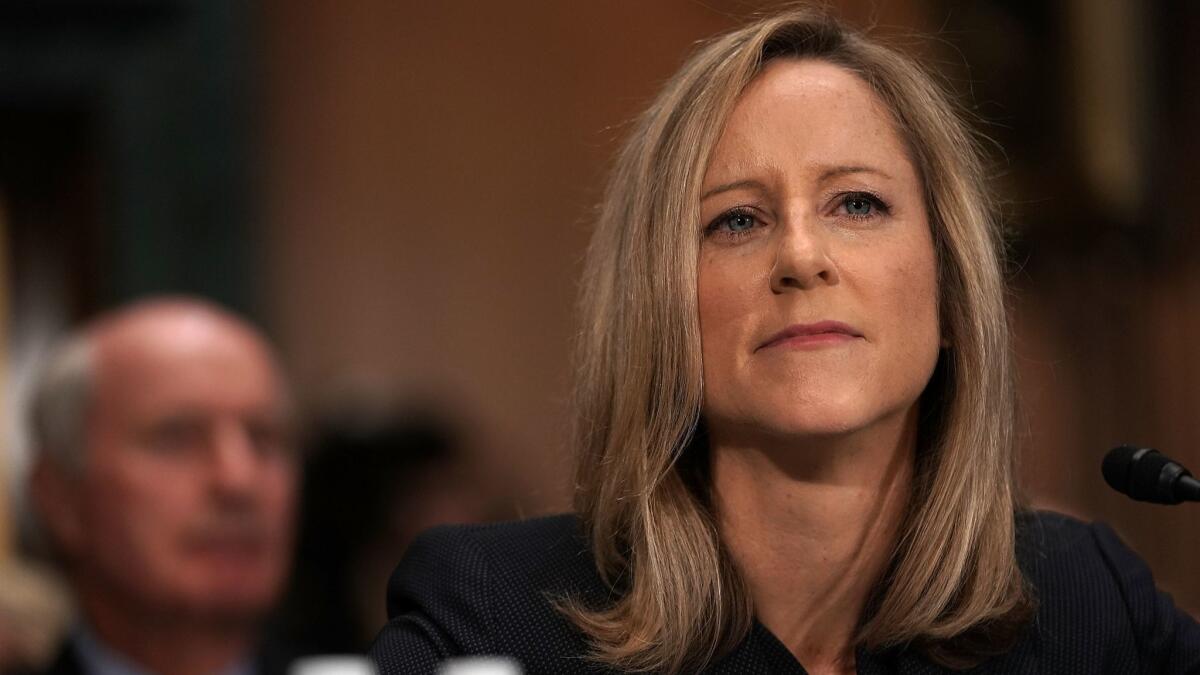 Reporting from Washington —
Kathy Kraninger is a step closer to becoming the nation's top consumer financial watchdog: A Senate committee on Thursday narrowly approved the White House aide's nomination to lead the Consumer Financial Protection Bureau despite strenuous objections from Democrats that she's not qualified for the job.
Opponents of President Trump's nominee to head the Consumer Financial Protection Bureau said that she has no experience in consumer protection, financial regulation or the banking industry and questioned her involvement overseeing the budgets of agencies that developed and implemented the child-separation policy at the border and the response to Hurricane Maria in Puerto Rico. Democrats complained that Kraninger would not detail her role in those policies during her confirmation hearing or in written questions.
"She is refusing to describe her role in two very public management failures because she knows it would destroy her case for her nomination," Sen. Elizabeth Warren (D-Mass.) said.
But Republicans brushed off those concerns. All 13 of them voted to confirm Kraninger on Thursday, while all 12 Democrats opposed her nomination.
Senate Banking Committee Chairman Mike Crapo (R-Idaho) said Thursday that she had "significant leadership experience at federal agencies and on Capitol Hill." He said her "her depth and diversity of public service experience" gave him "confidence she is well prepared to lead the bureau."
Trump's decision to tap Kraninger for the job leading the controversial agency, created in the aftermath of the 2008 financial crisis, was a surprise. She holds a mid-level White House position as associate director for general government at the Office of Management and Budget and her background has been largely in Homeland Security.
At the Office of Management and Budget, Kraninger oversees spending at five agencies, including the Department of Homeland Security.
Previously, she served as deputy assistant secretary for policy at the Department of Homeland Security during the George W. Bush administration and also worked for the Senate Homeland Security and Governmental Affairs Committee and the Senate Appropriations subcommittee handling Homeland Security funding.
Kraninger is seen as a protege of Mick Mulvaney, the director of the White House Office of Management and Budget who also has been serving as acting director of the CFPB since November. Kraninger's nomination allowed Mulvaney to stay as acting director while the Senate considers her confirmation. Otherwise, he would have been forced to give up the post in June under the law by which he was appointed.
Trump installed Mulvaney in the position temporarily after the resignation of the bureau's first director, Richard Cordray, in a controversial move that led to protests and a legal challenge from Cordray's chosen successor, Leandra English. English, who has been the bureau's deputy director, resigned in July and dropped her legal fight.
Mulvaney, who had been an outspoken critic of the agency, has scaled back the bureau's enforcement efforts, urged Congress to reduce its authority and made the the agency more friendly to the financial services industry.
This month, the New York Times reported that Mulvaney was planning to suspend the bureau's routine examinations of lenders for violations of the Military Lending Act, which protects service members and their families from predatory lending and other financial fraud.
Sen. Jack Reed (D-R.I.), a former Army officer, said he had no confidence Kraninger would halt Mulvaney's apparent attempt to weaken oversight of the Military Lending Act.
Kraninger has worked for Mulvaney at the OMB since March 2017 and is expected to continue his approach if confirmed as director by the full Senate.
Republicans are eager to see the bureau's authority reduced.
"Personally, I think Ms. Kraninger will do a good job of trying to rein in … an agency that needs to be reined in," said Sen. Mike Rounds (R-S.D.).
Since opening in 2011, the bureau has helped consumers obtain about $12 billion in refunds and debt relief from financial institutions. It also played a key role in penalizing Wells Fargo & Co. for its creation of unauthorized accounts.
During her July confirmation hearing, Kraninger pledged to uphold Congress' mandate that the bureau ensure that all consumers have access to financial products and services that are "fair, transparent and competitive."
She said she would do that in part by making "robust use of cost-benefit analysis," an approach favored by Republicans. Democrats argue that it can be manipulated by industry and create roadblocks to quickly enacting important regulations.
Kraninger pledged to take "aggressive action against bad actors who break the rules."
Pressed by Democrats on whether she thought Mulvaney was doing a good job running the bureau, Kraninger said he was.
"He is my current boss, who I respect greatly, and has been focused on implementing the law, so from that standpoint, I would say yes," Kraninger told the committee at the July hearing.
Twitter: @JimPuzzanghera