Maxine Waters and Democrats assail consumer finance watchdog for industry-friendly shift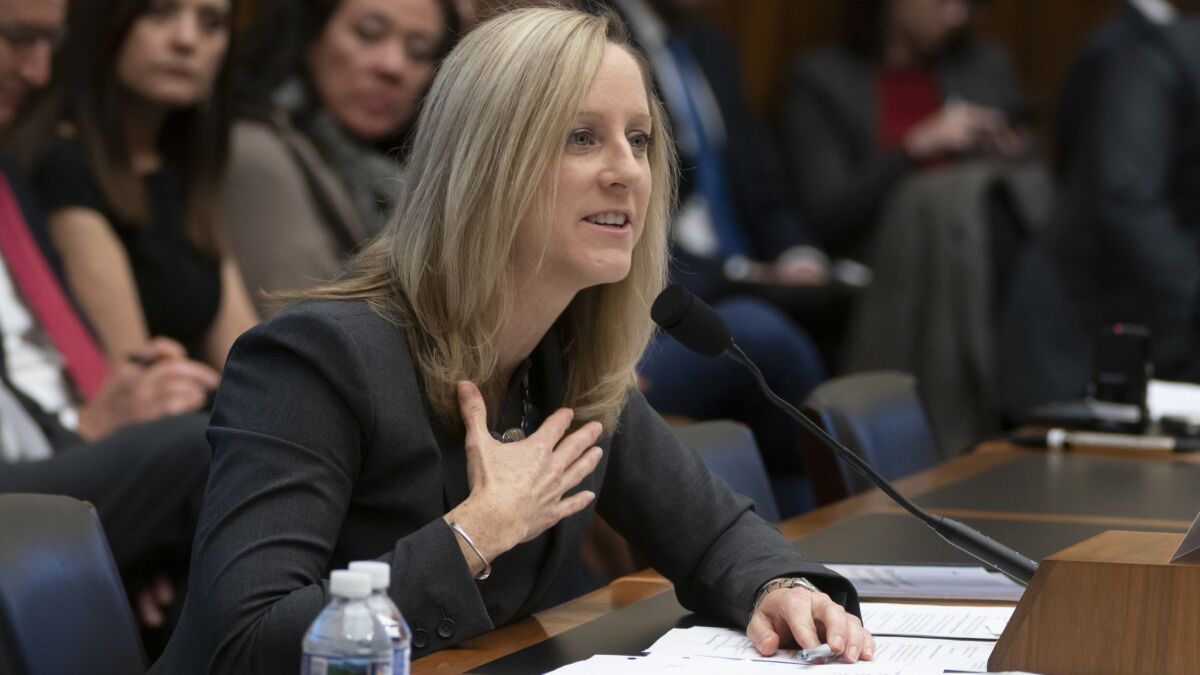 Reporting from Washington —
The nation's new consumer financial watchdog came under fire from House Democrats on Thursday for an industry-friendly shift under her predecessor that she has appeared to continue since taking office three months ago.
Kathy Kraninger defended some of those changes, including weakening oversight of lending to minorities and military service members, as well as new standards for payday loans, in her first appearance before Congress as director of the Consumer Financial Protection Bureau.

For the record:
9:00 a.m. March 8, 2019An earlier version of this article said Rep. David Scott is from Florida. He is from Georgia.
That frustrated Rep. Maxine Waters (D-Los Angeles) and her colleagues who helped create the agency in the wake of the 2008 financial crisis and want strong consumer protections.
"This committee will not tolerate the Trump administration's anti-consumer actions," said Waters, chairwoman of the House Financial Services Committee, who has introduced legislation to strengthen the agency.
Waters and other Democrats clashed sharply with Kraninger in a continuation of contentious hearings with directors of the bureau since it opened in 2011 as the centerpiece of the Dodd-Frank financial reform act.
Republicans attacked the bureau's first director, Richard Cordray, who was appointed by President Obama, accusing him of abusing his power and being too tough on financial firms. Democrats lashed out at Kraninger for being too soft on the agency's core mission of consumer protection.
She was appointed by President Trump to replace Mick Mulvaney, the top White House official who had served as the bureau's acting director for about a year and scaled back much of Cordray's initiatives.
"I want to help you be a great director here, but in order to do that, you've got to help us fix the damage that your predecessor did," Rep. David Scott (D-Ga.) told Kraninger.
Kraninger took a less confrontational approach Thursday than Cordray and particularly Mulvaney had at previous oversight hearings. She answered questions politely even as she frequently avoided direct answers.
But when pressed, Kraninger would not agree to reverse some of Mulvaney's changes, including his removal of supervisory and enforcement powers for the bureau office that polices fair lending laws protecting consumers from racial and other discrimination, as well as his determination that the agency lacked clear authority to examine firms to determine whether they are complying with legal protections for loans to military members.
Kraninger would only say that she would put consumers "at the heart of every decision I make." She also said she has not received direction from Mulvaney or Trump since taking the job in December.
"The decisions I make at the bureau are my decisions," she said.
Waters questioned Kraninger aggressively about whether the bureau had started any fair lending investigations since she took office. When Kraninger said fair lending was a "continuing priority," Waters interrupted to say, "I"m asking you a direct question."
Waters continued to press the point but Kraninger evaded a direct answer. Asked if she would restore the fair lending office's enforcement powers, Kraninger said the change Mulvaney made to put that authority into the director's office had "enhanced" and "strengthened" the bureau's fair lending oversight.
Kraninger also said she agreed with Mulvaney that the bureau did not have clear authority to conduct examinations for compliance to the Military Lending Act, which limits interest rates on loans charged to service members and contains other protections. Kraninger urged Congress to pass legislation making the bureau's authority to enforce the law clear.
But Democrats said the bureau had the proper authority already and that it had conducted examinations under Cordray.
"Please be clear: We will not go gently into the night on the issue of how we protect service members … or their families," Rep Denny Heck (D-Wash.) told Kraninger.
After she responded that "to read into the statute is beyond my authority," Heck got angry.
"You're wrong," he shot back, raising his voice.
Republicans came to Kraninger's defense, lauding her for continuing Mulvaney's approach and criticizing Democrats for "badgering" her.
Rep. Roger Williams (R-Texas) said he thought Mulvaney "did a great job" at the bureau "and so are you."
The Senate narrowly confirmed Kraninger, 50 to 49 on a party-line vote, in December. Democrats complained that Kraninger lacked any consumer finance experience and that she was a protege of Mulvaney, the current acting White House chief of staff.
Rep. Katie Porter (D-Irvine) tried Thursday to get Kraninger to calculate the annual percentage rate for a specific short-term loan as a way of determining her competence for the job. Kraninger refused to do the "math exercise" even after being provided a calculator, arguing she understood the broader point.
"I take that as a no, that you cannot do the calculation," Porter said.
Mulvaney, who had been an outspoken opponent of the agency as a Republican congressman, overhauled the bureau to make it industry-friendly, scaling back enforcement efforts and urging lawmakers to rein in its powers.
Kraninger took office declaring she would not be a puppet of Mulvaney.
In one of her first acts, she tried to demonstrate that by halting an effort begun by Mulvaney to change the agency's name to the Bureau of Consumer Financial Protection, as it is formally called in the 2010 law creating it. Mulvaney's move to adopt that name was viewed by consumer advocates as an attempt to make the agency less popular by sounding more bureaucratic and less consumer-focused.
But then Kraninger angered Democrats and consumer advocates last month by proposing to significantly water down tough new rules on payday and other short-term loans that were set to go into effect in August.
The rules, enacted in 2017 under Cordray, were designed to prevent lenders from taking advantage of cash-strapped Americans by requiring lenders to determine whether borrowers could repay.
The ability-to-repay provisions "would impose substantial burdens on industry, significantly constrain lenders' offering of products, and substantially restrict consumer choice and access to credit" in states that allow payday and other short-term loans, such as those secured by a vehicle title, according to the bureau's notice of proposed rule-making.
Payday lenders opposed the rules, which they said could restrict consumers' access to credit.
On Wednesday, Waters reintroduced legislation she unsuccessfully tried to pass last year that would undo some of the changes made by Mulvaney.
The Consumers First Act, co-sponsored by almost all the Democrats on the committee, would restore supervisory and enforcement powers to the fair lending office, establish a new office dedicated to policing student loans, limit the number of political appointees and codify the name as the Consumer Financial Protection Bureau, among other things.
"From the moment Mick Mulvaney arrived at the Consumer Financial Protection Bureau, he worked to take it apart from the inside," Waters said Wednesday in a news conference about the legislation. "The bill reverses the harmful structural changes Mulvaney and his deputies made to damage the agency one by one."
Mulvaney's only appearance before the committee as acting bureau director was highly contentious. He told lawmakers last April that under his strict reading of the Dodd-Frank law, he was not required to answer their questions.
"I believe it would be my statutory right to just sit here and twiddle my thumbs while you all ask questions," he said.
Before Democrats attacked Mulvaney and Kraninger for their performance, Republicans had hammered Cordray.
In a 2017 hearing, Rep. Jeb Hensarling (R-Texas), former chairman of the House Financial Services Committee, greeted Cordray by expressing surprise he even showed up for the expected tongue-lashing and publicly urging Trump to fire him. The bureau's director cannot be fired for political reasons, and Cordray served until he resigned in late 2017 to run for governor of Ohio.
Our six-week newsletter will help you make the right decision for you and your property.
You may occasionally receive promotional content from the Los Angeles Times.