Busloads of Chinese tourists used to visit L.A. luxury stores. Not anymore
Chong Hing Jewelers is conspicuously empty. Mandarin-speaking staff stand idly behind the San Gabriel store's glittering display cases, waiting for busloads of luxury shoppers from China who may never come.
It's the same story several doors down at House of Italy Jewelry — a vacant store and listless workers, both of whom say that they have only recently arrived from China themselves.
David Lee, chairman and chief executive of Hing Wa Lee Group, which has another jewelry store not far away, said that Chinese tourists now make up about a fifth of sales at his jewelry businesses, down from roughly half in years past.
"I had days with literally hundreds [of Chinese tourists] coming through my stores," Lee said. "That changed maybe one to two years ago, and now everyone is experiencing fewer."
The reason: Xi Jinping. Though China's president is no fashion guru, his policies are defining a new eastward-looking luxury goods industry worldwide.
In the past, Chinese luxury shoppers made a majority of their purchases abroad, keen to avoid domestic prices inflated by steep tariffs placed on high-end foreign goods.
According to an analysis from investment firm Exane BNP Paribas, as recently as early 2017, luxury goods bought in China cost 21% more than their global average. This historical price gulf had led to a booming global high-end retail business, as tens of thousands of Chinese would travel abroad with the intent of snapping up Gucci, Chanel and Coach handbags on their way through shopping hubs such as Paris, New York and Los Angeles. Chinese luxury spending abroad reached about $70 billion in 2018, according to Bain & Co., representing nearly a quarter of the global luxury goods market.
Now these shoppers are shifting their spending east. Luxury goods prices in China fell last year after the government slashed tariffs by more than half, to 6.9% from an average of 15.7%. The cuts are, in part, an indirect effect of the U.S.-China trade war and President Trump's demands that China lower barriers to its markets, but they are also part of a broader push by China to strengthen domestic consumption. As the savings from buying abroad shrink, Chinese shoppers are increasingly choosing to make their luxury purchases at home. By 2025, Bain predicts, half of Chinese luxury spending will take place inside China, up from less than one-fourth in 2015.
These changes are already hitting the industry. Tiffany & Co., often considered a benchmark for luxury goods, cited falling purchases by Chinese tourists as a key reason behind the brand's sluggish growth in 2018. In a November earnings call, CEO Alessandro Bogliolo said slowdowns in some markets were the result of "lower sales attributed to foreign tourists, particularly to Chinese."
Many retailers had grown to rely on the seemingly endless flows of Chinese luxury shoppers to maintain their bottom lines. Jewelry and luxury watch shops, such as those dotting shopping malls across the San Gabriel Valley, sprang up around hot spots for Chinese tourists.
"You had droves of people coming from second- and third-tier cities [in China] and going on these massive spending sprees," said Lynn Liou, founder and publisher of L'Inspired, a Chinese and English dual-language luxury lifestyle publication. "For many of these people, it was their first exposure to the Western world and their first time having access to these brands."
One 2016 tour itinerary from Chinese travel site Usitour, titled Los Angeles Luxury Shopper's Paradise, included no fewer than 15 shopping destinations in a single day. They included Rodeo Drive, Melrose Avenue, downtown Los Angeles' Fashion District, the Grove shopping center, Citadel Outlets and South Coast Plaza mall.
Chinese visitors on tours such as these have brought billions of dollars to Los Angeles, spending nearly $1.5 billion in 2016 alone, according to the L.A. Tourism & Convention Board. It prompted the city to launch the Nihao China program in 2014, a sweeping plan designed to help L.A.'s businesses better cater to Chinese shoppers. Initiatives included cultural training and certification courses for workers, Chinese-language websites and marketing materials, tour guide certification programs and a marketing campaign in China.
Chinese visitation to L.A. County jumped more than 20% in 2016, according to the tourism board, marking seven consecutive years of double-digit growth. But then the gains began to slow. Chinese visitation increased about 12% in 2017 and then less than 7% last year.
"You cannot sustain double-digit growth forever," said Julie Wagner, CEO of the Beverly Hills Conference and Visitors Bureau. "When the retailers are looking at year-over-year numbers, it's hard for them to get their head around that because it looks like it's falling, but really it's just a return to normal after those crazy times."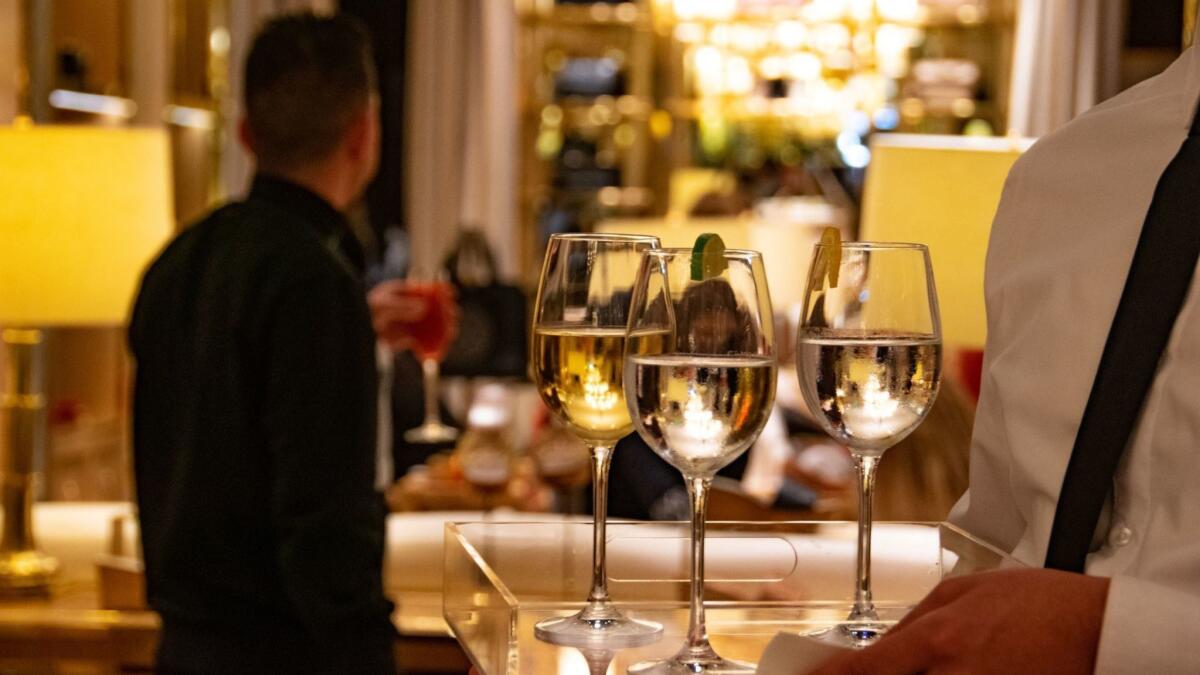 In addition to China's domestic policies, the shifting luxury landscape is also being shaped by changing consumer preferences. Although luxury brands don't face the same homegrown Chinese competition that has plagued high-end U.S. electronics such as Apple's iPhone — which has seen sales decline substantially in China — they are being forced to adapt their offerings to an increasingly sophisticated and globally aware audience. According to luxury consultant Nancy Hsieh, who advises brands on how to engage with Chinese clients, Chinese abroad have become taste-makers for their friends back home and often make purchases on their behalf.
"You might have a student who is shopping not only for themselves but for 10 to 12 friends and family members back in China," Hsieh said.
Heather Zhu is a USC graduate student who was born and raised in China. In years past, she did a brisk business reselling bags, shoes and other luxury products to Chinese students across America using WeChat, China's most popular social platform. Her supply came via contacts at leading brands such as Saint Laurent, who would tip her off to discounted products that she could resell. Zhu rarely needed large-scale shopping excursions to satisfy her customers, but she regularly indulged in personal shopping sprees to build her own collection of luxury goods.
During her undergraduate years, from 2014 to 2017, "my friends and I would go [luxury] shopping every one or two weeks," Zhu said. "I think we were probably spoiled because our parents would give us a lot of money."
Zhu said that demand in her reselling business has dropped off in recent years, as a relative lack of style innovation among top labels, as well as changing Chinese tastes, has left her clients less keen to amass collections of time-honored brands.
"A lot of smaller brands are coming out and sponsoring influencers on places like Weibo," said Zhu, referring to a Chinese social media network similar to Twitter. "That's what I'm interested in now. Those brands are more unique. I already have one Chanel bag; I don't need any more."
Kathy Smits, the L.A. tourism board's vice president of international tourism, said that these shifting tastes are changing the way Chinese visitors engage with Southern California's luxury businesses. "It's no longer 'hop on the bus and visit as many shops as possible,' " Smits said. "Now they want to 'live like a local,' try the local cuisine and have more unique experiences."
At South Coast Plaza, one of the largest and highest-grossing shopping centers in the United States, the Tory Burch store recently invited wealthy clients to an event complete with mimosas, cocktail waiters and an artist to paint miniature portraits of guests with their new purchases. Mandarin-speaking shoppers spent the afternoon snapping photos of one another to share on WeChat, champagne flutes raised above tastefully subtle new purses.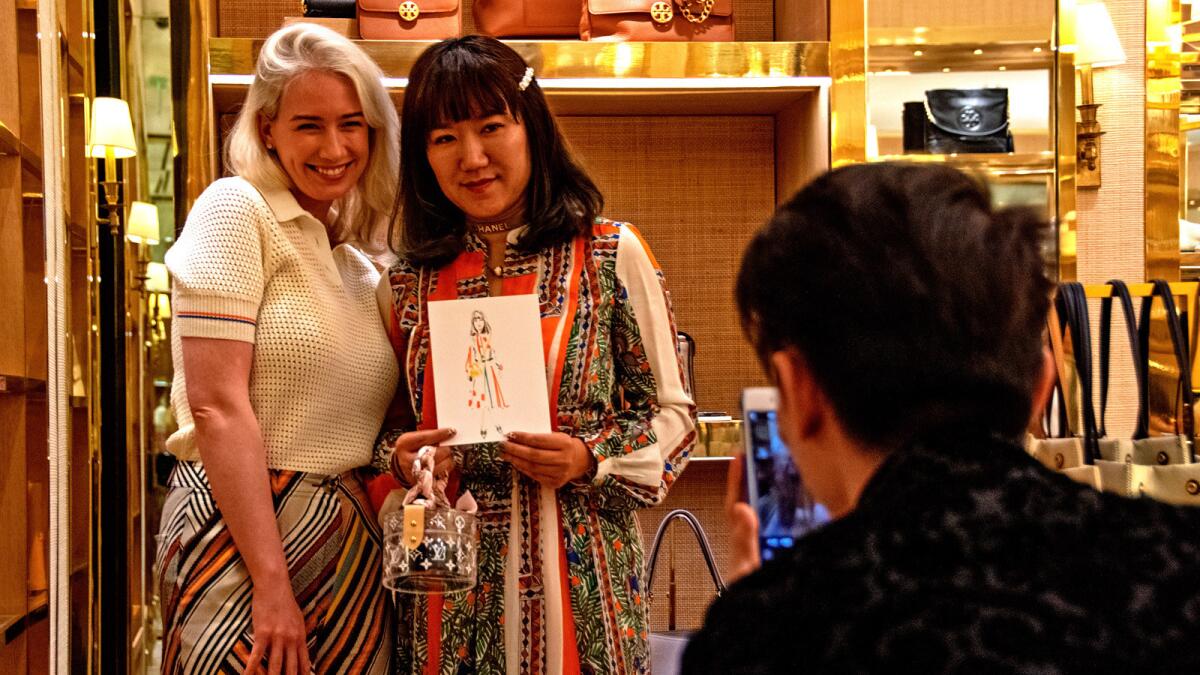 Liou, of L'Inspired, calls these shoppers "global Chinese."
"They aren't immigrants in the traditional sense," Liou said. "They've established themselves [abroad] in some way, such as education at Western institutions or investments in Western countries."
Many own property in the United States, which serves as a second home for them and their families.
This new group, which many see as a pillar for the future of the international luxury retail market, has become a quasi-local customer base in Southern California.
Many retailers have switched their focus to more localized groups of Chinese, said Hsieh, citing one of her clients — the manager of a prestige watch company on Rodeo Drive — as an example.
"Now that China is trying to level the playing field, it doesn't pay to purchase those watches here. The price is often more or less the same," the luxury consultant said. "Now they are shifting to focus on the local market."
Hing Wa Lee Group has also turned its attention to the local Chinese market. Lee, the company's owner, said that increasing sales to Los Angeles County's Chinese residents have enabled his jewelry shops to maintain growth, despite the drop in Chinese tourist business.
"More and more wealthy Chinese are choosing to have residences outside of China," Lee said. "Being in L.A. is a good place. It's a very popular destination for them."