Chinese tourists still love L.A. despite overall decline in visits to U.S.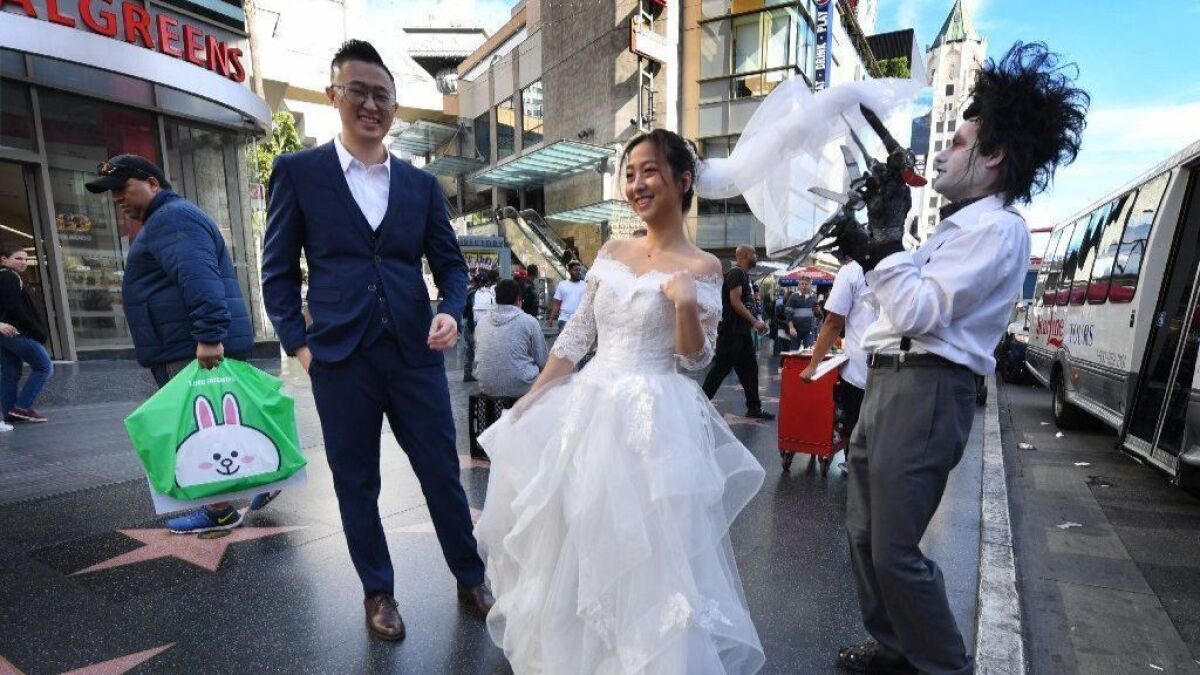 For the first time in 15 years, the number of Chinese travelers to the U.S. dropped last year, a decline that travel experts attribute to trade tensions and a strong U.S. dollar that made purchases more expensive for Chinese visitors.
But local tourism officials are not wringing their hands because Los Angeles may be defying the national trend, they say.
To be sure, the growth of Chinese travel to Los Angeles has slowed. Visits grew by nearly 7% last year, down from 12% growth in 2017 and 20% in 2016, according to the Los Angeles Tourism and Convention Board.
But the increase in visitors to Los Angeles is a stark departure from the overall declining trend in Chinese travelers to the U.S. The National Travel and Tourism Office of the U.S. Department of Commerce reported a 5.7% drop in travelers from China to the U.S. in 2018, compared with the previous year.
Travel and hospitality businesses in Los Angeles say the stream of visitors from China has been helped by their efforts to make Los Angeles more inviting to Chinese tourists by, among other tactics, promoting the region on Chinese social media.
"I think we've done a lot of work to keep it strong," said Susan Vance, the marketing and sponsorship director at the Beverly Center. That upscale shopping mall is promoted on Chinese social media sites Weibo and WeChat and accepts payments with a popular Chinese financial services company, UnionPay.
They also say that Los Angeles is still a top destination because of its reputation as the entertainment capital of the world.
"L.A. continues to be on their bucket list," Ernest Wooden Jr., president and chief executive of the Los Angeles Tourism and Convention Board, said of Chinese tourists.
The way Chinese tourists spend their time in the City of Angels has also evolved in the last few years to include more cultural excursions and sightseeing tours in small groups and fewer visits to shopping malls in tour buses.
Visits to see NBA games at Staples Center and museums such as the Getty, the Los Angeles County Museum of Art and the Broad art museum have become popular among Chinese visitors, tourism officials say. The Dolby Theatre, home to the annual Academy Awards ceremony, recently added Mandarin-spoken tours to meet the requests of Chinese visitors.
"I don't think business has slowed at all in the Chinese sector," said Monna Sanner, a spokeswoman for Starline Tours, the largest tour bus company in Los Angeles County. "It's a market that is definitely getting stronger."
Tourism officials in Los Angeles and nationwide have been closely watching Chinese visitation numbers for years because travelers from China typically spend more per visit to the U.S. — an average of nearly $7,000 — than any other tourist. Also, the Chinese middle class, estimated at more than 400 million people, is growing and is primed to travel.
Tourism from China to the U.S. had been rising steadily since 2003 until a trade war broke out between the two superpowers last year.
Adding to the tension, the State Department issued a travel advisory in January, warning Americans to be cautious visiting China because they may be unjustly detained. The Chinese Embassy and consulates in the U.S. fired back in June, warning Chinese travelers about gun violence in the U.S. and the threat of being interrogated, interviewed and subjected to other forms of what it called harassment by U.S. law enforcement agencies.
But it's the drop in the buying power of the Chinese currency that makes most would-be Chinese travelers think twice about visiting the U.S., said Jasmine Jia, the owner of a private tour company in Los Angeles, who keeps in touch with friends in China. The Chinese yuan has fallen about 8% against the dollar over the last year.
"It's the money and the economy that is really the impact," she said.
But Los Angeles, the top port of entry for visitors from China, remains popular with Chinese travelers, according to tourism officials and travel data. Among the data they cite:
Los Angeles is ranked as the 19th most popular city in the world for international travelers and is expected to move up to 17th place by 2025, thanks to the growing number of visitors from Asia, according to a study by Tourism Economics, a tourism data consultant based in Pennsylvania.
The share of the Chinese tourists who visited Los Angeles County while in the U.S. grew from 35% in 2017 to 41% last year, according to Tourism Economics.
The number of airline seats on flights from China to Los Angeles International Airport increased by 4.6% in the first four months of 2019, compared with the same period in 2018, according to OAG, an air travel intelligence company based in England. (It is difficult to determine whether Chinese visitors who fly into LAX stay in the Los Angeles area or travel on to other parts of the country.)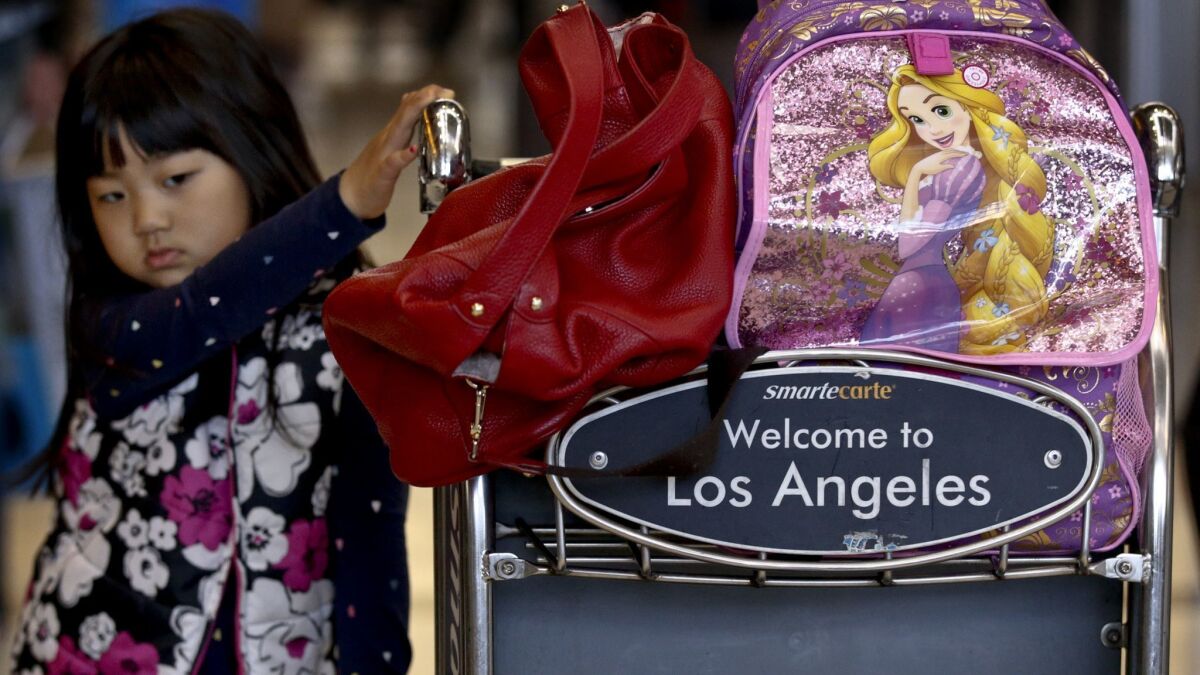 Wooden and local business operators have worked hard to strengthen ties with Chinese counterparts.
Over the last 12 years, Wooden said, his agency has opened four offices in China — in Beijing, Shanghai, Guangzhou and Chengdu — to promote Los Angeles. In addition, the Los Angeles Tourism and Convention Board has created a promotional website in China — helloLA.cn — that has 1.5 million followers.
The tourism board has also created an online class that has enrolled more than 5,000 Chinese travel agents who signed up to learn what to expect when sending tourists to Los Angeles, he said. Among the test questions are: How far is Hollywood from the beach and what times does Universal Studios Hollywood open?
"We want to keep these airline flights full, and the way to do that is to educate people," Wooden said.
Local businesses have also worked to tailor Los Angeles hotels and shopping centers to Chinese visitors.
The Sheraton Los Angeles San Gabriel, a 288-room hotel on East Valley Boulevard, is one of several dozen hotels in the region that have adopted a "China ready" policy that ensures that the businesses are prepared for Chinese guests. The Sheraton has signage in Mandarin and offers such in-room amenities as slippers and teakettles, and foods favored by Chinese travelers, such as congee and dumplings for breakfast.
Such efforts have helped the hotel maintain a flow of Chinese visitors, said Fred Kokash, its director of sales and marketing. "Based on the relationships we've been able to establish with our partners, we haven't seen a significant impact" like the national decline, he said.
The Beverly Center, like other upscale shopping centers in the Southland, has tried to make shopping easier for Chinese visitors by employing Mandarin-speaking employees and accepting UnionPay. Vance said the center promotes itself on Chinese social media and sends representatives to Chinese travel shows.
"It's not always about quantity, but we have not seen a decline," she said.
As Chinese tourists have become more savvy, they have slowly broken away from joining large, crowded bus tours and are now more likely to explore Los Angeles in small groups, said Clara Tsang, a spokeswoman for the Citadel Outlets in Commerce.
"The big tour buses are not as common, but we have a lot more individual groups," she said.
Still, spending patterns have not changed, Tsang added.
"We still see Chinese shoppers with Coach and Michael Kors bags," she said. "We are always happy to see them spending here."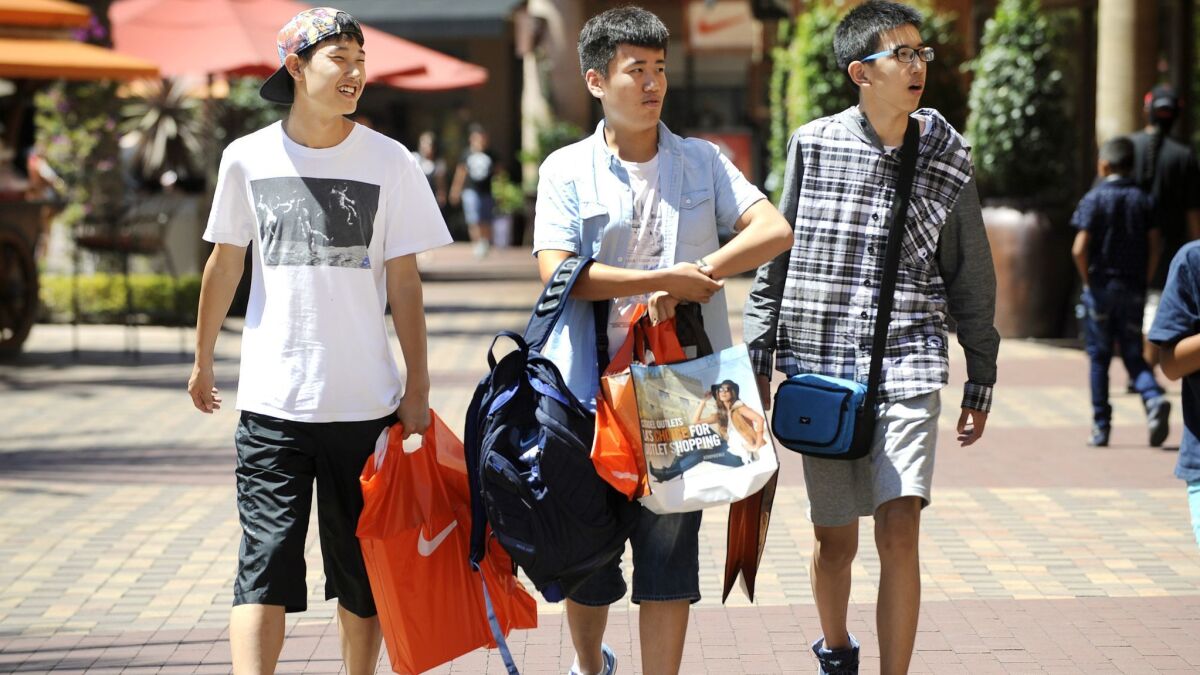 To read more about the travel and tourism industries, follow @hugomartin on Twitter.
---
Sign up for the California Politics newsletter to get exclusive analysis from our reporters.
You may occasionally receive promotional content from the Los Angeles Times.