This small, animal-free circus in California is doing what Ringling Bros. couldn't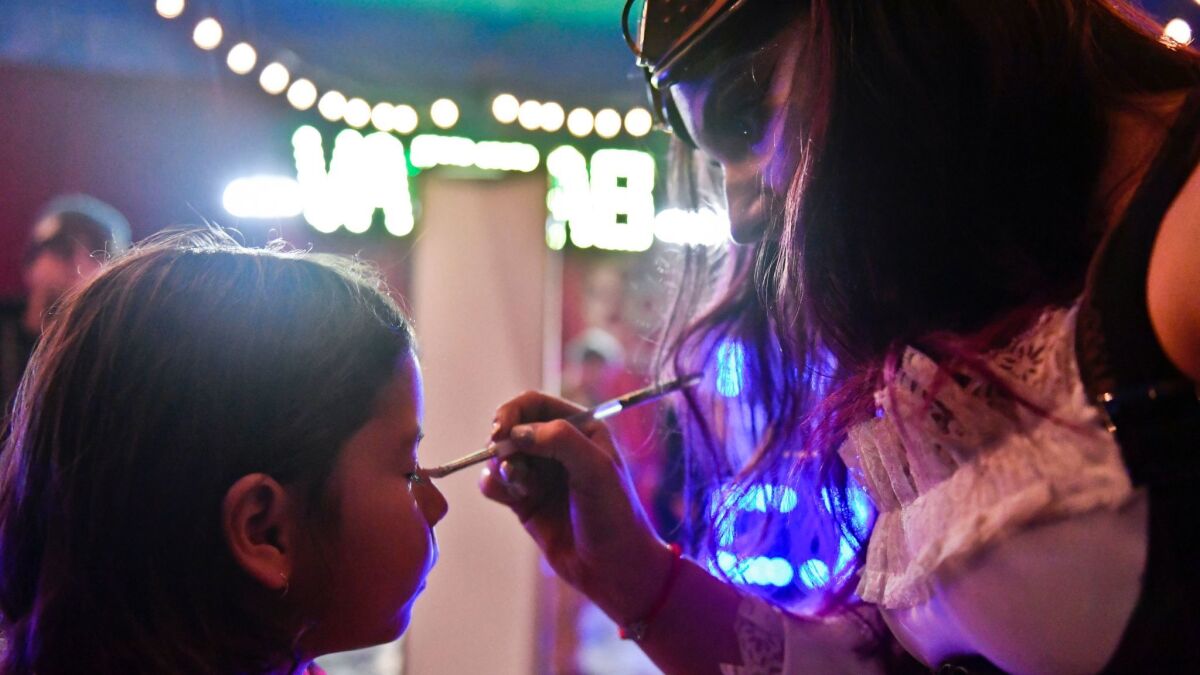 Circus Vargas trapeze artist Yasmin Rivera had donned her red, white and blue leotard and applied her heavy, glittery makeup. Soon she would be dangling from a cable under the big top, more than 20 feet in the air.
But as showtime neared on a recent Sunday night in Del Mar, Rivera had a task to perform: handing out tickets to the growing crowd.
"This is our relax time," the 33-year-old aerialist said with a smile.
To keep this small California-based traveling circus profitable, Circus Vargas' 100 employees each work two or three jobs, some less glamorous than others.
Facundo Kramer, a juggler and acrobat, also hustles popcorn and cotton candy. At intermission, performer Annabel Bachliyski comes off the trapeze to paint children's faces.
"Every single person in our show wears many hats," said Nelson Quiroga, who co-owns the circus with his wife, Katya, and drives one of seven big rigs that haul the giant tent and other equipment from town to town.
Welcome to the big top.
Circus owners have always operated on paper-thin profit margins, industry experts say.
But circus life has become doubly difficult with new animal welfare regulations along with extensive fire safety codes and food preparation guidelines, said Gary Payne, president of the Circus Fans Assn. of America, an organization of retired performers, managers and other circus supporters.
"I think the challenge for circuses today is to establish what their market is," Payne said. "They have to decide if they are going to deal with the extra layer of regulations or not."
The announcement last month that Ringling Bros. and Barnum & Bailey Circus, one of the nation's oldest, is going out of business in May illustrates just how difficult it is to keep a circus profitable. They must comply with a slew of regulations and compete with 3-D movies, virtual-reality video games and other forms of entertainment.
But the show must go on.
In addition to assigning workers double duty to keep costs down, Circus Vargas long ago ended its animal acts, which eliminated the expense of caring for and housing the creatures as well as cut the need to meet strict animal welfare regulations.
Ringling Bros. cited changing public attitudes toward animal acts and tough animal welfare regulations as key reasons why it retired its elephants last year. Several cities, including Los Angeles, had banned the use of a sharp-edged tool called a bullhook to train elephants.
After the elephants were pulled from the show's lineup, declining ticket sales at Ringling Bros. took an even steeper dive. The last Ringling Bros. show is scheduled for May 21.
"What's happening is that the added regulations reflect the sensibility that it's unethical and unsafe for circuses to have wild animal acts," said Wayne Pacelle, chief executive of the Humane Society of the U.S.
That movement, he said, also pushed SeaWorld Parks & Entertainment to stop breeding orcas and to replace theatrical killer whale shows with more educational productions.
By eliminating animals from the show, Pacelle said, Circus Vargas is staying ahead of the pack.
"We applaud the fact that they've shed the use of wild animals," he said.
Circus Vargas was founded in 1969 by Clifford E. Vargas, the son of Portuguese immigrants who raised him on a farm near Livermore, Calif. Elephants, tigers and other exotic animals were part of the show until the business temporarily closed in 2003.
Nelson and Katya Quiroga, both flying trapeze performers who met while working in the circus, took over the operation in 2005 and opened corporate offices in Irvine. They continued to use trained dogs, cats and horses in the circus until they realized in 2010 that the cost of the animals didn't pencil out.
"We also wanted to do something different," Katya Quiroga said. "We wanted more stories and more interaction."
We also wanted to do something different. We wanted more stories and more interaction.
— Katya Quiroga, flying trapeze performer
To help draw younger audiences, Katya Quiroga helped launch a new show in January that incorporates music and costumes with a steampunk, science-fiction vibe.
"We felt the time was coming for a change," she said.
The show relies exclusively on human performers — jugglers, acrobats, trapeze artists, magicians, contortionists, clowns and three motorcyclists who ride at breakneck speeds inside a giant metal sphere.
"We found a formula that still entertains the entire family," Nelson Quiroga said.
The circus puts on about 400 shows a year in California, Arizona, Nevada and Washington.
The signature tent, designed to hold about 1,500 people, is made of 90,000 square feet of fabric and takes 30 crew members and performers to raise. Five hundred stakes and more than four miles of rope and cable hold everything in place.
The toughest day for the circus workers is the day the show arrives to a new town, Nelson Quiroga said.
Once the tent is lifted, local fire officials and state worker-safety inspectors check out the facility. Food inspectors must also sign off on conditions in booths that sell food and drink.
"Doing the show is the fun part," Quiroga said. "Moving the show is the hard part."
The circus travels with a full-time teacher who gives lessons in a mobile classroom for the children of the performers, including the Quirogas' youngest daughter.
Family ties bind most of the performers.
Two of Nelson and Katya Quiroga's three daughters perform in the circus, one as a contortionist and another as a trapeze artist. The two circus ringmasters are brothers from Italy. Other performers are cousins or nephews.
Each year, Nelson and Katya Quiroga recruit new acts from Europe, South America and Russia. Most performers are signed to a one-year contract, earning an average annual salary of about $25,000 to $35,000, according to industry experts.
"I don't know anyone who has made big money in a life in the circus," Payne said.
So far, the formula seems to be working. Attendance numbers at Circus Vargas have been growing between 3% and 6% over the last few years, Katya Quiroga said.
Ticket prices start at $22 for bleacher seats, about the same price as the lowest-priced ticket for a Ringling Bros. show. Ticket prices for Cirque Du Soleil, the popular Las Vegas acrobatics show, are a bit steeper, starting at about $125.
Although some guests at a recent Circus Vargas show said they were surprised to see no animals under the big top, they still gave the show high praise.
Kelly Ogden of Del Mar brought her family to the circus to celebrate her 7-year-old daughter's birthday. But she said her family didn't know what kind of show to expect.
"What, no animals?" her daughter asked.
In the end, Ogden said, her 8-year-old son liked the trampoline act and her daughter said the acrobats were her favorite.
"I can definitely say this is a show the whole family can enjoy," she said.
Del Mar resident Joe Politzer has taken his 5-year-old daughter, Sidni, to both a Ringling Bros. show and a Circus Vargas performance. At a recent Circus Vargas show, the girl didn't seem to care that she saw no animals, he said.
"I'm perfectly happy with the show," Politzer said, "and my kid is enchanted by it."
To read more about the travel and tourism industries, follow @hugomartin on Twitter.
ALSO
Seven-course meal at private Disneyland dining room comes with a price: $15,000
Marriott is considering hotels with common rooms and electronic booze dispensers
The end of Ringling Bros.: What the Greatest Show on Earth meant to a man raised in the circus
Sign up for the California Politics newsletter to get exclusive analysis from our reporters.
You may occasionally receive promotional content from the Los Angeles Times.