In the convention center arms race, Los Angeles plans to go big to take on Las Vegas and others
In the arms race among the nation's largest convention centers, Las Vegas has unveiled its biggest weapon yet: a plan to make its already giant facility, well, humongous.
The proposed 1.4-million-square-foot expansion, once completed, would stretch the Las Vegas Convention Center two miles from end to end — so big that the operators want to add an automated transit system to get visitors around.
"We recognize that we are going to need to move people in a way that doesn't involve them packing a lunch and taking a long hike," said Steve Hill, president of the Las Vegas Convention and Visitors Authority.
In the scramble to book the nation's biggest and most profitable conventions, trade shows and consumer events, Las Vegas and other cities in the West are investing billions of dollars to expand centers that are already large enough to house the entire population of a medium-sized city like Burbank or Ventura.
RELATED: AEG proposes $1.2-billion expansion of L.A. Convention Center and JW Marriott hotel »
It's a race that industry experts say involves risks, especially if the nation is hit by another economic downturn. In the end — recession or not — some cities could win while others lose.
Los Angeles jumped into the go-big-or-go-home trend this month with a proposed $1.2-billion expansion to the Los Angeles Convention Center that would include a second JW Marriott hotel tower with 850 rooms. The plan would add about 350,000 square feet of total space to a facility that hasn't been expanded since the late 1990s. Mayor Eric Garcetti and other key elected leaders are already on board with the plan.
The motivation is obvious: Conventions, trade shows, consumer events and business meetings are booming, generating $325 billion in direct spending in the U.S. in 2016, a 23% increase compared to 2009, according to industry statistics.
That is money spent on convention meeting halls as well as hotel valets, restaurant cooks, waiters, taxi drivers, office supply merchants and others who do business around a convention center.
But industry experts say such expansions are not guaranteed to lure the biggest and most profitable shows.
The growth in attendees over the past few years is not big enough to ensure that all of the expansions in the country are profitable, said Heywood Sanders, a professor at the University of Texas at San Antonio and author of a book on public investments in convention centers.
"Does it make sense that each one of these expansions are going to see a significant increase in attendees," Sanders asked. "Does that seem plausible?"
In the heated battle to win the top-tier events, some cities that have invested billions on expansion projects may be forced to offer convention organizers discounted rates and subsidies, which can eat away at the revenue needed to pay off the debt incurred by the expansions, he warned.
But Los Angeles convention officials have justified the latest expansion project by claiming the city is losing $1 billion annually from lost business due to its undersized center, which now has 720,000 square feet of total exhibition space.
They draw the billion-dollar figure from a 2017 study commissioned by the city that said the lack of space and hotel rooms were the reason 429 large conventions did not book in Los Angeles between 2010 and 2016.
The lost conventions would have generated $6.4 billion in direct spending between 2010 and 2030, according to the study by commercial brokerage and real estate services firm Jones Lang LaSalle Inc.
Still, there is no evidence that Los Angeles can capture all of those lost meetings by simply expanding, said Sanders, noting that such "lost" events could land with a competitor for a variety of other reasons.
But Doane Liu, executive director of the Los Angeles Department of Convention and Tourism Development, said L.A. is one of the nation's glitziest cities and has a lot more to offer than just a bigger center.
"I suppose the professor is right," he said, referring to Sanders. "An increase in supply may affect some cities that we compete with. But we'll be newer and shinier. And we're in Los Angeles."
Another potential pitfall is an inevitable downswing of the economy, which has in the past led to dramatic cuts in meeting and convention spending.
That was a lesson learned during the most recent recession.
Trade shows, for example, were particularly hard hit, with attendance dropping 10% in 2009 compared to 2007, before the recession hit, according to the Center for Exhibition Industry Research. The number of exhibitors and revenue from the shows dropped by at least 11% in 2009 alone, the nonprofit found.
To help ride out such bad times, convention centers and meeting venues must include a variety of facilities such as shops, restaurants, sporting venues and other amenities to produce revenue when the meetings dry up, said Nancy Drapeau, senior research director at the Center for Exhibition Industry Research.
"Municipalities need to think strategically about this," she said.
Liu points out that the Los Angeles Convention Center is adjacent to the LA Live entertainment district, which includes restaurants, shops, music venues and the Staples Center sports arena, home of the NBA's Lakers and Clippers, NHL's Kings and WNBA's Sparks.
"We're not just selling a bigger convention center," he said.
The $500-million cost to design and construct the 350,000-square-foot expansion would be privately financed by the operator of the center, Los Angeles entertainment giant Anschutz Entertainment Group and the Plenary Group, an L.A. infrastructure-development and investment business. The financing would come from a mix of the companies' funds and privately placed taxable debt sold to large institutional investors.
The city would not have to raise public debt but would make annual payments to the AEG-Plenary partnership — at least partially funded by a share of convention center revenue — after the improvements were completed. The amount of the payments would be based on the final scope of the project agreed to by the city, officials said.
AEG's vice chairman and chief legal development officer, Ted Fikre, said he is aware that there are predictions an economic downturn is likely in the future, but he says the project puts Los Angeles in a better position to compete and withstand tough times.
"It's a long-term investment," he said. "We know there will be periods of softness, but we think the market is strong enough over the long term to sustain the project."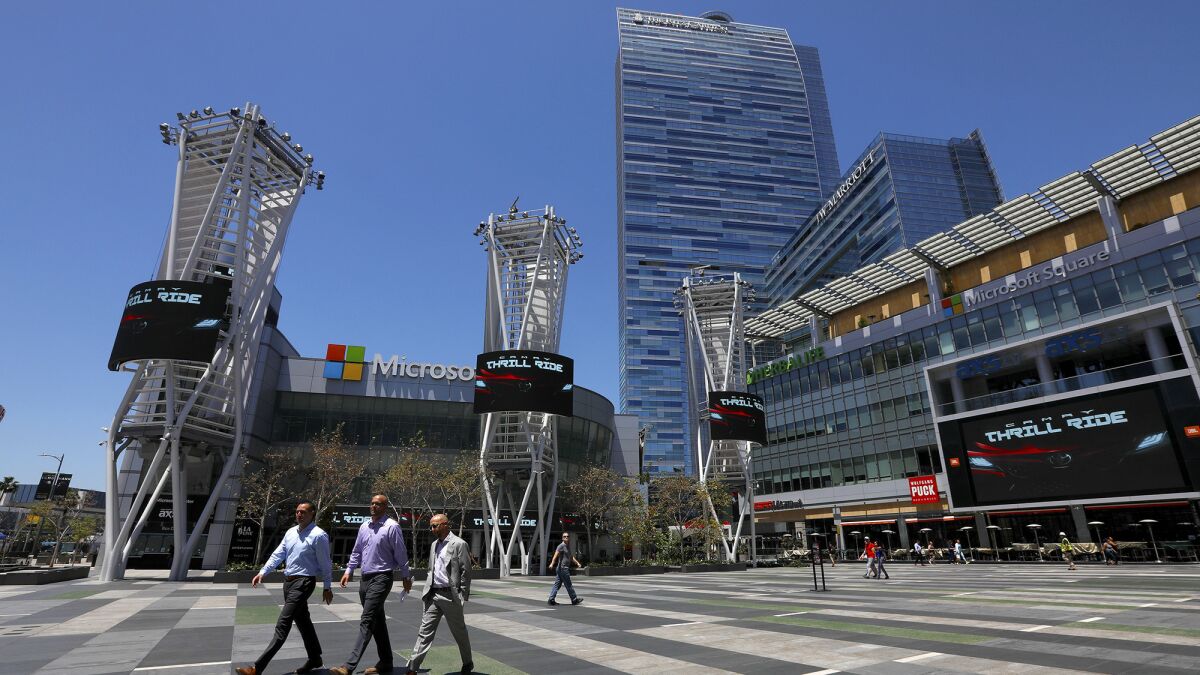 Still, some conventions and trade shows are so humongous that Los Angeles' facility — even after it is expanded — would still be too small to attract them.
One of the nation's biggest events, the Consumer Electronics Show, drew nearly 180,000 attendees at its January gathering in Las Vegas. That show has been growing in the past few years at a rate of 10% to 15% annually, said Karen Chupka, executive vice president for the Consumer Technology Assn., which puts on the show.
"Our growth is related to technology, which is now touching every type of products," she said.
The show is so big that it takes up the entire 1.9 million square feet of current exhibition space at the Las Vegas Convention Center, as well as the meeting space at several nearby hotels and casinos. Chupka said few other cities, including Los Angeles, have the exhibition space, the hotel rooms and other amenities to accommodate her show.
"We are pretty unique in that we don't have many options," she said.
To continue to host the Consumer Electronic Show and other big gatherings, the Las Vegas Convention Center plans to add 600,000 square feet of exhibition space as part of the overall 1.4-million-square-foot project that is expected to break ground in the fall.
But size is not the only thing that conventions and trade shows look for in a meeting place. High-speed wireless internet, efficient transportation and adjacent hotel rooms, among other amenities, can also help draw profitable events.
"It's also what will wow and impress those business you are trying to attract," Drapeau said.
Once Las Vegas' $860-million expansion is completed, the facility operators plan to overhaul the existing exhibition halls and will consider adding an elevated automated bus line to help get convention-goers around the facility.
"The investments we are making now are certainly making a statement that we intend to stay at the top of that heap," Hill said of the Las Vegas Convention and Visitors Authority.
The granddaddy of all U.S. convention centers is Chicago's McCormick Place, which has 2.6 million square feet of exhibition space. To help diversify its offerings, the center last year completed a 10,000-seat arena and a 1,200-room hotel adjacent to the convention center.
In California, Los Angeles is not the only city vying to get bigger and better.
Last year, Anaheim unveiled an expansion project that added 200,000 square feet, making it one of only a handful of U.S. cities that can boast at least 1 million square feet of exhibit space.
Convention center officials said the expansion was needed to retain conventions that are already booked at Anaheim but are growing and need more space. Even before the expansion was completed in September, the city said it had already booked 75 meetings and conventions in the expanded facility.
The Moscone Center in San Francisco is undergoing a $550-million expansion project that will add 62,000 square feet of exhibition space and is set to open in January 2019.
In San Diego, supporters of a convention center expansion project are collecting signatures for a ballot initiative that would raise hotel taxes to pay for an $850-million project. If successful, the expansion would add about 220,000 square feet to its existing exhibition space of 525,700 square feet.
For more than 40 years, the San Diego Convention Center has hosted Comic-Con, a huge gathering of fans of comic book and popular culture. The event now attracts more than 130,000 visitors each summer, but event organizers say they need more space to host the fast-growing gathering.
Los Angeles officials see the expansion projects in Las Vegas, Anaheim, San Francisco and San Diego as a challenge to keep pace.
And while a recession could put a dent in the revenues expected from L.A.'s expansion plan, Liu said the new hotel rooms, the dozens of already thriving restaurants, theaters and the sports arena nearby make it a good gamble.
"I'd bet on us," he said.
To read more about the travel and tourism industries, follow @hugomartin on Twitter.
---
Sign up for the California Politics newsletter to get exclusive analysis from our reporters.
You may occasionally receive promotional content from the Los Angeles Times.