L.A. County has traded high-paying jobs for low-paying ones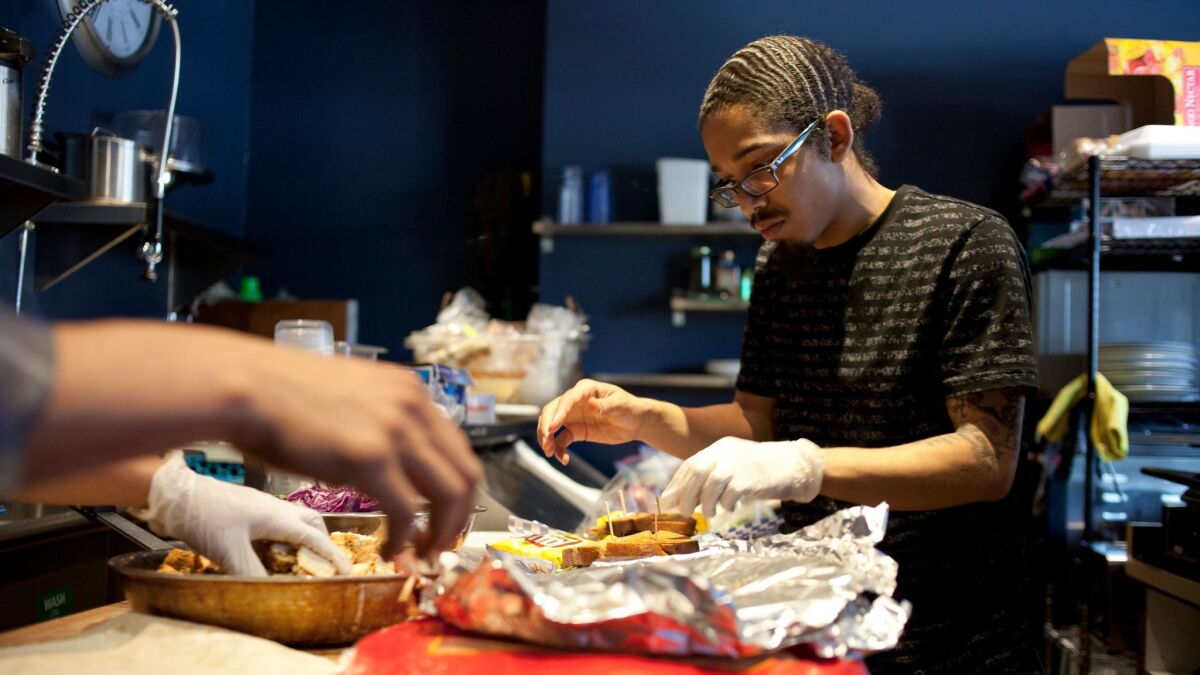 Los Angeles County has recovered the jobs it lost during the recession. But a new report says the region's job base has shifted over the last 10 years, losing tens of thousands of higher-paying manufacturing and finance jobs and gaining lower-paying service jobs.
The report, released Wednesday by the Los Angeles County Economic Development Corp., says that since 2007, L.A. County has lost 89,000 manufacturing jobs, which had an average wage of $70,100 in 2016.
More than half of these jobs were in durable goods manufacturing, such as computer or electronic products. About 15,500 apparel manufacturing jobs were lost during that time period.
Over the years, local garment makers have moved production to cheaper locations. Jeans maker Guess moved production to Mexico and South America, and apparel firm MGT Industries in L.A. moved production from Mexico to China and then Southeast Asia.
L.A. County had a total of almost 4.4 million jobs last year, an increase of 2.1% compared with 2015, according to the report.
During the same 10-year period, 35,000 jobs were lost in finance, accounting, architecture and engineering in the area. Those jobs paid an average wage of $85,000 in 2007, according to the economic group. The organization did not have 2016 wage comparisons for some of those jobs.
Meanwhile, the county added 92,000 jobs in food service and 49,000 jobs in in-home support services.
The average wage for food service jobs last year was $20,000, while the average wage for in-home support service workers was $14,000, according to the report.
"Overall, we've recovered all of the jobs lost," said Christine Cooper, senior vice president of the economic agency. "It's just a matter of what the distribution of those jobs looks like."
Chris Thornberg, founding partner of Beacon Economics, who was not involved in the report, said many of the jobs the region lost were in lower-paying manufacturing industries such as apparel. Thornberg said that lumping various factory jobs into one average does not make a fair comparison.
U.S. manufacturing jobs have declined steadily over the years as automation reduced the number of people needed on assembly lines and the industry employed more highly educated workers.
In L.A. County, manufacturing jobs declined for the third year in 2016, by 6,000. The economic development group predicted that the county would lose an additional 1,420 manufacturing jobs through 2018.
"The fact that those people have gone from, say, working at American Apparel to perhaps working at a hotel or at a restaurant, candidly, nothing has changed for them," Thornberg said.
He cautioned against reading too much into the job-change numbers, pointing to other economic measurements, such as L.A. County's declining unemployment rate.
In 2016, the county's average unemployment rate was 5.1%, compared with a statewide rate of 5.4%. Both were the lowest in nine years.
"Within the context of a relatively soft recovery, L.A. is looking fine," Thornberg said.
L.A. County's per-capita income is projected to be $48,790 in 2016, up 9% from $44,922 in 2013, according to the L.A. economic agency. These income figures are 2009 dollars adjusted for inflation; that year is the baseline used by the U.S. Bureau of Economic Analysis, Cooper said.
"We still are on a growth path, so that's good news," Cooper said. "We just want to be a little cautious about which direction we're growing."
To read the article in Spanish, click here
MORE BUSINESS NEWS
More skiers turn to short-term rentals — a mixed blessing for resorts
Wells Fargo fires former L.A. regional president, 3 other managers after scandal
Stocks hit new records as an appetite for deals sends food companies up
Wal-Mart's online sales jump 29% as it works to make inroads against Amazon
---
UPDATES:
1:25 p.m.: This article was updated with additional details about the breakdown of manufacturing job losses in Los Angeles County and where apparel production jobs have moved.
This article was originally published at 6 a.m.