U.S. cruise lines look for growth in China's waters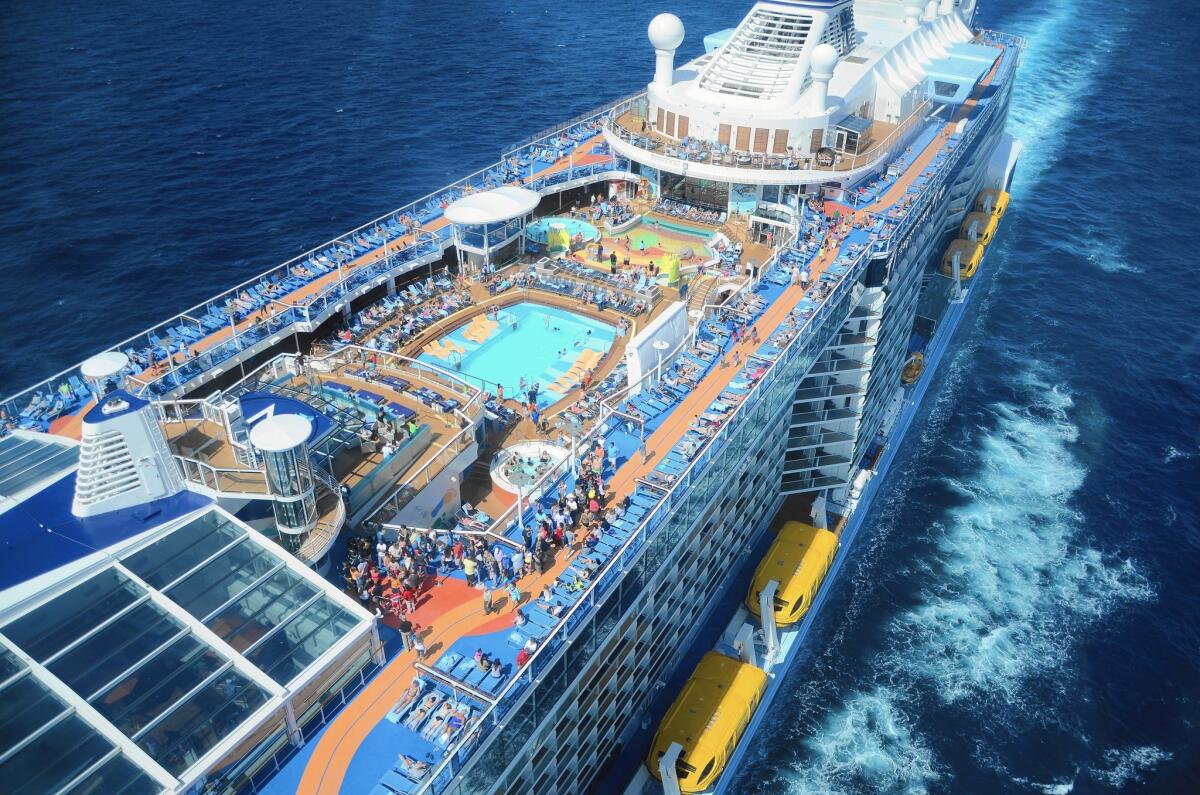 Royal Caribbean's Quantum of the Seas was less than a year old when the cruise line swapped out the Johnny Rockets retro burger joint for a noodle restaurant and replaced the duty-free shop with a luxury leather boutique.
The overhaul of the 1,100-foot-long ship came with a move last May from New Jersey to Shanghai — part of the cruise industry's push to capitalize on surging demand from China, a market with the potential to generate nearly seven times as many passengers as the U.S. does.
To catch the wave of travelers expected to sail out of China over the next few years, U.S.-based cruise lines are investing heavily in new and remodeled ships, and, in some cases, are relocating their most modern and luxurious ships from U.S. ports to China. Recent signs of China's slowing economy have yet to dim their enthusiasm.
"Even though it's a new market in China, the potential is huge," said Anthony Kaufman, executive vice president of international operations for Princess Cruises. "Over time, it's likely that China will become the largest cruise market in the world."
The U.S. is still the world's leading source of cruise passengers, with about 11 million a year. But the Hong Kong Tourism Board estimates that China — with a population of 1.4 billion — has the potential to generate as many as 83 million cruise passengers a year.
The worldwide cruise industry is on the rebound from a series of mishaps that marred the image of cruising over the past few years.
See more of our top stories on Facebook >>
The number of vacationers taking cruises worldwide grew at about 7% a year, starting in 1990. That pace slowed to about 2% to 3% after the 2012 crash of the Costa Concordia off Italy's Tuscan coast and the 2013 fire on the Carnival Triumph that disabled the ship in the Gulf of Mexico.
Passenger growth worldwide is expected to pick up to about 4% in 2016 over 2015 to 24 million passengers, according to the Cruise Line International Assn., a trade group for the world's cruise industry.
The Chinese cruise market grew by nearly 80% from 2012 to 2014 to nearly 700,000 passengers, according to the trade group. At the current pace of growth, China could be the world's second-largest cruise market by 2017, industry experts say.
The growth in China is coming largely from its expanding middle class. Many of those consumers are looking for new ways to spend their vacation money.
For the past few years, travel by air from China to the U.S. has surged, with Chinese travelers flocking to Disneyland, San Francisco and New York. Cruising is now on track to be the next big travel trend in China.
Cruise passengers from Asia are primarily under the age of 40, and most of the cruises they take explore nearby Asian destinations, including Japan, Malaysia, South Korea, Singapore and Thailand.
Zhang Xinwen, a 21-year-old junior at Sichuan Agricultural University, outside of Chengdu in central China, took a Costa cruise from Shanghai to South Korea and Japan in early December and said she would repeat the experience.
"Our Filipino housekeeper would always say 'hello' in Chinese and smile to greet us, which was really different from normal Chinese service people," she said.
The Chinese government is helping to accommodate the growth by paying to overhaul and expand many of that country's ports. China has seven international cruise ports, with three more under construction.
But some cruise industry experts wonder if U.S. cruise lines risk hurting the U.S. market by deploying their newest and most modern ships to China.
Quantum of the Seas is one of Royal Caribbean's largest and most advanced ships. The ship is loaded with extras not found in most cruise ships, such as bumper cars, a roller skating rink, an indoor basketball court, circus school and a sky diving simulator.
U.S. vacationers return to cruising year after year because cruise lines offer new ships and new ports of call to visit each year, said Stewart Chiron, founder of Cruiseguy.com, a website that reviews cruises. If the newest ships are headed to China, U.S. cruise travelers may find other ways to vacation, he said.
"A lot of these ships that are going out to China would have been going to ports in the U.S.," Chiron said.
Lorri Christou, a spokeswoman for the Cruise Line International Assn., disagreed, saying the large cruise lines are still adding plenty of new ships and new routes for U.S. travelers.
"This is not going to negatively impact the U.S. market place," she said.
For example, she noted that Royal Caribbean replaced Quantum of the Seas in New Jersey with it sister ship Anthem of the Seas, a ship just as big as Quantum, with many of the same features.
Miami-based Carnival Corp., the world's largest cruise company with 10 worldwide brands of cruise lines, is leading the charge to serve the Chinese market.
Carnival now operates four ships in China through its Costa Cruise and Princess Cruise brands and plans to send two more to China this year, plus another two in 2017, including one from its German-based Aida brand, and an additional ship in 2018.
By the end of this year, Carnival will operate 16 offices throughout China.
Among Carnival's fleet in China is the Sapphire Princess, a luxury boat that includes a casino, a wedding chapel, a golf putting course, a duty-free shop and a sports deck. The ship was built in 2004 and refurbished in 2014.
In addition, Carnival signed an agreement to partner with two Chinese companies to develop a China-based cruise company to build and operate a cruise brand for the growing market.
Carnival also announced plans last year to build a new Majestic Princess ship, specifically for Chinese passengers. The ship, which will be designed to carry 3,560 passengers, is expected to launch out of Shanghai by 2017.
Norwegian is also building a ship specifically for the Chinese market, a vessel big enough to carry 4,200 passengers. It is scheduled to launch in the spring of 2017. A home port and a name for the ship have not been announced.
To appeal to the Chinese passengers, most cruise lines are also modifying the food, entertainment and other onboard amenities.
On Carnival's Sapphire Princess, Kaufman said the company added tea kettles and slippers in the cabins to appeal to Chinese travelers and added new Tai Chi martial arts classes on the deck.
Carnival's research found that Chinese passengers are very particular about the food they eat on a cruise, he added.
"The Chinese food has to be very authentic," Kaufman said. "We had to get all the flavors right, the rice right and the noodles right. We did a lot of work on the food."
Despite such efforts by U.S.-based cruise companies, the food on the ships doesn't always win rave reviews from Chinese passengers.
"They had Chinese food on the menu, like Mapo Tofu and Peking duck," said Xinwen, the university student who took a Costa cruise. "I could see they're trying hard to appeal to Chinese customers. But honestly, as a Sichuan native, the Mapo Tofu didn't taste authentic at all."
Jonathan Kaiman and Yingzhi Yang in The Times' Beijing bureau contributed to this story.
ALSO
'Kung Fu Panda 3' is expected to fortify DreamWorks Animation's ties to China
Oil prices drag down white-collar industry workers in Houston but lift blue-collar ones
Texas grand jury indicts antiabortion activists who made undercover videos of Planned Parenthood