Judge clears AT&T purchase of Time Warner, creating entertainment colossus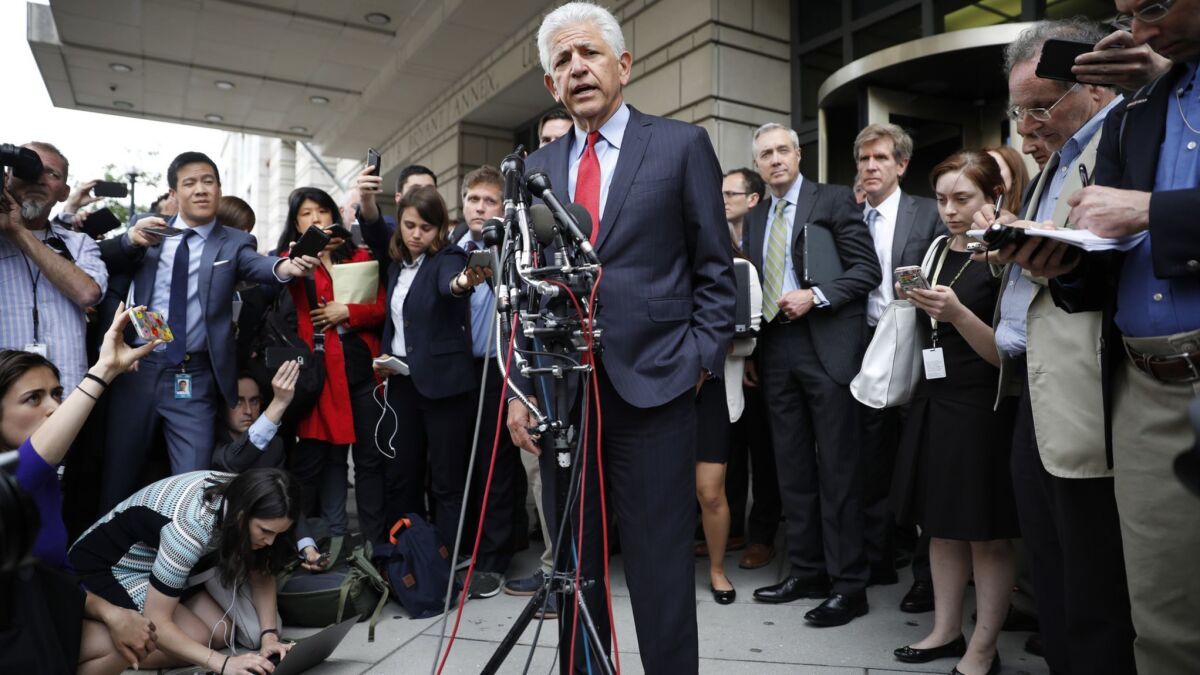 Reporting from Washington —
A federal judge Tuesday cleared the way for AT&T Inc.'s $85.4-billion purchase of Time Warner Inc., creating an entertainment colossus that promises to reshape the media business.
U.S. District Judge Richard Leon's ruling in the biggest antitrust case of the century is expected to pave the way for more mega-mergers and was a stinging defeat for the Trump administration.
The Justice Department sued to block the merger, arguing it would harm competition in the pay-TV market and raise consumer prices. But speaking before a packed courtroom, Leon made it clear that the government had failed to prove any of its arguments against the merger during the six-week trial.
"The parties have waged an epic battle," Leon said. "The court has spoken."
His decision means the deal, announced in October 2016, can close by next week, creating a giant new player in entertainment. The new AT&T will combine a large programming universe — including blockbuster movie franchises, such as Wonder Woman and Batman, hit TV shows, such as HBO's "Game of Thrones" and "Westworld," and live news and sports programming — with a nationwide network of wireless and satellite services to better compete with Netflix and other technology heavyweights.
The ruling also is expected to accelerate a wave of media mergers. A decision against AT&T would have put a damper on other potential combinations, said Mark Ostrau, an attorney and mergers and acquisitions expert at Mountain View, Calif., law firm Fenwick & West.
Other companies pursuing similar deals can breathe a little easier, he said, "because it may cause the Department of Justice to think twice about pursuing a case."
Comcast Corp., for example, probably will proceed with plans to try to outbid Disney for the bulk of 21st Century Fox's assets, he said.
The lawsuit against AT&T was unusual because the federal government rarely blocks mergers involving companies that don't directly compete.
Politics also cast a long shadow over the litigation. The friction between President Trump and Time Warner's CNN led to speculation that the government's opposition was fueled by his animus toward the cable news network. Trump had said during the 2016 campaign that the merger would concentrate too much media power in one company.
AT&T even hired Trump's former "fixer" Michael Cohen shortly after the 2017 inauguration and paid him $600,000 for insight into Trump's thinking, a decision that AT&T Chief Executive Randall Stephenson last month called a "big mistake." AT&T's retention of Cohen was made public in May amid the legal skirmish over the president's alleged affair with Stormy Daniels more than a decade ago.
But Leon denied AT&T's request to try to uncover any evidence that the White House might have influenced the decision.
The parties have waged an epic battle. The court has spoken.
— U.S. District Judge Richard Leon
The judge strongly urged the Justice Department not to seek an emergency stay of his ruling pending appeal, warning it could cause the merger to collapse because of a June 21 deadline the companies set to close.
Daniel Petrocelli, the lead attorney for AT&T and Time Warner, told reporters Leon recognized that the companies have been subjected to an "interminable delay" in closing the deal and that "it's unfair to the defendants, to the hundreds of thousands of employees of their companies, whose lives have been hanging in the balance, and to all the shareholders and all the other constituencies of these two great companies."
Asked if there was political motivation in the Justice Department bringing the case, Petrocelli noted AT&T had wanted to try to figure that out.
"It was a case that never should have been brought," he said.
The sweeping repudiation of the government's case was a stunning defeat for the Justice Department. After the hearing, Assistant Atty. Gen. Makan Delrahim said he was "obviously disappointed" by the decision and that he and his team would review the judge's 170-page decision.
"I've taken an oath to uphold competition and we're going to take a review of the opinion and take the next steps as necessary," Delrahim said as he left the federal courthouse near Capitol Hill.
Wall Street welcomed the decision, which boosted the shares of other media companies. Time Warner Inc. closed at $96.22 and jumped 5% in after-hours trading, although shares in AT&T, which closed at $34.35 Tuesday, dropped 1.5% after markets closed.
AT&T, already a telecommunications giant with more than 100 million wireless subscribers and 25 million pay TV homes, will acquire Time Warner's valuable entertainment assets, including HBO, CNN, Cartoon Network, TBS, TNT, Turner Classic Movies and Warner Bros., Hollywood's largest TV and movie studio.
During the trial, Justice Department lawyers argued that AT&T wanted to "weaponize" Time Warner's content to give it leverage to raise customer prices.
The result, the government warned, would be significant harm to competition — particularly new online pay-TV providers — and a powerful new gatekeeper that would lead to an increase of more than $400 million a year in prices for all Americans.
But AT&T and Time Warner Inc.'s legal team, led by Petrocelli, pursued an aggressive defense that included testimony from Stephenson and Time Warner CEO Jeffrey Bewkes.
Bewkes and Stephenson had argued that the merger was needed so the companies could better battle online competitors such as Netflix, Amazon, Facebook and Google. The combination of Time Warner's "premium content" with AT&T's vast subscriber network would allow the new company to engage consumers and target advertising tailored to their habits. Prices would go down, not up, AT&T executives said.
It was a case that never should have been brought.
— Daniel Petrocelli, lead attorney for AT&T and Time Warner
The Justice Department sought to use three arguments to prove that the deal would substantially lessen competition. But on each one, Leon said the government failed to meet its burden of proof under antitrust law.
The Justice Department's first argument was that acquiring Time Warner content would give AT&T increased leverage in negotiations with distributors to withhold content because AT&T's own pay-TV services — DirecTV and U-verse — would pick up some of the customers lost from rivals during a programming blackout.
Leon noted there had never been a long-term blackout of Turner network content. Testimony from rival distributors about AT&T leverage "was too speculative in nature" and "contained obvious competitive bias," he said.
The government's second argument — that AT&T alone or in conjunction with Comcast Corp. would try to slow the growth of online rivals by withholding content from those services — also failed to pass muster. Leon deemed the theory unlikely.
And Leon dismissed the third government argument, that AT&T would deny competitors the ability to use HBO in customer promotions, as a "gossamer-thin claim" based on "bare conjecture."
George A. Hay, a Cornell Law School antitrust professor who served in the Justice Department's antitrust division, said the opinion would be difficult to overturn.
"The opinion does not take the DOJ completely out of the merger business, but simply admonishes them to make sure the facts support their theory," Hay said.
The antitrust case was unusual because it dealt with a vertical merger, meaning the two companies do not directly compete in their primary businesses.
Such deals are different from horizontal mergers, which involve companies that compete directly. Those mergers remove competitors from the marketplace and are more frequently blocked.
The last time the Justice Department successfully blocked a vertical merger was nearly 50 years ago.
In an unusual move, Leon did not post his decision online. He delivered it from the bench at 4 p.m. Eastern time, after U.S. financial markets had closed. Spectators were not allowed to leave the courtroom until Leon finished.
Professional line-standers, who were paid by attorneys, corporate executives and hedge-fund managers to hold a place in the courtroom line, began queuing up outside the courthouse Monday afternoon — nearly 24 hours in advance. About 50 spent the night on the street outside.
Court deputy John Haley instructed the packed crowd that nobody would be able to leave while the judge was delivering his decision "except maybe on a gurney."
Puzzanghera reported from Washington and James from Los Angeles. Times staff writer Ryan Faughnder in Los Angeles and special correspondent Eliza Fawcett in Washington contributed to this report.
---
UPDATES:
6:05 p.m.: This post was updated with additional details from the lawsuit.
2:30 p.m.: This post was updated with additional reaction to the court's ruling.
This article was originally published at 1:41 p.m.
Our six-week newsletter will help you make the right decision for you and your property.
You may occasionally receive promotional content from the Los Angeles Times.