Bryan Singer rape accuser says fear of being outed kept him from going to police in 2003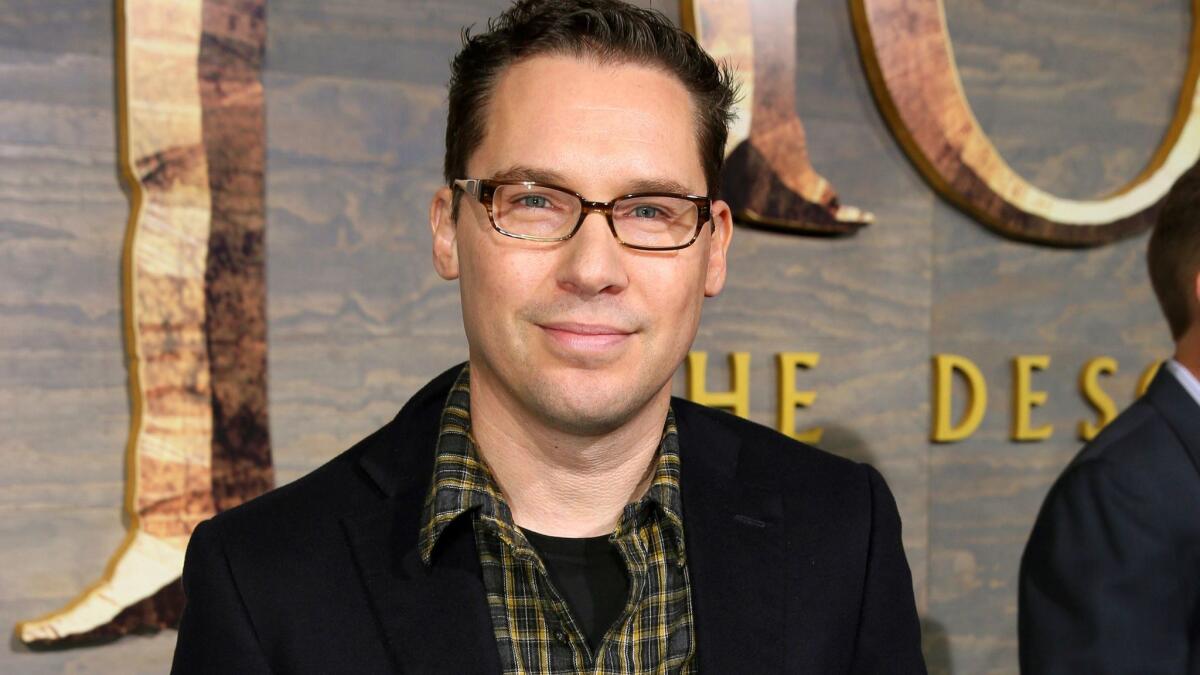 Cesar Sanchez-Guzman, who filed a lawsuit this week claiming that Hollywood director and producer Bryan Singer raped him when he was 17 years old in 2003, said in an interview Friday that fear of being outed as gay kept the then-high school student from reporting the attack to police.
Sanchez-Guzman, now 31, also alleged that Singer boasted of being powerful in the film industry and warned him against reporting the rape.
"He smirked and said, if I say anything, he was very popular and could basically ruin my reputation," Sanchez-Guzman said.
He filed suit in Washington state court on Thursday, alleging that Singer forced him to engage in oral sex and then raped him at a party on a yacht 14 years ago.
An attorney for Singer said in a statement Thursday that the filmmaker, best-known for directing "The Usual Suspects" and the "X-Men" series, "categorically denies" the allegations. Singer's lawyer vowed to file a malicious prosecution claim of his own against Sanchez-Guzman and his attorneys, who filed lawsuits — since dismissed — against Singer on behalf of other accusers in 2014.
"Cesar Sanchez-Guzman apparently claims that he did not remember this alleged incident from 2003 until now," Singer's attorney, Andrew Brettler, said in the statement.
On Friday, the USC School of Cinematic Arts announced in a statement that it would be dropping Singer's name from its Division of Cinema and Media Studies at the filmmaker's request, as he "does not want the pending litigation to have any negative impact on his alma mater."
Sanchez-Guzman spoke to a reporter for the Los Angeles Times on the phone from the Florida offices of Herman Law, the firm that is directing the suit against Singer with the help of Seattle attorneys.
Sanchez-Guzman said that he and his family had moved to the Seattle area the year before. "I was finding myself, having just recently come out of the closet to my friends," he said, and began attending parties popular with other young gay men, thrown by a local tech investor.
He described himself as being "selected" by the investor for an invite to the party on the yacht, on which alcohol flowed as it sailed Lake Union and Lake Washington.
Sanchez-Guzman said he did not know anything about Singer, who he said introduced himself on the ship and was "very flirtatious," until after the alleged attack occurred. He said that Singer offered to give him a tour of the yacht and led him to a small room down a corridor.
The legal complaint says that Singer "thrust his body" on Sanchez-Guzman, forced him to the floor and forced him to engage in oral sex. Singer then raped Sanchez-Guzman while the high school student "pleaded for him to stop," the suit states.
Afterward, Sanchez-Guzman said, Singer approached him on the yacht and both threatened and cajoled him with his power in Hollywood. "If you ever want to get into Hollywood, I could help you," Sanchez-Guzman said Singer told him.
Though Sanchez-Guzman said he did have dreams of being an actor, learning that Singer was powerful in the industry "was more of a push for me to not pursue Hollywood."
He said he later told a close friend of the rape but did not tell his family or go to the police. His family was made up of strict Pentecostal converts who had sent him on two religious retreats, including one in which there was an effort made to "rid [him] of a homosexual evil spirit," Sanchez-Guzman said.
He believed that reporting Singer would have resulted in them learning that he was gay. "That was not an option," Sanchez-Guzman said. "I knew if I did, the consequences would be worse for me."
Washington state law has a "delayed discovery" statute, which in some cases allows civil accusers of sexual abuse to file a claim after the traditional statute of limitations has expired, as it would have in this case, if they can show that less than three years has passed since learning how the abuse impacted them.
On the advice of his attorney, Sanchez-Guzman would not explain how he decided to file the lawsuit now.
His attorney, Daniel Ellis of Herman Law, credited the "collective empowerment" that has followed the recent widespread exposure of allegations of sexual assault and harassment against film mogul Harvey Weinstein and others in Hollywood and elsewhere.
"People feel like they're in a safe space to make accusations," Ellis said.
Herman Law also represented plaintiffs who in 2014 filed federal lawsuits against Singer and others, which alleged that the filmmaker sexually abused underage boys at a Hawaii estate and in a London hotel suite.
The plaintiffs in both cases also sued Gary Goddard, the Hollywood producer and director who has again been recently accused of sexual abuse. Goddard's publicist has said the claims are false and defamatory.
Singer has previously derided the 2014 legal claims as a "sick, twisted shakedown," and his attorneys have maintained they are baseless. The lawsuits against both men were voluntarily dismissed. Jeffrey Herman, a partner and founder of Herman Law who represented one of the plaintiffs, Michael Egan, later apologized to two other defendants for including them in the litigation.
In his statement Thursday, Singer's attorney seized on Herman's involvement in this new lawsuit. "We are confident that this case will turn out the same way the Egan case did," the statement said. "And once Bryan prevails, he will pursue his own claims for malicious prosecution."
Film studio 20th Century Fox fired Singer this week from his role as director of "Bohemian Rhapsody," a biopic of the band Queen. Though the studio did not give a reason for the firing, it had blamed Singer's "unexpected unavailability" for delaying production.
---
UPDATES:
2:15 p.m.: This article has been updated with USC's announcement that it is removing Bryan Singer's name from a division of its School of Cinematic Arts.
This article was originally published at 1:45 p.m.