Standoff over Dodgers TV channel goes into extra innings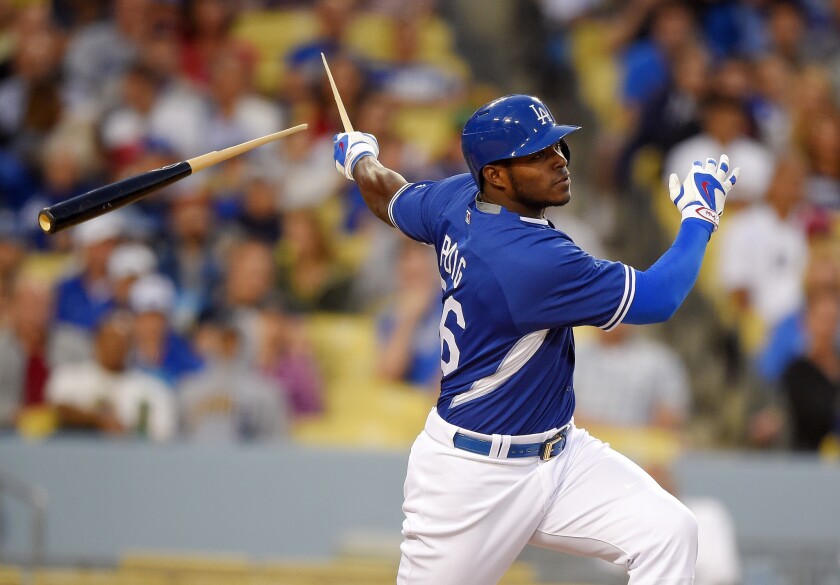 When the Los Angeles Dodgers take the field Monday, it will mark the start of another shutout television season for long-suffering fans.
Time Warner Cable remains the only major pay-TV company in Southern California carrying SportsNet LA, the cable channel owned by the Dodgers. That leaves more than 70% of the homes in Greater Los Angeles unable to regularly tune in to Dodger games for the second straight year.
The 2015 season opens with little hope that a yearlong stalemate over programming fees will be resolved any time soon. The hang-up continues to be the price of the channel that Time Warner Cable wants to charge other pay-TV providers, as well as looming ownership changes for the two main players in the dispute: Time Warner Cable and DirecTV.
Neither side has engaged in meaningful negotiations this year. Until new bosses arrive, executives at those companies appear unwilling to make concessions to end the standoff.
"This is ridiculous," said Claudia Vaughn of Los Angeles, a Dodgers fan for more than 20 years. "I can't believe that we are entering a second season of this mess, and the fans are the ones still stuck in the middle."
Fans looking for a culprit have plenty to choose from. "There is enough blame to go around for everyone," said Craig Moffett, a Wall Street media analyst.
Time Warner Cable, which landed the TV distribution rights, and Guggenheim Baseball Management, which owns the Dodgers, made two miscalculations for the new Dodgers channel, SportsNet LA. They overestimated consumer interest and underestimated the amount of resistance from other pay-TV operators, including DirecTV, Charter Communications, Verizon FiOS and Cox Communications, which all have balked at the cost of the channel.
The architects failed to foresee a dramatic shift in the pay-TV landscape. Consumers fed up with soaring cable bills have increasingly cut the cord and switched to lower-cost options such as Netflix, Hulu or even what the industry calls a "skinny" package of TV channels. Pay-TV companies now fear that if they add one too many high-priced channels, further driving up costs to subscribers, they may lose more customers.
A resolution is not expected until regulators in Washington complete their review of two pending media mergers: Comcast Corp.'s proposed takeover of Time Warner Cable, and AT&T's acquisition of DirecTV. The government should decide in the next few months whether to approve both deals.
That's little comfort for fans eager to see Clayton Kershaw and Yasiel Puig or hear the homespun stories of Hall of Fame announcer Vin Scully, now in his 66th year with the Dodgers.
Both Time Warner Cable and the Dodgers have suffered. The predicament has been a public relations nightmare for team owners, who were hoping to restore the Dodgers to glory after the Frank McCourt years.
The number of people watching the games on TV has fallen, from 228,000 a game in 2013 to an average of 56,289 last year — barely more than Dodger Stadium holds. At the same time, stadium attendance has soared. The team sold 3.8 million tickets last year, the most in Major League Baseball, and 3 million tickets were scooped up even before this season began.
Time Warner Cable has taken the financial hit. Under terms of its 25-year, $8.35-billion contract with the Dodgers, the cable company has been paying the team fees of more than $200 million annually — and absorbing losses that exceed $100 million a year, according to people familiar with the finances who asked not to be identified.
"Their eyes got too big for their stomach," said one former TWC executive who was not authorized to speak publicly on the matter.
Time Warner Cable has gained several thousand new subscribers, but far from enough to make up for the deficits. And fans who live in Burbank, Glendale, Long Beach and Orange County, among other large areas, do not have the option of switching to Time Warner Cable — so they are stuck.
The only way for Time Warner Cable to trim its losses would be to cut a deal with other distributors. But some of those operators have lingering resentment toward TWC, which they regard as a rival. They believe they already are paying too much to carry TWC's other sports channel featuring the Los Angeles Lakers. Now they have little interest in bailing out their adversary.
And so far, it hasn't cost other pay-TV operators much business. DirecTV, for example, has about 1.2 million subscribers in the region. The satellite TV giant lost only about 2,000 homes last year because it didn't offer the Dodgers channel. So DirecTV is less motivated this year to strike a deal.
"Neither side has an incentive to make a material concession here," said David Carter, executive director of the USC Marshall Sports Business Institute.
TWC, for its part, figured the cost of the channel, which industry consulting firm SNL Kagan estimates at $4.90 a month per subscriber home, would be acceptable to other distributors because it was roughly the same as other elite local sports networks, including Yes, which carries the New York Yankees and Brooklyn Nets.
It notes that a Seattle sports channel DirecTV owns fetches roughly the same rate and TWC executives contend that SportsNet LA is worth more because Los Angeles is a larger market.
"SportsNet LA is available on fair terms consistent with its value," a Time Warner Cable spokesman said.
An SNL Kagan analysis, though, suggests SportsNet LA is the third-most-expensive regional sports channel in the U.S., behind a New England network that features the Boston Red Sox and Boston Bruins, and Fox Sports North, which broadcasts games of several Minnesota and Wisconsin teams.
Unlike the others, SportsNet LA covers just one team: the Dodgers.
"It is a very expensive channel," said Moffett, the media analyst. "Time Warner Cable paid a very high price."
Pay-TV companies are under pressure to hold the line on programming costs, and in Los Angeles, there has been an explosion of sports networks.
Four years ago, there were just two regional sports channels, which together cost distributors nearly $5 a month for each subscriber home. But now there are five regional sports channels in Los Angeles, which collectively cost distributors $12.50 a month for each customer home, according to SNL Kagan. And that doesn't include the cost of expensive national outlets such as ESPN, TBS or the NFL channel.
"We've been approaching a tipping point in sports programming costs for years, and the L.A. market is confirming that we've reached it," said Andy Albert, senior vice president of content acquisition for Cox Communications, which serves Orange County. "Fans seem to understand this was a bridge too far for the Dodgers."
Early on, pay-TV operators proposed offering SportsNet LA separately to fans willing to pay extra for it, rather than including it in basic packages that most subscribers receive. TWC has been unwilling to sell the channel that way, saying no other sports channel is offered a la carte. What's more, interested subscribers would have to fork over $25 a month — or more — for the channel for TWC to recoup the money it pays the Dodgers.
Last year, local members of Congress called for binding arbitration to let a neutral party decide a fair price. DirecTV declined.
Some fans have criticized the Dodgers, saying the team should reduce the fees it collects from TWC to make the channel more affordable.
But that scenario isn't realistic, says Rep. Brad Sherman (D-Sherman Oaks). "It's not like the Dodgers are going to give up a half-billion dollars to make that happen," he said. "The Dodgers have already sold the TV rights, and to their credit, they are spending the money on the field to build a winning team."
Vaughn, the Dodgers fan whose parents rooted for the Brooklyn Dodgers, is beyond frustrated.
"Everybody is out for the money," she said. "I don't understand how they can alienate this many people."
Bill Koury of La Cañada Flintridge, which is served by Charter Communications, has been a Dodgers fan since 1977. A private investor with interests in gas stations, Koury agrees that money is at the root of the impasse.
"This hasn't hurt the Dodgers in their pocketbook," he said.
As a small protest, Koury plans to attend fewer games this year: only five, not his typical 20. And when he goes to Chavez Ravine, he will take his own water and a bag of peanuts bought at a grocery store.
"Fans should cut back on their concession stand purchases," he said. "If we all did, 300 vendors would be complaining to the Dodgers every day. Right now, no one is complaining, and the Dodger owners are just sitting back, laughing at us. They know the cable companies will kill each other, and the fans still will show up at the games."
---
Must-read stories from the L.A. Times
Get the day's top news with our Today's Headlines newsletter, sent every weekday morning.
You may occasionally receive promotional content from the Los Angeles Times.