Haim Saban is selling Power Rangers brand to toy maker Hasbro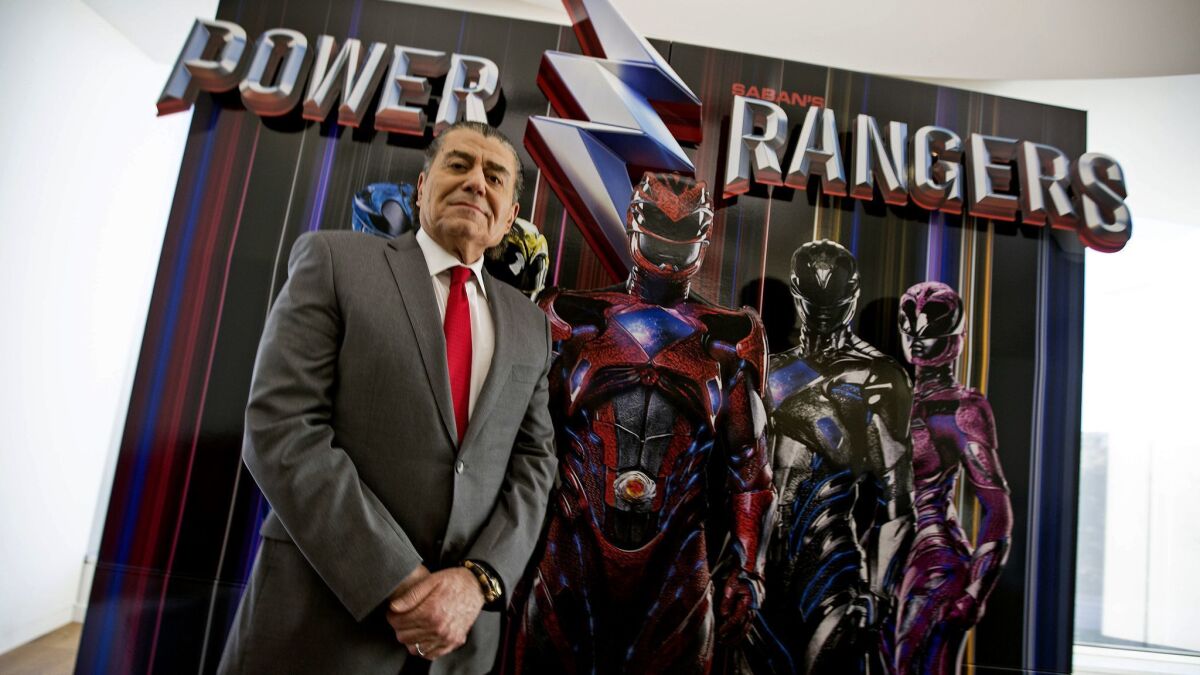 The Power Rangers are sprinting out of Los Angeles to a new corporate home.
Hasbro Inc., the world's largest toymaker, has agreed to buy the entertainment brand and several others owned by Los Angeles billionaire Haim Saban, the two announced Tuesday.
The cash-and-stock deal, valued at $522 million, allows Rhode Island-based Hasbro to add Power Rangers to its stable of toys, games and programming that already includes Transformers, My Little Pony, Monopoly and Play-Doh. It's also a blow to Hasbro's main rival, Mattel Inc.
Decades ago, Saban created the "Mighty Morphin Power Rangers" TV show — a remake of a Japanese action show about ordinary teenagers who take on supernatural strength to battle bizarre creatures from space — and spent years peddling it. Fox bought the live-action TV show in 1993, and it became a hit.
Tuesday's deal marks the second time Saban has sold the Power Rangers. "Mighty Morphin Power Rangers" was included in Saban's and News Corp.'s $3.2-billion sale of the Fox Family cable channel to Walt Disney Co. in 2001. But the property languished at Disney, and Disney didn't feel it was core to the company's brand. So the Burbank entertainment giant sold Power Rangers back to Saban in 2010 for less than $100 million.
Over the years, the franchise has spawned more than 900 television episodes and billions of dollars in sales of toys and other merchandise. Last year, a $100-million reboot hit movie theaters. But the film, distributed by Lionsgate, did not perform up to expectations: It earned only $142 million worldwide, according to Box Office Mojo. Nevertheless, there has been talk of plans for another Power Rangers movie.
Now Hasbro is taking the reins.
"Twenty-five years after launching Power Rangers, I believe the future for this brand has never been greater," Saban, founder of Los Angeles-based Saban Brands, said Tuesday in a statement. "Hasbro's leadership in innovation, storytelling and brand stewardship make it the perfect company to further develop the global reach and appeal of the Power Rangers property."
Saban declined to comment.
The popularity of the Power Rangers helped to build the mogul's empire, which includes interests in real estate, apps and online games, an Israeli phone company, Asian TV channels and an ownership interest in the struggling Spanish-language media company Univision Communications, of which he serves as chairman.
Saban Brands and Hasbro struck a licensing deal in February.
Under that deal, Hasbro agreed to pay $22.25 million to be the global master toy licensee for Power Rangers starting in April 2019, giving the toymaker worldwide rights, except in Japan and some other Asian markets. Hasbro was to collaborate with Saban Brands to "design, produce and bring to market a wide variety of toys, games and role play items inspired by the franchise and its entertainment properties."
But Hasbro soon decided it wanted to own the brand outright.
"Shortly after entering into our licensing arrangement, it became clear that now was the time to begin investing in unlocking Power Rangers' full potential," Hasbro Chief Executive Brian Goldner said in a statement.
Hasbro sees "significant opportunity for Power Rangers," including toys and video games, and Haim Saban will "continue in a consulting role to further guide our development of this valuable property for the next generation of Power Rangers fans," Goldner said.
The licensing payment will be credited toward the purchase price, the companies said. Hasbro will pay an additional $229.75 million in cash and will issue $270 million worth of Hasbro common stock to acquire the Power Rangers brand and several others. They include My Pet Monster, Popples, Julius Jr., Luna Petunia and Treehouse Detectives.
The deal is one more headache for Hasbro's top rival, Mattel, and Mattel's new chief executive, Ynon Kreiz.
Mattel's stock tumbled 74 cents, or 5%, to $14.06 a share Tuesday. Hasbro shares slipped 70 cents, or 0.8%, to $87.39.
Mattel — whose brands include Barbie, American Girl and Fisher-Price — has been struggling for years, and a series of top executives has been unable to stem the El Segundo company's slide.
Kreiz took the reins in April. He succeeded Margo Georgiadis, who was chief executive for only 14 months; during her tenure, Mattel continued to post losses and lower sales.
Mattel, Hasbro and other toymakers have been hurt by the demise of Toys R Us Inc., the giant toy retailer that filed for bankruptcy protection in September and is now liquidating its U.S. operations.
"We see this deal as a positive for Hasbro, as it will be able to leverage the Power Rangers brand across toys, games, consumer products, digital gaming and entertainment," wrote Keith Snyder, an analyst with CFRA Research. "We believe this is the first in a string of potential M&A moves following the Toys R Us bankruptcy."
Hasbro is expected to fare better than Mattel in the face of Toys R Us' demise, in part because it has negotiated successful toy-making licensing rights to several entertainment brands, including the Star Wars franchise and Disney's Princess and Frozen properties.
There has been years-long speculation that Hasbro might mount a takeover bid for Mattel. Both companies repeatedly have declined to comment on the rumors.
The two toy companies are nearly the same size. Hasbro's sales last year were $5.2 billion, and Mattel's were $4.9 billion.
Twitter: @JimPuzzanghera
---
UPDATES:
3:00 p.m.: This article was updated with information about Saban's business.
12:45 p.m.: This article was updated with information about Mattel.
This article was originally published at 11:05 a.m.
---
Sign up for the California Politics newsletter to get exclusive analysis from our reporters.
You may occasionally receive promotional content from the Los Angeles Times.