For decades, the Defense Department has relied on school bus-sized satellites launched high above the Earth for national security missions.
But those satellites can take years to build and launch. And as nations gain the ability to shoot down or disable them — and electronics become smaller and more powerful — that's ramped up interest in developing the ability to launch tiny satellites quickly and with relatively little notice.
That's the centerpiece of the Defense Advanced Research Projects Agency's new launch challenge. In late 2019, several small-satellite launch teams will be given a license from the Federal Aviation Administration to hoist payloads, with just 14 days' notice, to specific orbits from a location they will only learn a month ahead of time. A successful launch will win a team $2 million.
Two weeks later, they'll have to do it again with a new payload, orbit and launch site. After competitors are ranked based on factors such as accuracy, the winner will get an additional $10 million. Second- and third-place teams will also receive cash prizes.
"For a really long time, we've enjoyed and benefited from space being a sanctuary," said Todd Master, program manager at DARPA's Tactical Technology Office, during a Wednesday information session in Los Angeles. "But that environment is changing."
The Defense Department has been interested in small satellites for many years. But until recently, tiny spacecraft weren't useful or cost-effective enough to make them worthwhile, said Doug Loverro, former deputy assistant secretary of Defense for space policy.
Technological improvements and commercial mass production of small satellites for broadband and communications constellations are piquing government interest once again, though.
In 2007, the Chinese military shot down one of its own satellites in a ground-based ballistic missile test, and had previously illuminated at least one U.S. satellite with a laser on the ground. In the 1980s, the U.S. and Soviet Union conducted anti-satellite weapons tests, but stopped after they led to fields of space junk that threatened other satellites.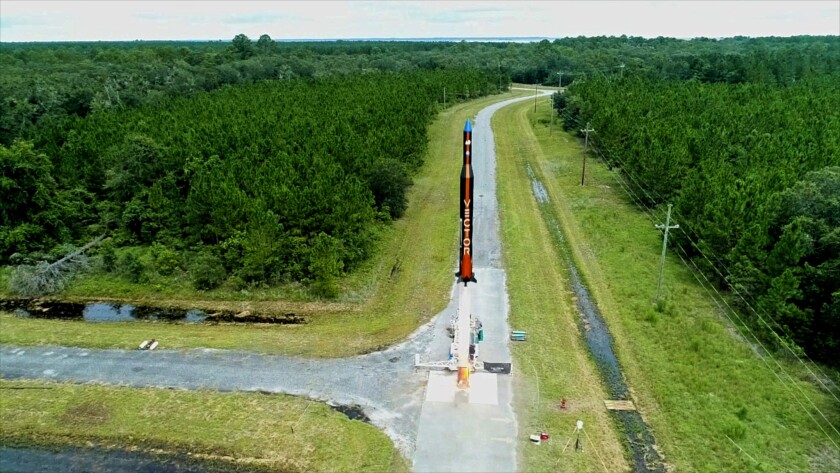 With small satellites, the Defense Department could quickly replenish satellites that have been destroyed by adversaries or set up a constellation for targeted reconnaissance efforts, Loverro said.
Last August, for instance, SpaceX launched a Kestrel Eye satellite for the U.S. Army. The dorm-fridge sized spacecraft is designed to launch quickly and provide real-time imaging information to troops on the ground.
Being able to launch from anywhere — whether that's a commercial spaceport, a U.S. Air Force launch pad, or an aircraft runway — would allow for even more flexibility, Master said.
"We don't want to have single points of failure," he said.
Launch-site flexibility is a key strategy for several emerging small-satellite launch firms, such as Seattle-based Stratolaunch. The company is developing a plane with a wingspan of 385 feet that will launch satellites from a rocket attached to the plane's belly. To launch, Stratolaunch only needs a runway.
The company is aiming to conduct its first test flight in August, with commercial service beginning in 2020. That current timeline wouldn't fit with DARPA's launch challenge, but the company plans to continue preparations for the competition anyway, said Mark Bitterman, director of customer engagement.
Another company whose commercial plans seem to be aligned with those of the DARPA challege is Tucson-based Vector, which last year test-launched from a country road in Georgia. Vector has a mobile launch platform and station to blast tiny satellites to orbit from just about anywhere.
"[DARPA's] seeing the same scenarios or requirements that a lot of us are seeing — the need for more responsive access," said John Garvey, president of launch services. "They're going to be able to leverage the fact that there's already a lot of momentum building."
Though traditionally known for building engines that power larger launch vehicles such as the space shuttle, manufacturer Aerojet Rocketdyne is also developing a family of engines geared toward the small-satellite launch market.
The company has already conducted hot fire tests of its Bantam engines, which are manufactured with 3D printing technology, said Tom Martin, senior manager of strategy and business development.
Twitter: @smasunaga
---