Historic home of clothier Desmond's is ready for its comeback on Broadway
Office workers will soon toil where Angelenos of their great-grandparents' generation once tried on shoes and purchased the most au courant styles in hats.
The elegant former home of Desmond's, one of the city's earliest clothiers, is poised for a comeback as the latest example of creative offices adapted from historic buildings in downtown Los Angeles' traditional core.
Completed in the 1920s, the six-story structure on Broadway between 6th and 7th streets was designed in Beaux Arts style. It has been mostly vacant for decades and is being renovated into offices with a restaurant and a rooftop bar with skyline views.
Los Angeles real estate investment firm Afton Properties recently bought the building for $22 million and plans to spend more than $12 million to renovate the interior and add a 7th floor for the restaurant and 8th floor for the bar.
"It's effectively a piece of art," said real estate broker Mike Condon Jr. of Cushman & Wakefield, who helped arrange the sale.
The lavishly decorated structure once housed one of the city's elite clothing stores, where men could take time out from shopping to get a shave or even practice their putting.
In a newspaper ad that ran before the store opened in September 1924, Desmond's boasted of being a local institution for more than 60 years and said proudly of its latest store, "This more pretentious home is its own reward."
Condon hopes the 85,000-square-foot building will be leased to a single tenant, such as an architecture firm or a co-working company that provides shared office space to individual entrepreneurs.
Afton Properties wanted Desmond's because it has character and is on a resurgent stretch of Broadway, President Reuven Gradon said. "There is almost no other building with that level of detail on the block."
Other developers have found success with the adaptive reuse of historic office, industrial and retail buildings, rescuing them from obsolescence and often converting them for up-to-date uses different from their original purpose.
Among the former grand stores that have been turned into offices are the Broadway department store built in 1914 at Broadway and 4th Street — now a state office building — and the 1917 Ville de Paris store at 7th and Olive streets being converted to offices over a grocery store.
Owners of the mammoth former May Co. department store at Broadway and 8th also are working to turn it into offices, a hotel and a shopping venue, while the owners of the former Bullocks store at Broadway and 7th are adding offices to space last used for wholesale jewelry operations. Both structures date from the early 20th century.
The Desmond's building was designed by Albert C. Martin, one of the city's preeminent 20th century architects, who had already created the Million Dollar Theatre building on Broadway in 1917 and would later be part of the team that designed City Hall.
The firm Martin founded is still based in Los Angeles, and third-generation scion Chris Martin, who leads it today, described the Desmond's building as "really deluxe. They spared no expense."
The facade is decorated in elaborately cast terra cotta with twisting columns, balconies and an ornamental pediment on top, while the rest of the exterior is rather plain, Martin said. His uncle Albert C. Martin Jr. used to describe the style as "Queen Anne in the front and Mary Anne in the back."
Another Los Angeles architecture firm, Omgivning, is designing the makeover. Omgivning specializes in adaptive reuse of historic structures and has worked on such high-profile projects as Alameda Square, the former May Co. and the Downtown L.A. Proper Hotel.
The Times reported upon its opening that Desmond's had "a cathedral-like atmosphere" on its ground floor with two-tone walnut fixtures in Italian Renaissance style.
Interesting features, the newspaper said, included a men's lounge with a fireplace and "a patio for women with a tinkling fountain, a college section for the youthful male, and in the children's section a circus."
Downstairs was a barber shop done in scarlet and black with an adjacent washroom and shower. Nearby was a golf shop with an indoor putting green.
It was the eighth home of Desmond's, which was founded near downtown's historic Olvera Street in 1862 by men's hatter Daniel Desmond and grew into a small chain of clothing stores. The company went out of business in 1981.
In the decades before World War II, however, Broadway was in its heyday. People took the streetcar downtown to shop, dine or see a movie. Desmond's was across the street from the Los Angeles Theatre and on the same block with Clifton's and Schaber's cafeterias.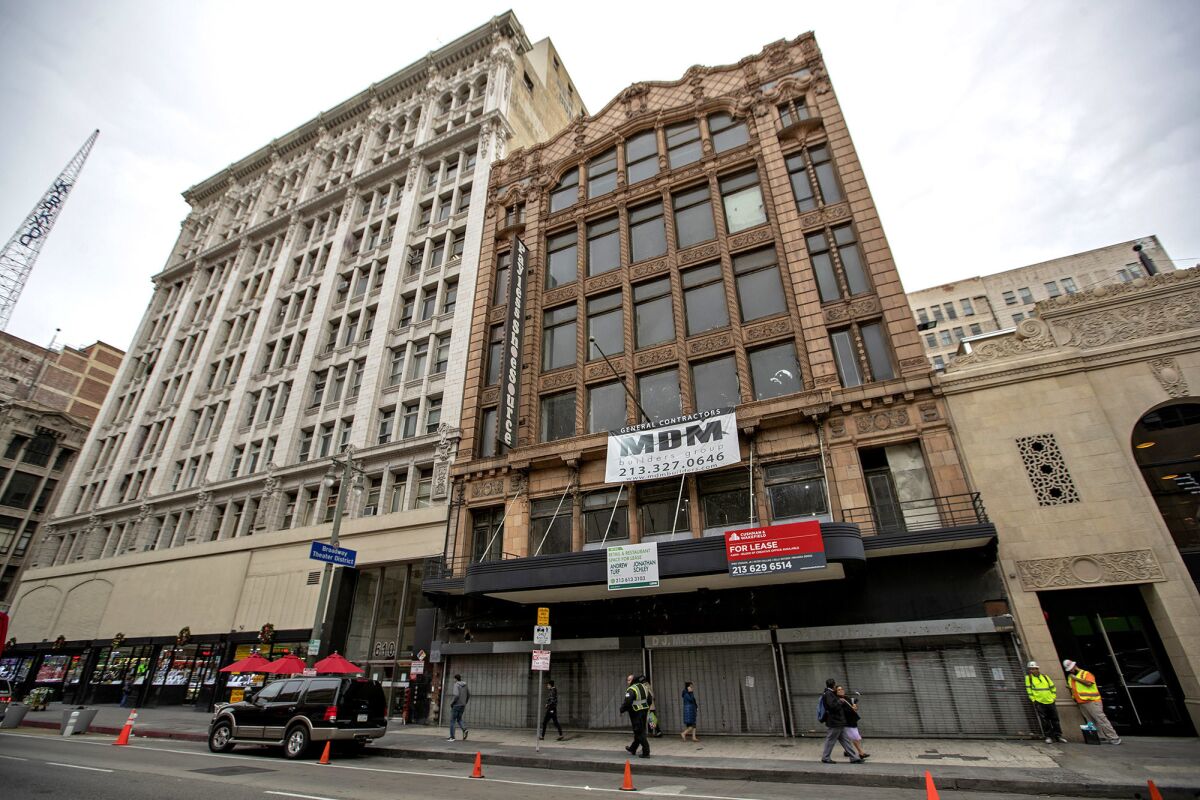 Broadway's appeal diminished as theaters and commerce followed L.A.'s growing population to the suburbs after World War II, historian Greg Fischer said, and specialty clothing stores such as Desmond's faded as people began to wear more casual clothes.
"Nobody knows their hat size or their glove size," he said. "People just don't dress like that anymore."
Although many older structures in the city's historic core have already been rehabbed under a 1999 city ordinance that made it easier to repurpose them, it is only in about the last three years or so that Broadway has seen a transformational surge of investment, Condon said.
The former two-story Schraber's building next door to Desmond's recently reopened as Jumpman L.A., a retail outpost of Nike's Jordan Brand that has a regulation-size basketball court and bleachers on the roof.
South on Broadway is the Ace Hotel and theater in a former 1920s office tower that has become a thriving recreation destination since it opened in 2014. Its success helped spur the development of two other boutique hotels in brick-clad 1920s buildings on Broadway: the Downtown L.A. Proper Hotel and the Hoxton. Both are set to open next year.
Also close by on Broadway is the former home of the Herald Examiner, constructed by newspaper mogul William Randolph Hearst in 1914. It has been closed since the paper went out of business in 1989 but is set to reopen in 2020 as a satellite outpost of Arizona State University.
Thousands of apartments have been built on Broadway in the last few years, and about two blocks north of Desmond's, a 35-story condominium tower called Perla is under construction. It will have 450 units when it is complete in 2020.
At Desmond's, crews are set to work next on a structural upgrade to meet modern earthquake safety standards and install new electrical, plumbing and mechanical systems. Gradon said he expects the renovation to be complete in about 12 months.
The comeback of downtown's historic core is well underway, he said, but is still in its early stages and many more improvements such as the Desmond's makeover are coming. He predicts they will fill the sidewalks with people.
"We haven't seen a fraction of the impact this is going to have in terms of foot traffic," Gradon said.
Twitter: @rogervincent