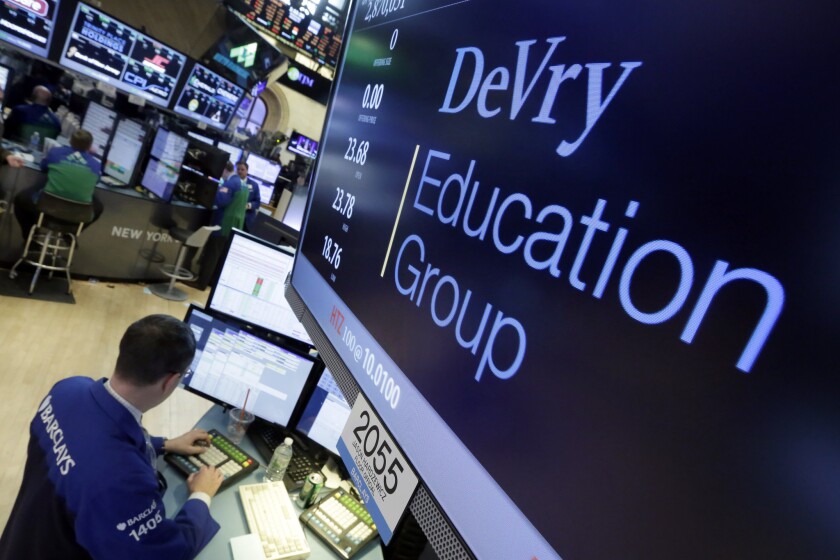 The U.S. Federal Trade Commission filed suit against the operators of DeVry University on Wednesday, alleging that the for-profit education group misled students about their job prospects and potential earnings after graduation.
The suit focuses on two claims DeVry made in advertisements on television, radio and social media: that 90% of graduates seeking employment got jobs in their fields within six months and that students' incomes a year after graduation were 15% higher than the average of all other college graduates.
The FTC complaint, filed in federal court in Southern California, alleges those claims are "false and unsubstantiated."
See more of our top stories on Facebook >>
This is the latest action against for-profit colleges, which are facing increasing scrutiny from state and federal regulators amid evidence of aggressive recruiting, high costs and poor student performance.
In the Devry case, the government said DeVry counted students who were working the same jobs before enrolling toward the 90% success rate. In other cases, the complaint alleges DeVry stretched the definition of graduates "employed in their field."
For example, a business administration graduate was considered employed in the field by working as a server at the Cheesecake Factory. Graduates of the technical management program were also counted as employed, though they were working as unpaid volunteers at a medical center, according to the suit.
The suit also questioned the methodology of DeVry's claims about students earning 15% more than other average college graduates, saying the school's own internal data showed graduates did not earn significantly more.
"We want people to be making informed choices based on accurate information," said Christina Tusan, a staff attorney in the FTC's Los Angeles office. "That's our concern in these types of cases."
DeVry, which is based outside Chicago and operates more than a dozen campuses across California, said the FTC's complaint is "without a valid legal basis." In a statement, the company said the lawsuits relies on "anecdotal examples that exaggerate the allegations but do not prove them."
The company said it measures employment and earnings of graduates on a "sound, rational and transparent basis, and has published these results in a consistent manner over the years."
There is no national standard for measuring employment statistics, DeVry said.
The U.S. Department of Education also announced it would require DeVry to stop certain advertisements about job prospects for students and to hire an auditor to examine any future claims.
The FTC suit seeks an injunction and monetary compensation for past and current DeVry students.
Twitter: @c_kirkham
MORE FROM BUSINESS
Is the U.S. due for a recession or not? A case can be made either way
Meet the attorney suing Uber, Lyft, GrubHub and a dozen California tech firms
FCC chief proposes freeing Americans from getting pricey set-top boxes from TV providers
---