Disney unions file complaint to get $1,000 bonus promised after corporate tax cut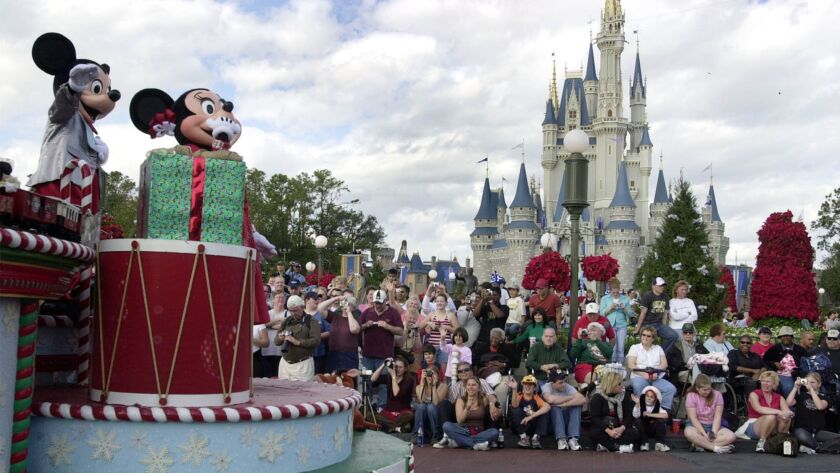 Unions at several Walt Disney Co. theme parks are accusing the company of using promised $1,000 employee bonuses as bargaining chips in ongoing contract negotiations.
Last month, Walt Disney Co. announced it was giving $1,000 each to more than 125,000 employees. The Burbank media giant, similar to many other companies, planned to give extra money to employees after the Republican federal tax overhaul reduced the corporate tax rate.
The bonuses were to be paid in two payments, in March and September.
But a coalition of unions at Walt Disney World Resort filed a federal complaint alleging unfair labor practices Monday, accusing the company of holding employees' $1,000 bonuses hostage during contract negotiations.
A labor union representing hotel workers at the Disneyland Resort in Anaheim said it also plans to file a complaint with the National Labor Relations Board over bonuses that they say are being withheld from theme park workers.
Unite Here, Local 11, which represents hotel workers at the Disneyland Resort in Anaheim, said Disney withheld bonuses pending the resolution to contract negotiations that have been ongoing for more than a year.
"It's very disappointing for them to take credit for something that they are not willing to do," said Ada Briseno, co-president of Unite Here, Local 11. "They are using that bonus to hold our contract hostage."
In a statement, Disney said the company considers bonuses to be part of the negotiating process.
"We look forward to meeting with the union and moving toward a ratified agreement," the statement said.
Disney has told the union that it won't pay out the $1,000 bonuses it has promised unless the union accepts a contract deal that union negotiators say is unacceptable, Briseno said. The deal offered a raise of only 40 cents an hour for some workers, she added.
Disneyland spokeswoman Suzi Brown said the latest offer is fair.
"We have a strong offer on the table that includes wage increases averaging 3% annually over three years and a $15 hourly rate for certain job classifications, such as housekeeping and specialty culinary," she said.
In Orlando, Fla., the Service Trades Council issued a news release Monday that said Disney refuses to give employees at Walt Disney World Resort the bonuses until the union approves a new contract. "If the unionized employees do not accept Disney's offer by Aug. 31, 'the bonus offer will expire.'"
"A thousand dollars is a lot of money to people who make $10 or $15 an hour," said Ed Chambers, the council's president.
The trades council represents more than 35,000 Walt Disney World Resort employees, including bus drivers and attraction workers.
The trades council and Disney have been fighting over wages and struggling to reach common ground since labor talks began in the summer.
In December, union members overwhelmingly rejected Disney's proposal that would have given a raise of 50 cents an hour or a 3% increase, whichever was higher.
Disney proposed the same offer when the two sides met Monday, the first meeting since December.
The salary increase is part of Disney's "ongoing commitment" for employees, Disney spokeswoman Andrea Finger said in a statement.
Some Disney employees argued they deserved higher pay, pointing to the company's success. Disney's theme park division generated $5.2 billion in revenue for the quarter that ended in December, a bright spot for the company.
"The cast members I work with already said no to 50-cent raises back in December," Madeline Johnson, an employee at Disney's Animal Kingdom, said in a statement. "We're not going to be tricked by a $1,000 bribe, especially when other Disney cast members are getting the $1,000 with no strings attached."
Russon writes for the Orlando Sentinel.
---
UPDATES:
3:45 p.m.: This article was updated to include comments from a labor union representing hotel workers at the Disneyland Resort in Anaheim.
This article was originally published at 6:05 p.m. on Feb. 19.
---
Be your money's boss! Learn how to make a budget and take control of your finances with this eight-week newsletter course.
You may occasionally receive promotional content from the Los Angeles Times.