The Fox lot is one asset Rupert Murdoch wouldn't sell to Disney — for good reason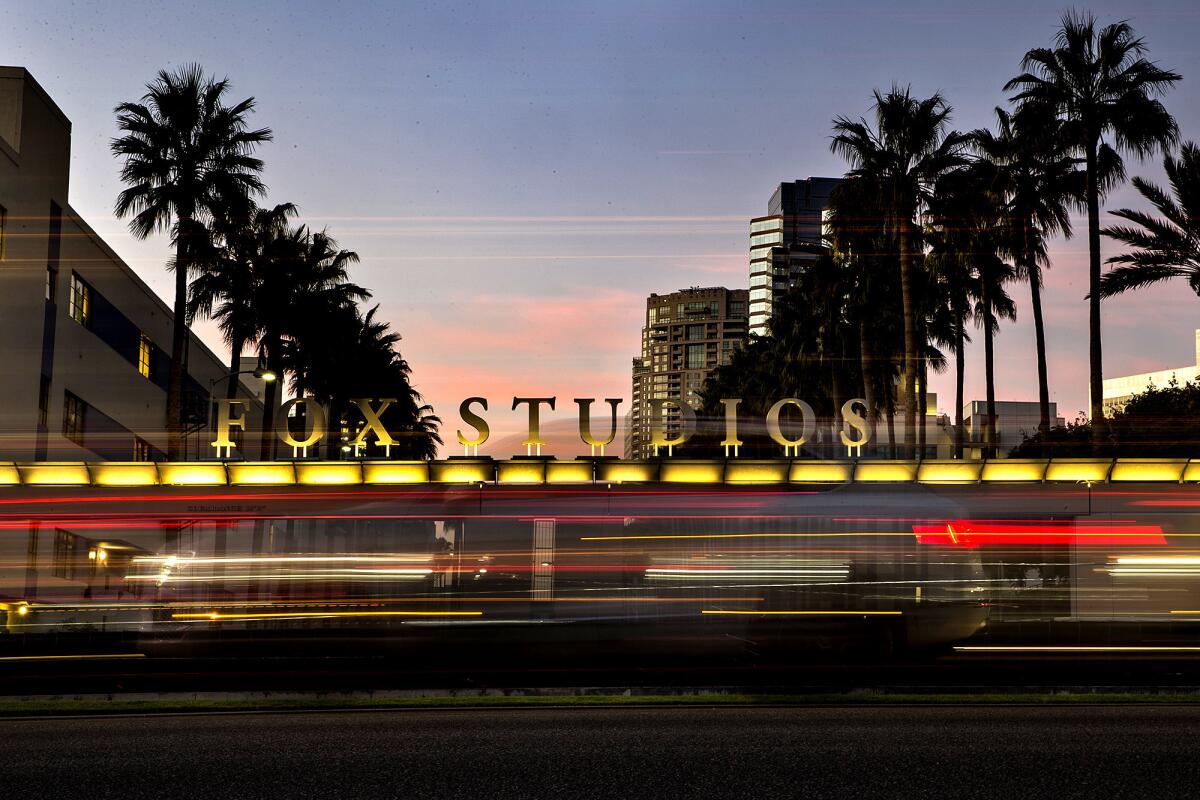 In the end, the legendary Los Angeles birthplace of what became the vast Fox film empire was just too dear to part with.
The historic Century City lot on Pico Boulevard was retained by the newly formed Fox Corp., even as Walt Disney Co. absorbed much of 21st Century Fox's entertainment assets in a $71.3-billion deal that put Captain America and Wolverine on the same team.
Fox has not spelled out its plans for the more-than-50-acre property where Shirley Temple once danced and sang, but there is certainly more than nostalgia for Hollywood history behind the decision.
Lachlan Murdoch, the eldest son of media mogul Rupert Murdoch, will run the company controlled by the family as its chairman and chief executive. And it's safe to predict that the old lot where generations of movies and television shows were filmed will remain a cash-generating pillar of the surviving Fox empire for years to come.
Although the reconfigured company will have a decidedly broadcast emphasis — its assets include Fox News, the Fox Broadcasting network and Fox Sports — it will remain in the scripted TV business, continuing to air "The Simpsons" and "Family Guy," even though those programs now are owned by Disney.
An entire exterior wall of Stage 10 on the Fox Studios lot is covered by a mural depicting stars Marilyn Monroe and Tom Ewell from the 1955 comedy "The Seven Year Itch."
(Mel Melcon / Los Angeles Times)
A mural of characters from the animated comedy "Family Guy" decorate the exterior of a sound stage at Fox Studios.
(Mel Melcon / Los Angeles Times)
A scene from "Young Frankenstein" re-created on a sound stage wall at Fox Studios makes for a distinctive photo backdrop.
(Mel Melcon / Los Angeles Times)
Detail of actors Gene Wilder, left, and Marty Feldman in "Young Frankenstein" in a mural on Stage 5 at Fox Studios.
(Mel Melcon / Los Angeles Times)
John Candreva, executive director of facilities operations at Fox Studios, crosses New York Street on the Fox backlot in Central City.
(Myung J. Chun / Los Angeles Times)
John Candreva, executive director of facilities operations at Fox Studios, in front of Building 88 on the Fox lot, which was built by Darryl F. Zanuck to house his his offices because the original was too small for his needs.
(Myung J. Chun / Los Angeles Times)
The private dining room used by Fox Studios executives in the studio's commissary.
(Myung J. Chun / Los Angeles Times)
The executive dining room at the Fox Studios commissary.
(Myung J. Chun / Los Angeles Times)
Portraits of Shirley Temple hang in the Shirley Temple dining room at the Fox Studios commissary. Proceeds of Temple's movies built the studio's three-story administrative building, erected in 1936.
(Myung J. Chun / Los Angeles Times)
The lot contains both administrative offices and soundstages, and holds immense value as an entertainment manufacturing center — but also as a potential real estate development site, despite having been chopped down in size decades ago to make way for the construction of Century City.
Lachlan Murdoch keeps an office on the Fox lot once occupied by illustrious studio boss Darryl F. Zanuck and pressed to keep the property in the Fox fold, sources said.
The Fox lot was not assigned a specific value in the Disney deal, but 25-acre CBS Television City in the Fairfax district sold for $750 million in December to Los Angeles real estate developer Hackman Capital Partners. Real estate industry observers have speculated that the Fox property could be worth more than $1.5 billion.
The eye-popping values reflect the fierce demand for studios as both places to make entertainment and sought-after sites for dense real estate development.
Fox laid the foundation for major additions in 2016 when it filed a proposal with the city Planning Department to add more than 1 million square feet of offices, soundstages and other production and support facilities over the next 20 years. The lot has about 1.5 million square feet of building space now.
Progress has been slow, however. A draft environmental impact report on the potential effects the development would have on neighborhoods around the studio — such as adding more car traffic — is still in the early stages, a Planning Department representative said.
The incentive to add offices and other facilities that could be rented to entertainment industry tenants is high in this period of rapid growth among free-spending new competitors in the business, such as Netflix Inc., Amazon.com Inc., Apple Inc. and Alphabet Inc., the parent company of Google.
Other studio owners are already cashing in on the ravenous demand for office and production space from young video-streaming content creators and old-line Hollywood companies, providing a model for Fox.
Disney's Fox acquisition: Everything you need to know »
Netflix has leased more than 700,000 square feet from Hudson Pacific Properties Inc., which owns three studios in Hollywood that date to the early days of motion pictures. The Los Angeles landlord is adding offices and other facilities to its studios that it can rent to entertainment industry tenants.
The same strategy is being employed in Culver City by Hackman Capital, which is doubling the size of Culver Studios for a major new tenant — Amazon Studios, which moved its headquarters there from Santa Monica.
The streaming entertainment provider will eventually occupy 530,000 square feet on the lot founded by silent movie pioneer Thomas Ince, including its signature 1920s mansion on Washington Boulevard.
Although the Fox lot already hosts productions from third-party producers, the company is not known for renting office space to outsiders, so there may not be a rush to add more offices to the lot.
Shows that have recently filmed there include Fox's "The Orville," ABC's "Modern Family" and CBS' "Life in Pieces." The latter two shows are 20th Century Fox productions but air on other networks. Fox's "The Simpsons" has been based on the lot for decades.
In the past, other major studios have leased soundstage space, including NBCUniversal, which produced "House" for broadcast on Fox. But today, the lot is almost exclusively occupied by producers and crews working on Fox productions.
The lot will generate two streams of revenue for the new incarnation of Fox — the lease of office space to Disney and the rental of studio facilities for third-party productions, which initially will be predominantly filled by productions that Disney is taking over, according to filings with the Securities and Exchange Commission.
Fox agreed to lease offices to Disney for a minimum of seven years, with Disney having the right to renew the lease for up to 10 more years.
In the 1990s, Fox added more offices to the lot for subsidiaries such as FX Networks and 20th Century Fox Animation, but it hasn't set out to cash in on demand among third parties such as Netflix and Amazon for precious, prestigious offices on a movie lot.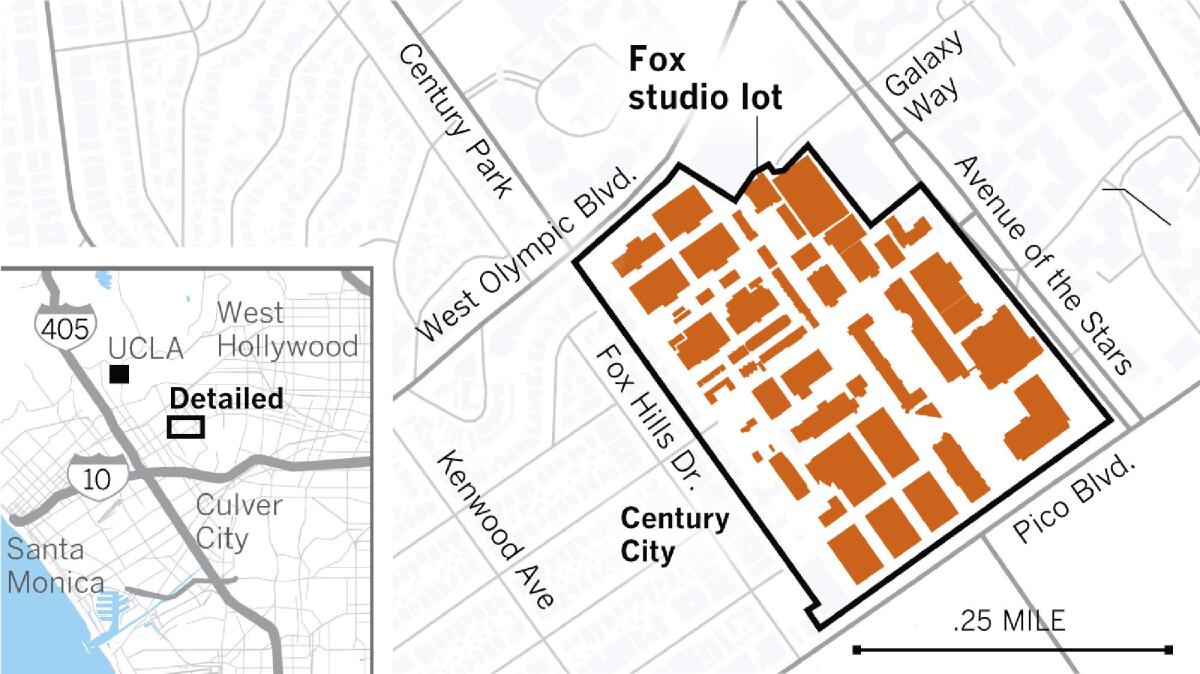 The lot had far too little space for Fox, which has long rented more than 400,000 square feet in the Fox Plaza tower in Century City and 430,000 square feet in Playa Vista, according to real estate industry trackers.
However, it's expected that more than 3,000 jobs, mostly in the Los Angeles area, will eventually be eliminated as part of Disney's consolidation of the remaining Fox assets, according to two people familiar with the matter.
Less than two days after completing the acquisition, Disney began laying off senior-level executives in an effort to wring savings from the deal. The initial cuts affected about two dozen employees, most of them executives at the 20th Century Fox lot, according to people familiar with the matter who were not authorized to comment.
Among those leaving were Greg Meidel, president of 20th Television, a syndication arm of 20th Century Fox Television. It's unclear whether the layoffs could open up space on the lot or pave the way for consolidation of offices at the facility.
But with the growing need for "high-quality filming space and post-production and other supplemental facilities," hanging on to the studio made sense for Fox, said Kevin Klowden, executive director of the Center for Regional Economics at the Milken Institute.
"I think it's a wise move," he said. "It is a significant asset not just in terms of the value of the real estate, which has continued to go up, but what kind of real estate it actually is. They are clearly adapting their business model to be a more specialized operation in a digital world."
Though soundstages and elaborate outdoor film sets such as the Fox lot's New York Street dominate the public's imagination of what a movie studio looks like, offices have always been a crucial component of studios and are growing more so as newcomers including Netflix and Amazon staff up.
The corporate heart of Fox Studios is still the three-story main administrative building erected in 1936 using the proceeds of movies starring Shirley Temple, the precocious child star who was the country's biggest box office draw in the middle of the Great Depression.
Should the new Fox decide to rent out space to the new streaming giants that have entered Hollywood, it can expect to exact a premium sum.
Those leases provide a steady stream of income for the studios' owners. Average asking rents in Century City are $5.22 per square foot per month, 38% higher than the average rate in Los Angeles County, according to property brokerage CBRE.
Landlords can charge even more for space on movie lots because they are close to the action for independent production companies and offer the security and cachet prized by many in the entertainment industry.
Los Angeles-area soundstages were 96% occupied in 2016, according to FilmL.A., which tracks production in the region, an indicator of how demand for studio offices and soundstages constantly outstrips supply.
Early last decade soundstages were typically rented about 70% of the time, real estate broker Carl Muhlstein of JLL said. That changed around 2014 as content streamers such as Netflix, Amazon and Hulu ramped up.
"Now occupancy is close to 100% as the new content players have pre-committed rights to soundstages in anticipation of ballooning budgets for production," he said.
Dating to the early 20th century, Fox and its Pico Boulevard lot occupy an elevated perch in the history of Hollywood, according to film historian and archivist Marc Wanamaker. "It helped develop the motion picture industry not only in Los Angeles but in the United States," he said.
The current Fox Studios traces its lineage to co-founder William Fox's 1924 purchase of 99 acres between Santa Monica and Pico boulevards from Janss Investment Co., the developers of Westwood Village. Fox Films merged with 20th Century Pictures in 1935, forming 20th Century Fox.
The lot grew to as large as 285 acres at its height but eventually shrank to its current size as the studio was hit with a string of flops, including the Richard Burton and Elizabeth Taylor vehicle "Cleopatra," whose budget had ballooned before its 1963 release. Desperate for cash, studio bosses sold nearly 180 acres in 1961 to businessman William Zeckendorf and Aluminum Co. of America for the development of Century City.
The Fox lot today — at roughly 50 acres about half the size of the L.A. Zoo — holds a hodgepodge of old and new buildings built for both administration and production services, including 15 soundstages, four scoring and mixing stages, two broadcast studios, theaters, editing bays and other production facilities.
Although the back lot and its elaborate outdoor sets are long gone, the complex is no less valuable.
"There is an absolute arms race to get content out, which is overtaxing all of our real estate needed to support it," Muhlstein said.