Disneyland Paris takes over its gay pride event. Will U.S. parks do the same?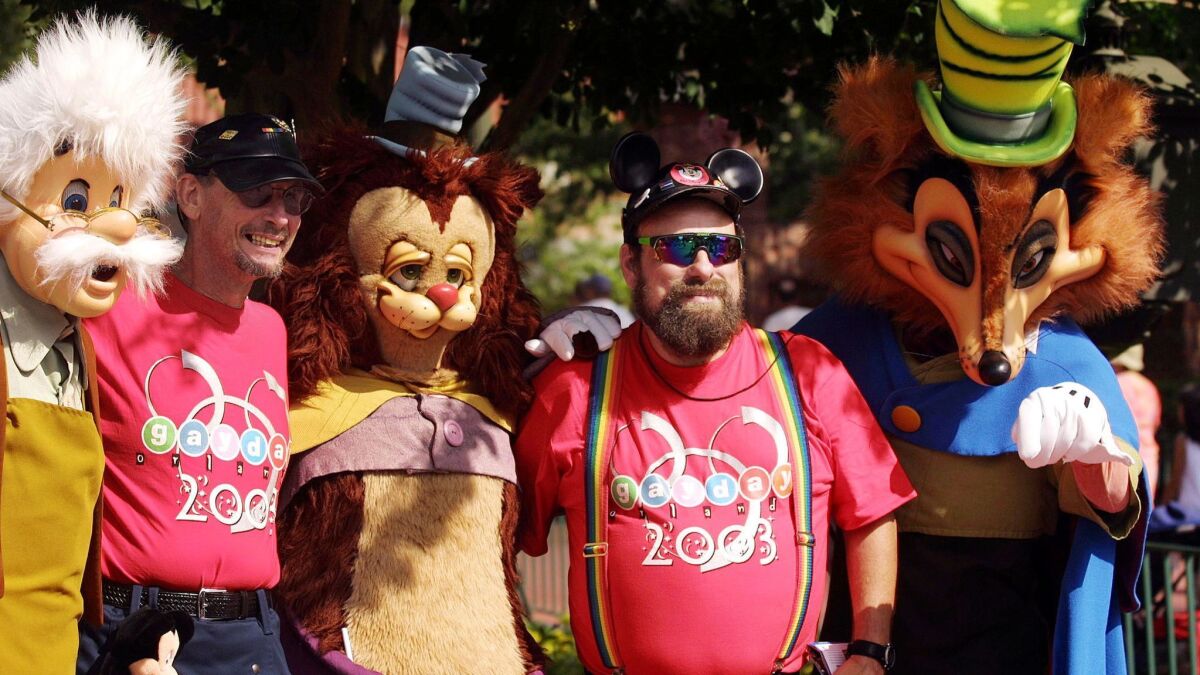 Only four years ago, a British travel agency launched a gathering at Disneyland Paris where gay and lesbian theme park fans could meet for happy hour drinks.
The party became so popular, attracting about 300 people last year, that the European theme park is officially sponsoring Saturday's event, known as Magical Pride. This year's celebration, featuring musical performances by Boy George and Years & Years, appears on the park's online calendar alongside its annual jazz event and the Lion King & Jungle Festival.
"This will help the general population see LGBTQ people as they see everyone else — normal," said Nathan Tunnah, a founder of the event and a consultant at Greatdays Travel Group of Manchester, England.
The move by Disneyland Paris marks a dramatic shift for the world's biggest theme park operator. Walt Disney Co.'s parks in the U.S., Japan and China allow independent groups to stage gay-themed events, and the U.S. parks' stores and restaurants stock rainbow-themed merchandise, symbolic of LGBTQ pride. But Disney parks haven't advertised, promoted or organized the in-park events — until now.
Among major theme parks across the U.S., gay pride events have become annual celebrations that draw thousands of park-goers who ride the attractions during the day and stay after the parks close to the general public for dance parties and musical performances.
The growth and popularity of such events tracks with the findings of a recent survey of Grindr dating app users that say LGBTQ travelers spend $100 billion a year in the U.S. alone.
In Southern California, the "Pride Is Universal" event, which has taken place at Universal Studios Hollywood for the last two years, sold out last year. It will be held again on Saturday.
At Six Flags Magic Mountain in Valencia, the 12th annual Out on the Mountain is scheduled for Sept. 13. Organizers expect to draw about 5,000 people to the event.
Gay Days launched at Walt Disney World in Florida in 1991, and the event is expected this year to attract more than 180,000 visitors over six days in August.
Gay Days drew about 30,000 visitors last year to Anaheim's Disneyland Resort.
Gay pride celebrations also have taken hold at Tokyo Disneyland and Hong Kong Disneyland, which are operated under licenses from Walt Disney Co.
The events reflect a gigantic leap for Disney, which until the mid-1980s prohibited same-sex couples from dancing at the theme parks.
When Disney parks began to allow gay events, the company became the target of boycotts and scorn from conservative religious groups, including the Southern Baptist Convention, the Assemblies of God and the American Family Assn. By 2005, such boycotts ended.
The gay-themed events are still debated today but much of the discussion focuses on whether the theme parks should play a bigger role in supporting and promoting them.
"Disney does help and provide some support on some level with the Gay Days events, but I do believe it will only be a matter of time before they fully embrace it as they have in France," said Aaron Goldberg, author of several books about Disney.
When Disneyland Paris announced on Twitter in January that it was taking over its gay pride event, many followers applauded the move, although others suggested the park could take a bolder stride toward promoting the LGBTQ community by creating a gay or lesbian character for Disney theme parks or movies.
Disney defenders say the company has introduced gay and bisexual characters on its television shows, including the Disney Channel series "Andi Mack" and the ABC series "Once Upon a Time."
"For a major family-oriented entertainment corporation to embrace the LGBTQ participation in the theme park is nothing to sneeze at in this current political climate," Eliza Byard, executive director of GLSEN, an organization that supports LGBTQ students from kindergarten through high school.
The debate over gay events hosted by theme parks is complicated by the fact that some parks play a bigger role in promoting, supporting and advertising the celebrations than others.
Universal Studios Hollywood's online park calendar doesn't mention the Pride Is Universal event but for the first time this year the theme park posted a Twitter announcement about the event.
The park also plans for the first time to sell T-shirts and other merchandise emblazoned with the "Love Is Universal" logo during the event. Proceeds from ticket sales help support housing programs for people with AIDS and scholarships for students studying LGBTQ issues.
Six Flags Magic Mountain includes its Out on the Mountain after-dark party on its online calendar of events, alongside its Grad Night celebrations, a Deaf & Hard of Hearing Awareness Day and an Apostolic Jubilee organized by a Whittier church. The park sells a variety of rainbow-designed merchandise during the LGBTQ event.
The Disneyland Resort doesn't list Gay Days on its online calendar and hasn't promoted the event on its social media site.
Disneyland representatives say the park doesn't advertise private events held at the park. But the company says a Disney employee group supports the Gay Days organizers by providing hotel space for the event. Disney representatives also note that the company has taken big steps to support the LGBTQ community.
In 1995, Disney began to offer health benefits to same-sex couples and more recently allowed gay couples to book the company's "Fairy Tale Wedding" packages.
For the 13th year in a row, the Human Rights Campaign Foundation named the Walt Disney Co. this year as one of the best places to work for LGBTQ equality.
Gay Days at Disneyland kicked off 22 years ago thanks to the efforts of two friends, Eddie Shapiro and Jeffrey Epstein.
Shapiro's organization, Gay Days Anaheim, puts together the three-day celebration in October with Disneyland's support, but he said the group prefers not being obliged to get the park's blessings for every detail of the event.
"Our programming is of our own choosing and I am very happy not to require Disney's sign-off on what we do during Gay Days," Shapiro said.
"Do we want their support and their welcome? Absolutely," he said. "Their direct involvement? Not so much."
Disneyland representatives say the resort doesn't plan on expanding its role in promoting or advertising the Gay Days event.
Last year, the theme park vastly increased the variety of merchandise and food sold during the event, including T-shirts, keychains, tumblers, cookies and shakes decorated with rainbow designs.
Disney announced last week that 10% of the proceeds from the sale of rainbow items through June 30 will be donated to GLSEN.
None of the rainbow-designed merchandise is labeled with the name of the event.
Some theme park fans say it is time that Disney embrace the events by acknowledging them on its website and social media feeds.
Matthew Gottula, a Disney fan who has attended several Gay Days events, said Disney could better show its support for the gay community by advertising the donations to GLSEN at the parks and "using the words LGBT, gay, pride, etc. to sell it rather than rainbows."
Karl Krause and Daan Colijn, who produce a travel blog called Couple of Men, applaud the move by Disneyland Paris to take over the gay pride event and say they would support other Disney parks doing the same.
"We think it is great that Disneyland Paris is showing its rainbow colors by making the Magical Pride part of their official events," Krause said.
But Colijn added that he would oppose Disney taking over the events as a "publicity stunt but as a real celebration of love and diversity."
At Universal Studios Hollywood, the annual gay pride celebration is organized and sponsored by a nonprofit group, Christopher Street West Assn. Leaders of the group say the park is a strong ally and they are not pushing the theme park to play a bigger role in the event.
"We believe Pride Is Universal is a model that others can follow to successfully embrace all members of our society," said Estevan Montemayor, president of the nonprofit group.
This year's event will include live DJs, dance clubs, cash bars and meet-and-greets with costumed characters. The after-hours party runs from 9 p.m. until 2 a.m.
David Fong, co-producer of the Out on the Mountain , said he prefers that his event remain a private celebration, organized by his group.
"Out on the Mountain has been a success not only because it is a private party event that allows the LGBT community to have an inclusive event of its own, but also provides unique entertainment not found on a regular park day," he said.
The gay celebration at Six Flags Magic Mountain in Valencia includes an after-dark party that begins after the park closes to the general public at 6 p.m. and continues until 1 a.m. with a dance party, DJs and drag performers
The party this year will be hosted by Kimora Blac, a drag queen and TV personality, best known for competing on the ninth season of "RuPaul's Drag Race."
To read more about the travel and tourism industries, follow @hugomartin on Twitter.