Disneyland's Main Street Electrical Parade comes out of retirement for short stint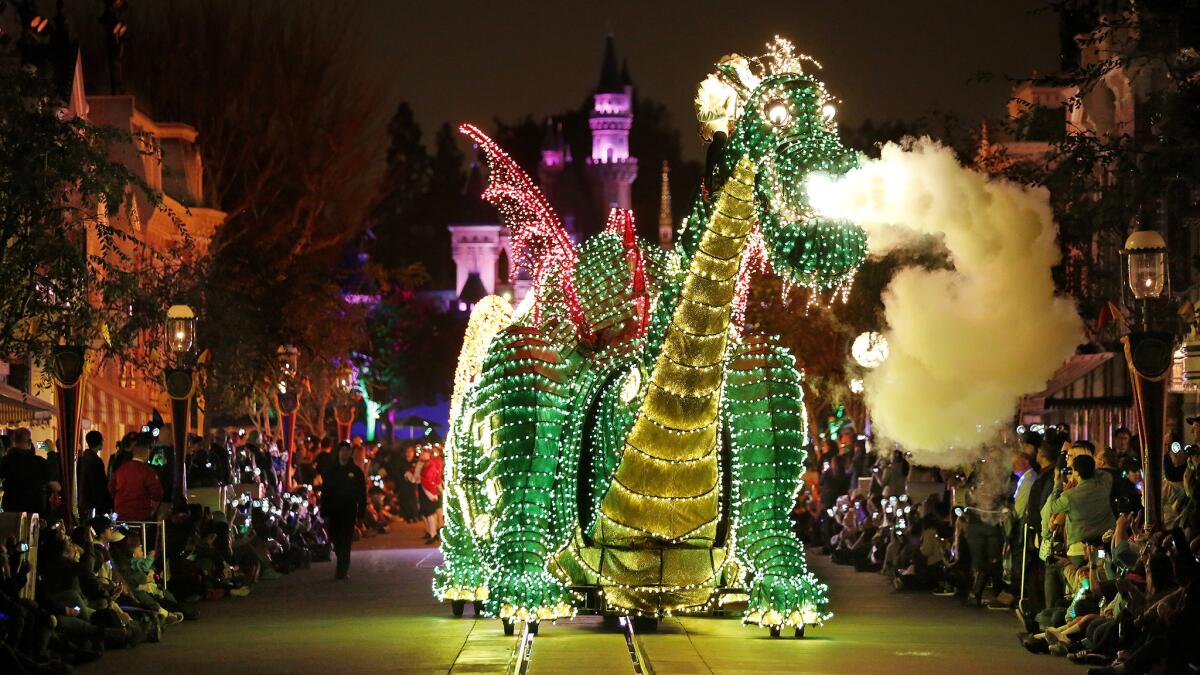 With the high-tech light displays and fireworks of Disneyland's 60th anniversary celebration quiet since September and the opening of its Star Wars land still years away, what's a theme park to do?
To meet the demand of hard-core Disney fans and better compete with a boy wizard and walking corpses, the Anaheim park has dug into Walt Disney Co.'s fabled vault, renovating and relaunching the classic Main Street Electrical Parade on Friday, along with its relentlessly cheery electronic theme song.
"It's baaaaack," said John Addis, Disneyland director and choreographer, during a preview of the parade Thursday night.
The parade was originally launched at the Anaheim park in 1972 and continued through 1996 before it was taken on the road for stints at the Walt Disney Resort in Florida, Disneyland Paris, the Tokyo Disneyland Resort, as well as a two-year gig at Disney California Adventure Park, which ended in 2010.
The Electrical Parade will run nightly through June 18 and will include the 22 original floats which have been upgraded with new LED and incandescent lights (600,000 lights, to be exact) and a renovated sound system to play its theme song/ear worm, "Baroque Hoedown."
The parade's return — and Disneyland's heavy promotional campaign — makes sense to industry experts who say theme parks need to launch new attractions on a regular basis to keep attendance numbers from sagging and profits from falling.
Universal Studios Hollywood started a $1.6-billion spending spree in 2014, which included last year's opening of the Wizarding World of Harry Potter expansion and a haunted maze based on the AMC series "The Walking Dead." The park's attendance has been increasing, and so many visitors showed up Jan. 2 that the gates were closed to new customers for the first time, just after noon.
Martin Lewison, a business professor at Farmingdale State College in New York, said Disneyland's electrical parade has a strong following among baby boomers, who are sure to bring their children to the park.
"Every baby boomer has memories of that parade," he said. "If you have to settle for a place holder, that is a great choice."
But even younger Disney fans say the parade will be a big draw.
"To see it return to Disneyland all these years later is a total nostalgia trip," said Matthew Gottula, a 27-year-old marketing employee from Altadena. "It combines two things I love: electronic music and things that light up."
When Gottula was 7, he even wrote to then Walt Disney Co. Chief Executive Michael Eisner, urging him to keep the parade. "Disney doesn't need new technology," he wrote in the letter.
Disney representatives said the parade is expected to lure locals who have already experienced all the long-standing attractions.
"Limited time offerings, like the nostalgic return of the beloved Main Street Electrical Parade to Disneyland park, not only entertain all of our guests but provide our large local audience and annual passholders compelling reasons to visit throughout the year," spokeswoman Suzi Brown said.
Although several Disneyland attractions and parades have been overhauled in the last few years, the park hasn't built a major ride from scratch since it added the interactive Buzz Lightyear Astro Blasters in 2005. Disneyland closed several restaurants and attractions to begin construction of its new Star Wars land, a 14-acre project that broke ground in April. A completion date has yet to be announced.
Meanwhile, Disneyland has overhauled Space Mountain and Star Tours in Tomorrowland to include special effects borrowed from the movie "Star Wars: The Force Awakens."
An underused area in the Innovations building of Tomorrowland has been converted into Star Wars Launch Bay, a hall where parkgoers can play "Star Wars" video games, buy merchandise and meet costumed characters from the movie franchise.
Most of Disney's investments in the last few years have been at the adjacent California Adventure park.
On Friday, Disney launched a new Lunar New Year celebration that runs for 17 days and includes displays of Chinese, Korean and Vietnamese dancing, martial arts and music, along with new Asian dishes. A new light show, dubbed "Hurry Home," tells the story of a Chinese lantern. It will be shown at Paradise Bay before the nightly World of Color light show.
Also, at California Adventure, Twilight Zone Tower of Terror, an elevator-drop ride based on the old "Twilight Zone" television show, was closed this month to be remade as an attraction based on Marvel's "Guardians of the Galaxy" superheroes.
To read more about the travel and tourism industries, follow @hugomartin on Twitter.