Is demand pricing coming to Disneyland?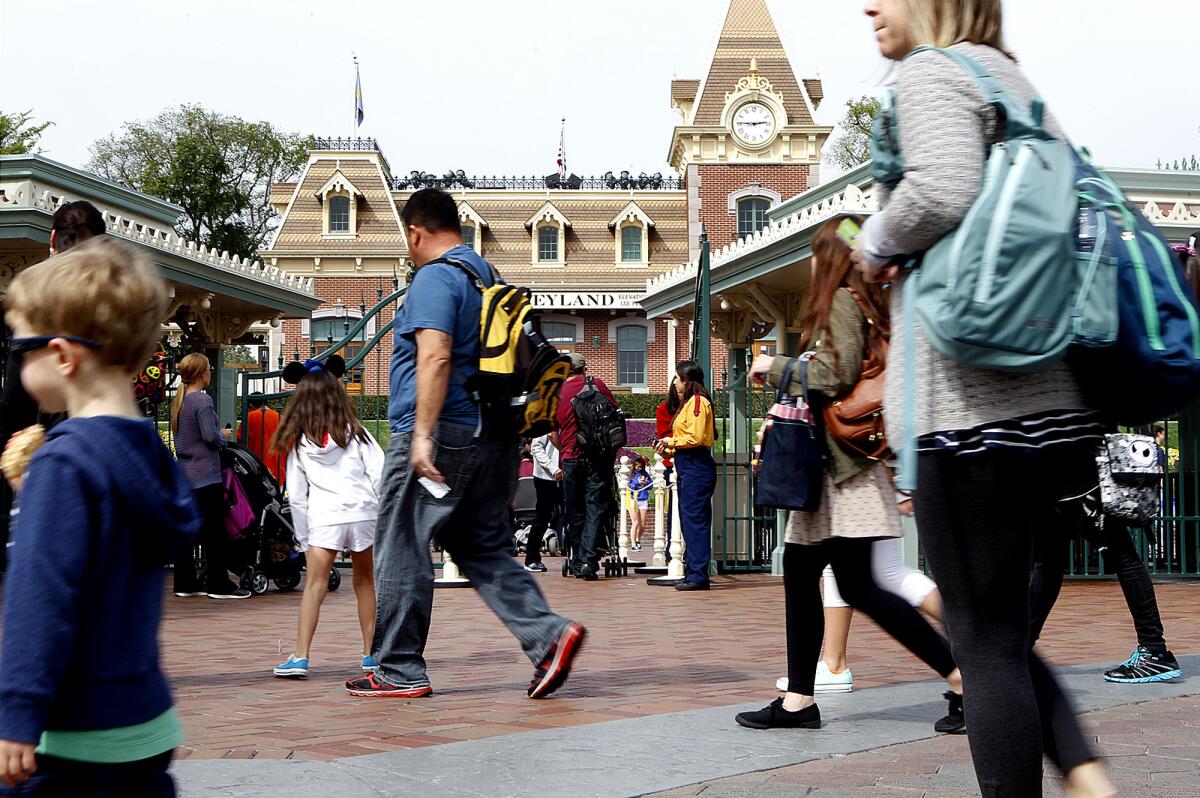 Walt Disney Parks and Resorts may be considering charging more for high-demand days during summer, the Christmas holiday and spring break, and less for off-peak days, a survey the company sent to park visitors suggests.
In an online survey sent to annual pass holders, the Walt Disney Co.'s theme park operation sought opinions on a pricing schedule for daily tickets to the company's resorts in Orlando, Fla., and Anaheim. A three-tiered pricing system would mark daily tickets as Gold, Silver and Bronze.
Gold tickets could be used every day of the year, according to the survey; Silver tickets could be used every day except peak days and popular holiday weeks. Bronze admission passes could be used only on off-peak weekends.
Under the scenario depicted in the survey, one-day, one-park admission prices for Disneyland would range from $115 for Gold tickets, $105 for Silver and $99 for Bronze tickets.
Disneyland now charges a fixed price of $99 for one-day tickets that can be used any day of the year.
The park would offer a volume discount for buying more than one ticket, under the scenario. A one-day ticket to visit both Disneyland and California Adventure would range from $155 to $170, according to the survey.
The online survey seems to be an attempt to ease crowding at the park by charging higher prices for peak demand days. The survey asks the annual pass holders if they would visit more often or less often under the proposed pricing scheme.
Disney officials downplayed the survey, saying the company routinely seeks out the opinions of park guests on a wide range of topics.
The pricing scenario outlined in the survey got mixed reviews on social media sites.
"Not in favor of this," wrote a visitor to the website Themeparkinsider.com. "To me, it just seems like a way for Disney to get more money out of visitors and is just an additional complication."
The survey comes as the company struggles with an overcrowding problem at the Anaheim park. During a 24-hour party to launch the 60th anniversary celebration at Disneyland last week, the park entrance gates were temporarily closed twice when the park reached capacity--an estimated 80,000 guests, according to park insiders.
To read more about travel, tourism and the airline industry, follow me on Twitter at @hugomartin.
ALSO
Is Disneyland's fast-moving 'Forever' fireworks show too complex?
Disneyland's 24-hour marathon presents a challenge she can't resist
'Tomorrowland' and 5 more Disneyland movies to mark the park's 60th