Disneyland's Pirates of the Caribbean reopens with a new auction scene — and no brides
About two months after the Pirates of the Caribbean attraction closed at Disneyland to overhaul a scene with leering pirates auctioning off women for brides, the ride reopened Friday with a new scene that the park hopes will generate less controversy.
"Pirates of the Caribbean at Disneyland park is back from refurbishment — just in time for summer," the park announced in a blog post Friday, without explaining the reason for the change.
When Disney officials announced the makeover of the scene last year, they noted that park founder Walt Disney himself always intended for the rides to be updated and refreshed to draw return visits.
The scene that for decades showed women tied by ropes and put up for auction has been replaced by a scene that depicts pirates auctioning off the pilfered treasures of the townsfolk.
A tall, redheaded woman who was shown as the top bride prospect in the previous auction scene is now shown as a pirate.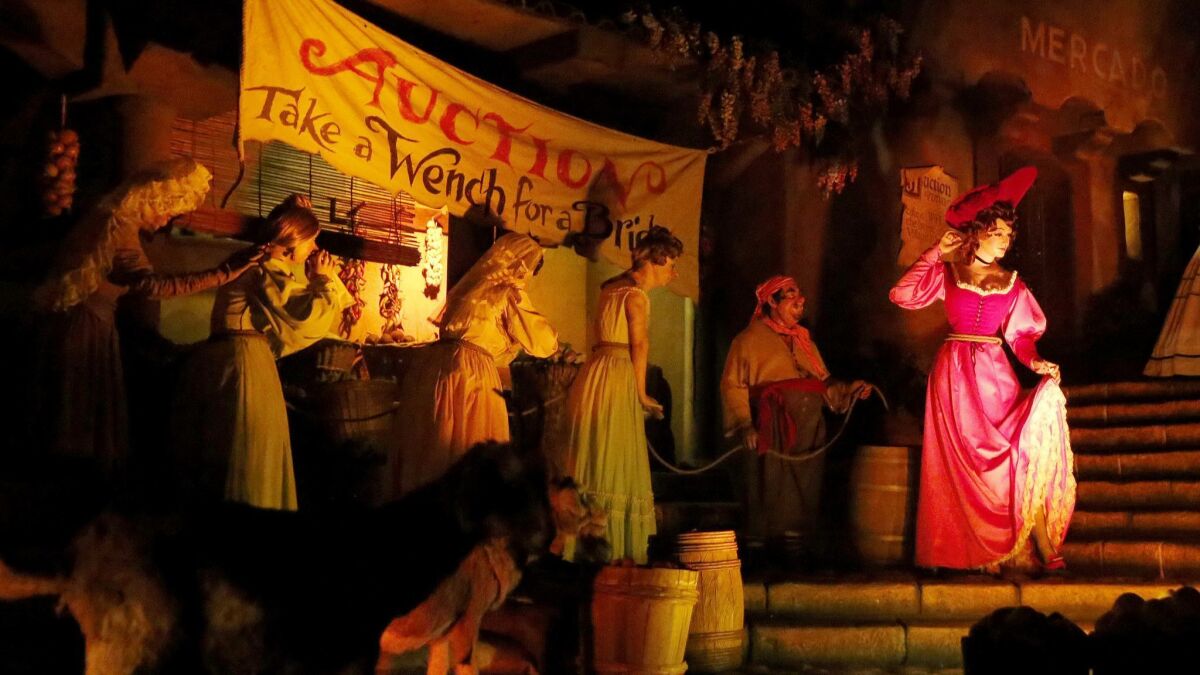 Early reviews of the overhauled ride are mixed. On an online forum for the fan site MiceChat.com, some Pirates of the Caribbean riders said they liked the new scene.
"Whoever thought of this was right on the money, and in line with the creative problem-solving I think we've all come to expect from WDI," one fan wrote on the forum, referring to Walt Disney Imagineering, which creates the park's attractions.
Another fan on the forum disagreed: "The auction scene is flat out embarrassing..."
The reviews were also varied when the same auction scene was remade at Walt Disney World in Florida in March.
On the website Themeparkinsider.com, some fans said they were confused by the new scene at that park.
"It just doesn't make any sense to me," a Disney fan wrote on the website forum. "Why would a pirate want to buy a used grandfather clock or a chandelier? I understand the reasoning behind wanting to change the scene ... but really they should have tried harder."
Disney fans and theme park experts have pointed out that Disney has a history of overhauling rides either to reflect more sensitive contemporary tastes or to inject characters or scenes from new movies that the Burbank-based entertainment giant is trying to promote.
Among past changes, mock frontier rifles were removed on Tom Sawyer Island along with the victim of an arrow, who lay sprawled for years in front of a settler's burning cabin.
To read more about the travel and tourism industries, follow @hugomartin on Twitter.
Sign up for the California Politics newsletter to get exclusive analysis from our reporters.
You may occasionally receive promotional content from the Los Angeles Times.