Defendants in Disneyland social club lawsuit are evading process servers, lawyer says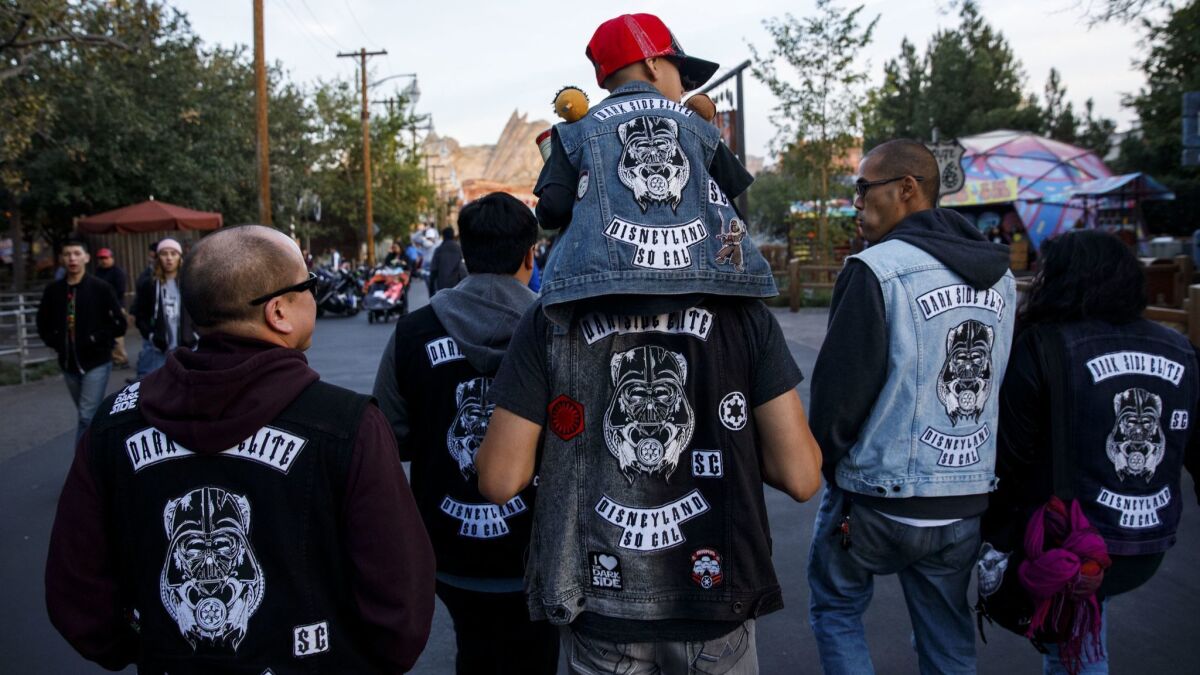 A lawsuit over a dispute between two Disneyland social clubs took a strange turn Wednesday when a lawyer for the plaintiffs told a judge that several defendants have been trying to avoid being served to appear in court — and even discussed it during an online podcast.
Social clubs are groups of Disney super fans who meet at the Anaheim theme parks, wearing matching vests adorned with their favorite Disney character on the back. The lawsuit accuses members of the White Rabbit Social Club of defaming, intimidating and releasing private medical information of the founders of another club, the Main Street Fire Station 55 Social Club.
John and Leslee Sarno, founders of the Main Street Fire Station club, filed the lawsuit in Superior Court in Santa Ana in September, claiming that members of the White Rabbit Club demanded "protection money" to allow the couple to host a fundraiser at the park. When the Sarnos refused to pay, they said the White Rabbits launched a campaign to defame and intimidate John Sarno.
The lawsuit, which seeks unspecified damages, names Disneyland as a defendant, accusing the theme park of failing to address the behavior of the White Rabbits. Kaiser Foundation Health Plan was also named in the lawsuit because the Sarnos say the medical insurer illegally released John Sarno's medical records to the White Rabbits, who discussed Sarno's medical conditions during podcasts.
During a status conference on the lawsuit, Patricia Kramer, the attorney for the Sarnos, told Superior Court Judge Ronald Bauer that she was having trouble serving a handful of defendants who she said have been purposely evading process servers by listing false addresses on public records or failing to answer the door for a process server.
Kramer said several White Rabbit members were heard last week discussing their efforts to evade process servers on a podcast that was broadcast on a website for Disney social clubs.
"These defendants have been quite diligent in publishing on an audio podcast things about my client, this lawsuit and their intent to evade service," she said, referring to a March 7 podcast.
Judge Bauer said he tried to listen to the podcast but described it as "boring and a waste of time." He signed an order to publish a legal order in several local newspapers as a way to serve those defendants who could not be served in person.
No representatives of Disneyland appeared at the hearing but one of the defendants named in the lawsuit, Brandon Morse, attended the hearing. He told the judge he didn't know most of the other defendants and called the dispute "mind-blowing" and "a waste of time."
Park owner Walt Disney Co. later declined comment on the lawsuit.
Kaiser has previously said it does not comment on pending litigation.
To read more about the travel and tourism industries, follow @hugomartin on Twitter.
---
Sign up for the California Politics newsletter to get exclusive analysis from our reporters.
You may occasionally receive promotional content from the Los Angeles Times.