Star Wars: Galaxy's Edge forces Disney to tap eons of crowd-control expertise
Disneyland first wrestled with crowding on opening day in 1955 when restaurants ran out of food and drinks, lines formed at the bathrooms and visitors sneaked in with counterfeit tickets.
In the 1960s, Disneyland pioneered the use of stanchions and tape to create switchback queues for waiting visitors and provided entertainment to pass the time. The park took another swipe at the problem two decades ago, when it introduced "Fastpass," the virtual queueing system.
But the opening this weekend of the biggest expansion in park history — the 14-acre Star Wars: Galaxy's Edge — pushed Walt Disney Co. to launch perhaps its most comprehensive crowd-easing effort yet, in effect acknowledging that the 18.7 million people estimated to have visited Disneyland last year is a record primed for breaking.
"It's always been an area of work for us because we know intuitively that it does impact the experience," said Kris Theiler, vice president of Disneyland Park. "By coming at it from a comprehensive perspective, we're able to make some really big impacts."
On Friday, the first day that the expansion was opened to the public, the hard-core Star Wars fans for the most part moved about the $1-billion land with ease. But the lines to the only operating ride as well as the cantina and the most anticipated shops — attractions in their own right — fluctuated from brief to excruciatingly long.
FULL COVERAGE -- Star Wars: Galaxy's Edge »
Giovanni Peraza, a recent high school graduate from Chandler, Ariz., complained that he waited an hour to ride the interactive Millennium Falcon: Smugglers Run. "It was too long," he said.
But Karen Covington and her husband, Bill, from Del Mar said they were happily surprised that their wait for the ride was only 25 minutes.
"They are doing a good job of crowd control," Bill Covington said.
"I hope it stays this way," Karen added.
To keep crowds from creating gridlock, Star Wars employees directed parkgoers to move in a counterclockwise direction, starting at the Millennium Falcon ride and circling to the Middle Eastern styled marketplace.
About 90 minutes after the land opened, workers were seen putting black tape on the ground to create switchback lines near the opening of Savi's Workshop, where visitors can build their own lightsaber. At about the same time, Oga's Cantina, the space-themed pub, reached capacity and only allowed new entrants when the crowds thinned.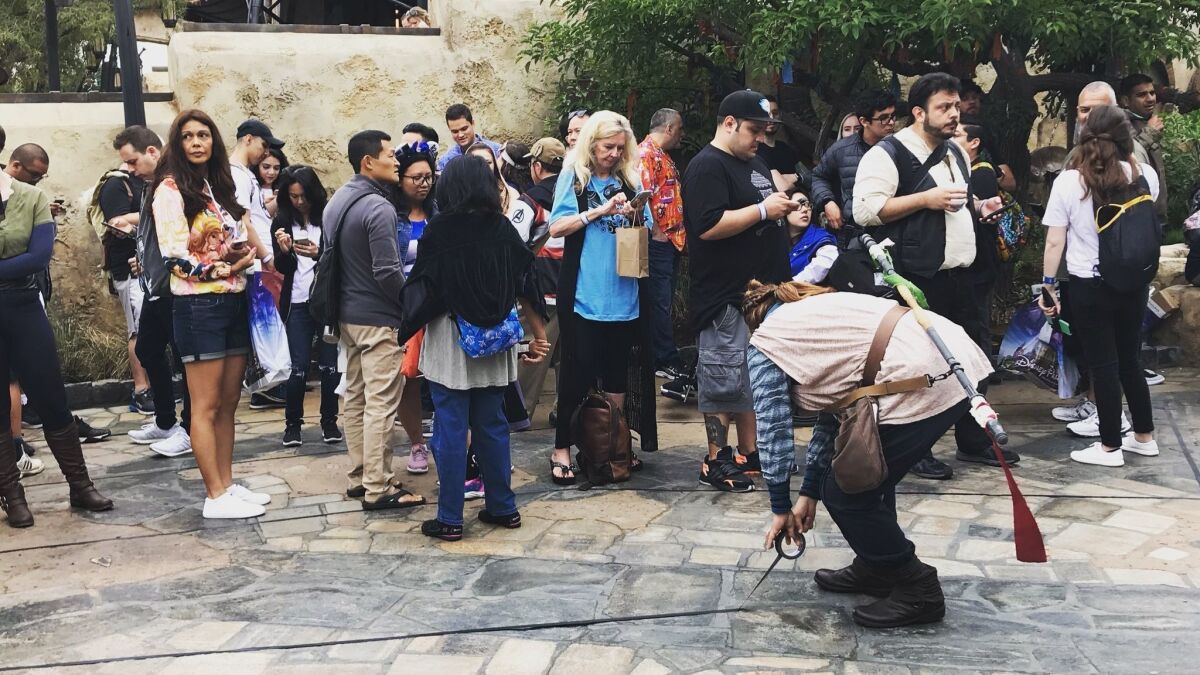 Disneyland executives, who stood by to assess the opening day, said they saw no surprises.
"It happened exactly as we thought it would," said Josh D'Amaro, president of Disneyland Resort.
Star Wars: Galaxy's Edge review — the ride, the cantina, the irresistible loth cat »
Anticipating an out-of-this-world demand for the fictional land, Disneyland required parkgoers to book a four-hour reservation period to visit the Star Wars expansion during the first three weeks. Visitors were given colored wristbands to identify those who were allowed in and those whose allotted four hours had run out.
When the reservation period for a Star Wars land visitor ended, the guest was not allowed to board an attraction or enter a shop and was told: "Your credentials have expired."
The reservation system allowed the park to control how many people are in the Star Wars land at any given time. But even with such restrictions on guests, the wait time for the Millennium Falcon ride fluctuated Friday from 20 minutes to 70 minutes.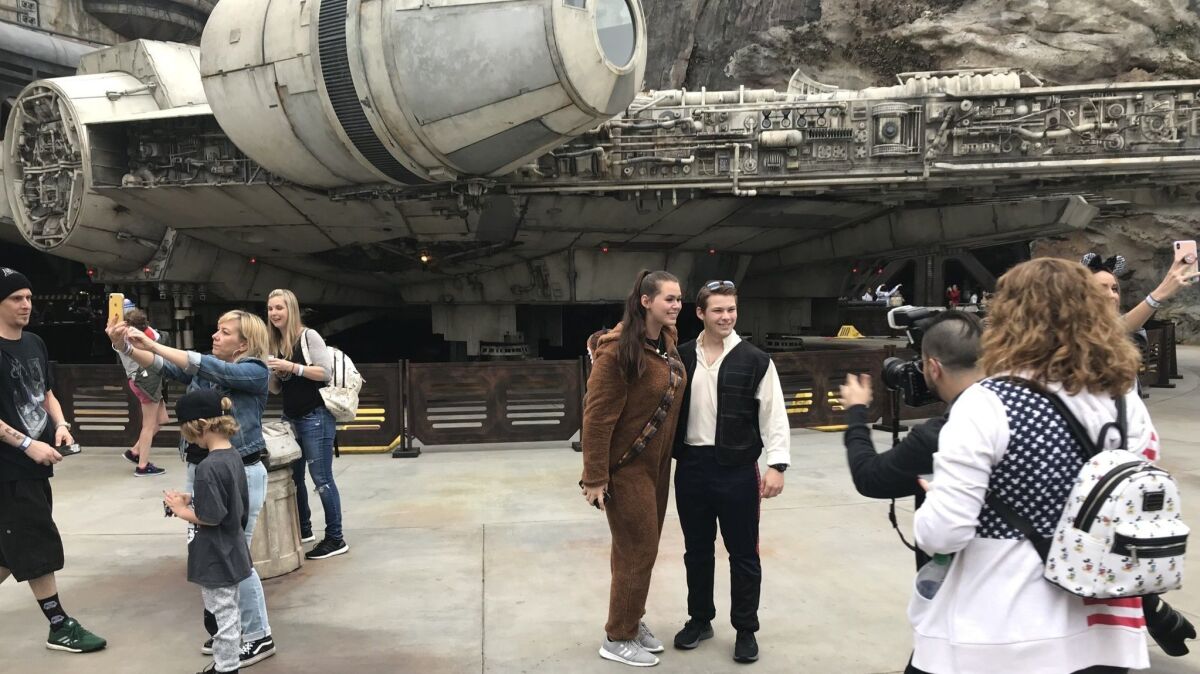 Disneyland is the second-most visited theme park in the world behind Walt Disney World's Magic Kingdom in Florida, according to an annual attendance study by the Los Angeles consulting firm Aecom and Themed Entertainment Assn., a trade group for theme park designers and producers. Disneyland drew 18.7 million visitors last year while the Magic Kingdom hosted 20.9 million visitors, both up 2% from the year before.
Disney doesn't release daily attendance figures, although longtime Walt Disney Imagineering art director Kim Irvine recently revealed that Disneyland attendance of 65,000 is a "normal" day. During holiday seasons, Disneyland has had to temporarily shut its gates from time to time when the park reached capacity, a ceiling that has never been publicly disclosed but some insiders have said is about 80,000 visitors.
Some industry experts say crowding worsened at Disneyland after the resort began in 2009 to offer monthly payment plans to make it easier for more visitors to afford annual passes.
Such passes range in price from $400 to $1,400.
To cope with the expected crowds during the 60th anniversary of the park in 2015, Disneyland opened up behind-the-scenes pathways to direct crowds around gridlock areas.
A year later, the theme park adopted a "demand pricing" policy that lowered admission ticket prices on a typically slow day — maybe a Wednesday in September — and increased prices on high-demand days. Disney portrayed the move as a crowd-management technique.
A study by the Los Angeles Times found that the queues at the park grew longer even after the dynamic pricing scheme was adopted.
In 2015, only three years after the Walt Disney Co. acquired Lucasfilm for $4 billion, the theme park announced plans for a $1-billion land based on the blockbuster Star Wars sci-fi franchise.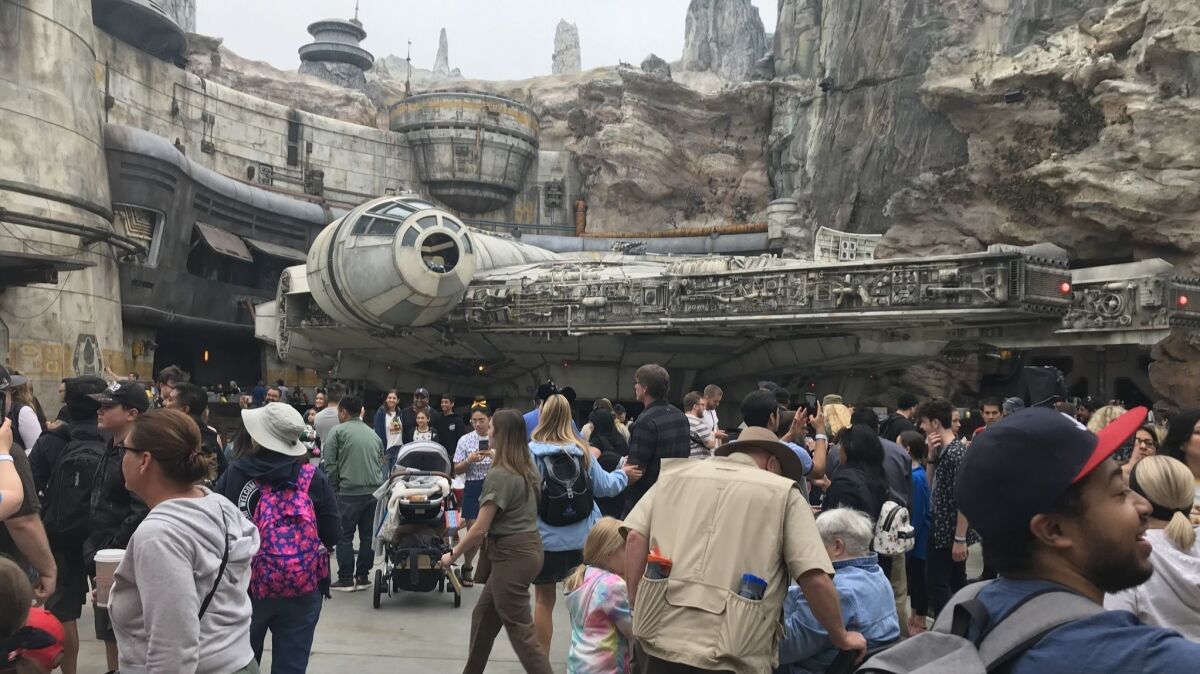 As construction of the land was nearing completion, Disneyland kicked off a program called "Project Stardust," which was designed to make fixes and upgrades to ease the expected surge in fans.
As part of the effort, the park widened footpaths, removed benches and trees and banned extra-wide strollers and wagons. Management banished smoking at the park as of May 1 because the smoking areas were taking up too much space.
Even when coming up with the concept of the Star Wars land, Disney architects and designers put an emphasis on eliminating choke points and improving foot traffic movement.
"We work to lay out how the land will flow, how our guests will enter into the land and they have this amazing experience," said Chris Beatty, executive creative director at Walt Disney Imagineering.
The park, hemmed in by a freeway and major streets, is slightly bigger with the opening of Galaxy's Edge, which was shoehorned in by demolishing three attractions, a restaurant and several office buildings. Still, Disney realized that the property was still going to have trouble accommodating all the fans who would be drawn to the new land.
In another shot at easing crowding, the park on May 21 launched a new annual pass — Flex Pass — that allows holders access to the park on low-demand days but requires a reservation to use the pass on high-demand days such as weekends and holidays.
All of this is aimed at avoiding the heavy throngs that Universal Studios Hollywood drew when it opened the Wizarding World of Harry Potter in 2016.
In hopes of making the Star Wars expansion more orderly, Disneyland will require visitors to use a virtual queueing system, similar to Fastpass, to visit the land after the initial three-week reservation period ends June 23.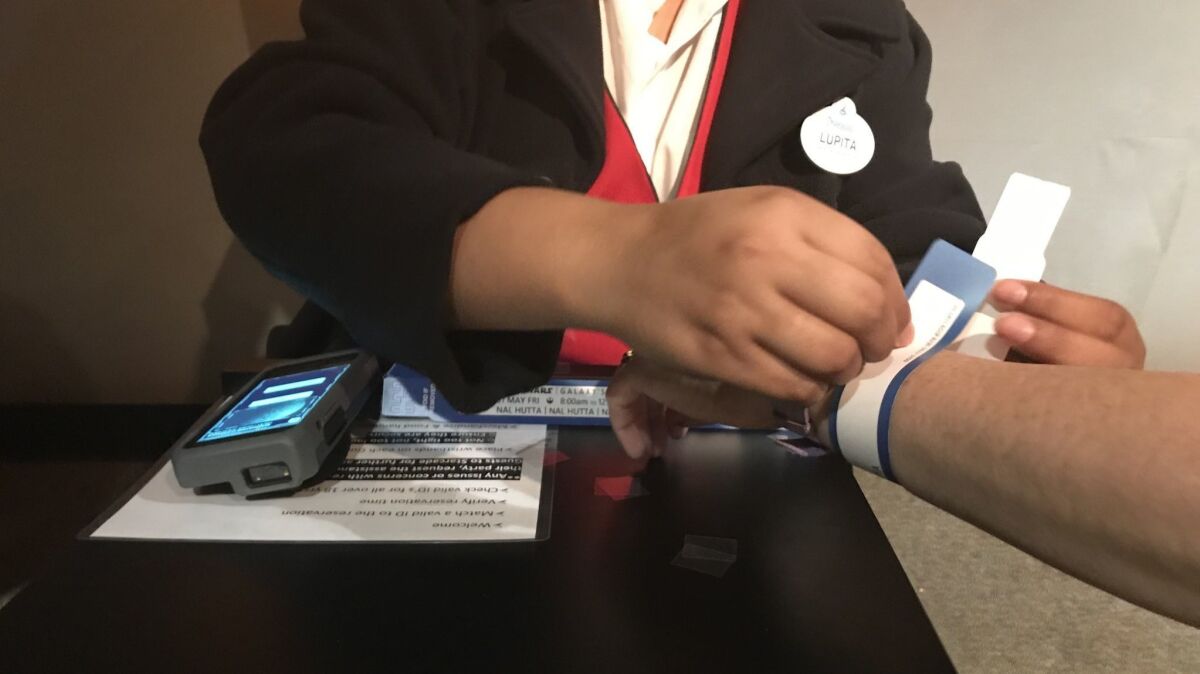 Christopher Nowak, an inventor from Chico, and Krystee Clark, an artist from Los Angeles, said they were the very first in line when the land was opened to the public at 8 a.m.
They both immediately rushed to the Millennium Falcon attraction, an interactive simulator ride that lets visitors fly the famous space vehicle.
"It not only exceeded my expectations but my hopes," said Nowak, cradling a custom lightsaber he built for $200.
He said he loved the ride so much he was tempted to get right back on again, knowing that the wait time was only going to get longer. "I want to do it more and more," Nowak said.
To read more about the travel and tourism industries, follow @hugomartin on Twitter.
Our six-week newsletter will help you make the right decision for you and your property.
You may occasionally receive promotional content from the Los Angeles Times.