Without this company, L.A. may never have become the world's doughnut capital
Ron Ziegler recalls a customer who was determined to open a doughnut business in Saudi Arabia.
Ron Ziegler doesn't remember any fuss over National Doughnut Day when he was running his family business, a major Los Angeles-based supplier of dry mixes, fruit fillings and pink boxes before it was sold 25 years ago.
"We'd never heard of National Doughnut Day when we were in business," the 80-year-old Ziegler said of the annual event celebrated today. "It would have been good. Our customers were terrible at marketing."
Ziegler would know. Decades before there were National Doughnut Day hashtags on social media, Ziegler's Westco was introducing holiday-themed pastries, developing flavorings like the buttermilk bar and teaching bakers how to properly make an old fashioned (you turn it twice in the fryer).
Without Westco, and some of its competitors, L.A. may never have emerged as the unofficial doughnut capital of the world.
"They were huge," said Stan Berman, 88, who has run the famed Stan's Donuts in Westwood since 1965. "They were suppliers of everything."
Westco, first known as the West Coast Supply Company before being shortened, was founded by Ziegler's grandfather John Ziegler in the late-1920s — at least a decade before the Salvation Army established National Doughnut Day to commemorate female volunteers who served doughnuts to soldiers in the First World War.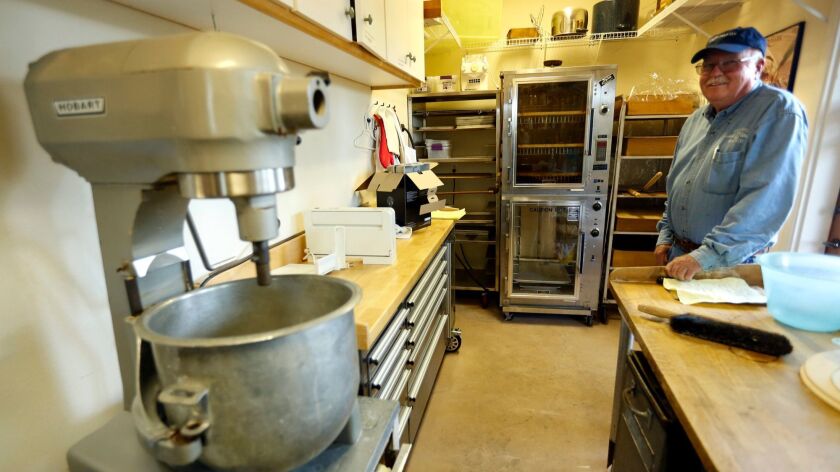 The Lithuanian-born John Ziegler arrived in America around the turn of the century, first homesteading in North Dakota before eventually settling in L.A. The company started out selling raisins and nuts then added all manner of raw ingredients for bakeries. It was originally headquartered south of Downtown L.A. on the corner of Washington and Long Beach boulevards. It moved to Pico Rivera in 1985.
Up until the late 1950s, doughnut ingredients amounted to less than 1% of the company's revenue. A standard bakery might have only sold a classic raised doughnut (which uses yeast) or a cake doughnut, a denser variety that relies on baking soda and baking powder to rise.
But the baby boomer years changed eating habits. The proliferation of cars and freeways made hand-held snacks more desirable. Entrepreneurs started figuring out they could score fatter profit margins with doughnuts rather than bread or cakes. It was easier and quicker to master the skills and the ingredients weren't as costly. Sales of Westco's doughnut mixes and glazes started to pick-up. The company operated classes to train would-be doughnut makers.
"Our angle was always to try and help customers do more business," said Ziegler, who grew up in Hermosa Beach. "If they do good, then we'll do good."
The new demand fueled expansion. The company grew its operations across California and in Arizona, Oregon, Washington and Nevada. When John Ziegler died in 1965, his sons Paul, Ray (Ron's father) and Allen took over. Allen Ziegler would later be known for his philanthropic work, donating millions to Jewish organizations in the Southland. Anytime he'd fly, he would carry several boxes of doughnuts to hand out to fellow passengers.
Ron Ziegler was named president of Westco in 1970, a company he started working at as a boy sweeping the floors of a warehouse thick with the smell of spices like caraway and cinnamon. After the Vietnam War ended, Westco's customers increasingly included Cambodian refugees who would come to dominate the local doughnut business and popularize the pink box.
Why are doughnut boxes pink? The answer could only come out of Southern California »
Why are donut boxes pink? (May 25, 2017) (Sign up for our free video newsletter here)
(Ron Ziegler said pink boxes had been around for years, but mainly for cakes, pastries and cookies. They were supplied to Westco by a company that had equipment that could print pink ink on gray cardboard rather than the costlier white cardboard.)
Westco's supplies even reached as far as Saudi Arabia. In the early 1990s, a businessman there persuaded Ron Ziegler to help him open a doughnut store in the kingdom. Ziegler was skeptical. He knew doughnut sales collapsed in hot climates like Arizona's during the summer.
"So I go to Saudi Arabia to see for myself. It turns out no one gets up in the morning. They wait until nighttime when it's cooler to get their doughnuts. It was a smashing success," Ziegler said.
In 1992, the Ziegler family sold Westco to CSM, a Dutch baking supply conglomerate. Westco was rebranded BakeMark, which continues to use Westco's Pico Rivera address. Ron Ziegler's son Tim Ziegler manages BakeMark's customers on the central coast, imploring bakers to use the best ingredients like his father did years earlier.
"There's no magic to a good doughnut other than good ingredients," said Ron Ziegler, now retired with his wife Betty on a 200-acre ranch in Los Alamos, where the couple keep emus, alpacas and miniature donkeys. "You can't make lead into gold."
Follow me @dhpierson on Twitter
ALSO
JetBlue and Delta begin testing biometrics to identify passengers
Harry Potter boosts Universal Studios attendance; Disneyland visits slip
Tesla's Elon Musk and Disney's Robert Iger quit Trump advisory councils, citing climate change
---
Your guide to our new economic reality.
Get our free business newsletter for insights and tips for getting by.
You may occasionally receive promotional content from the Los Angeles Times.