Edison's stock price drop pegged to Southland wildfires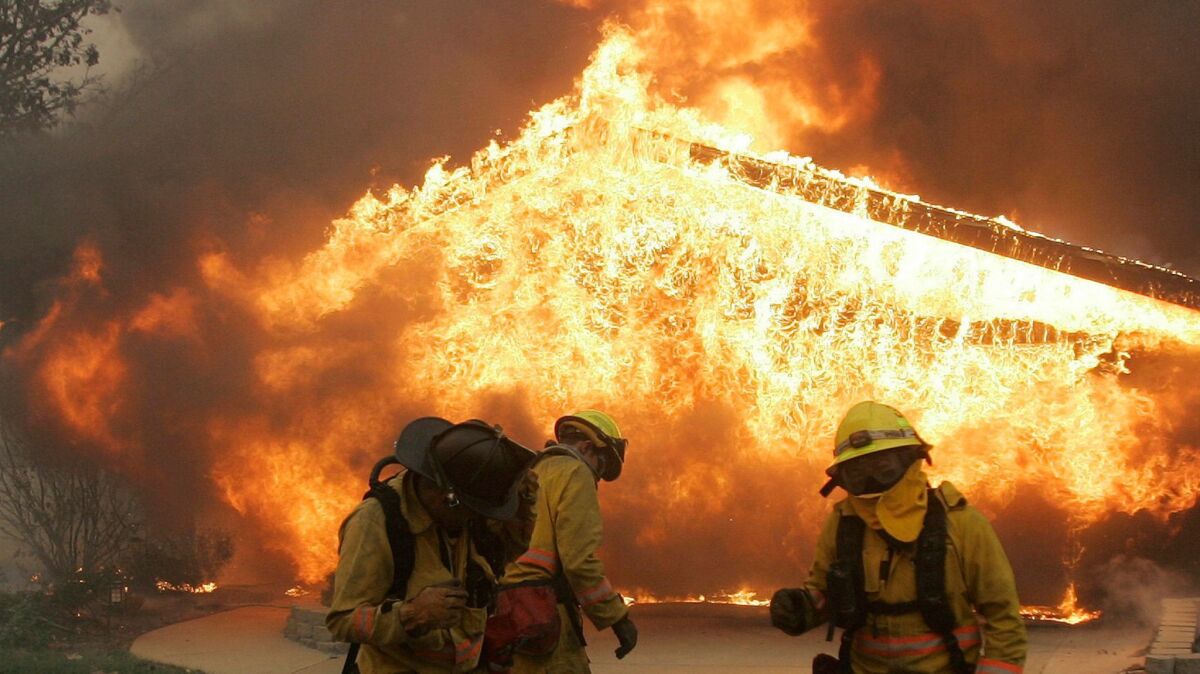 As wildfires spread through the Southland this week, Southern California Edison's parent company saw its stock price plummet on investors' fears that the utility could be forced to pay costs related to the blazes.
Wall Street's initial response to the area's many fires, the first of which started late Sunday, was to chop as much as 16% from the price of Edison International's shares; the Rosemead-based utility company's stock hit a low of $67.80 a share Wednesday. The stock regained some ground to close Thursday at $71.77, but that price was still down 11% from Friday's close.
Wall Street analysts said investors may be punishing Edison's stock because of a decision last month by state regulators that denied a request by San Diego's utility to recover $379 million from its customers related to wildfires a decade ago.
Analysts said investors are worried that one of the most catastrophic wildfire seasons in California history could lead to soaring insurance and other costs for the state's utilities — if investigations determine that utilities failed to properly operate or maintain equipment.
"There's a concern that these fires can cause a long-term liability for these utilities," said Shahriar Pourreza, managing director at Guggenheim Securities. "These wildfires are running a lot more rampant. There's a fear among investors that these cases can take years to play out."
Ali Agha, an analyst at SunTrust, said in a note to clients that it appeared Edison International could absorb any losses from the initial fire and rated the stock a "buy."
The stock of PG&E Corp., parent of Pacific Gas & Electric Co., fell 22% initially during the October fires in the utility's service territory. The stock's decline was fed by speculation that the utility might be held liable for some of the damage.
A review of radio traffic recordings found that fire crews were dispatched to at least 10 areas in Sonoma County in response to reports of sparking electrical wires and exploding transformers owned by Pacific Gas and Electric Co. as high winds blew through the area and the first fires ignited, the San Jose Mercury News reported.
PG&E's shares have recovered only a slightly from the October drubbing, closing Thursday at $52.96, down nearly 16% from the pre-fire price.
Investigators are reviewing the causes not only of the still raging blazes in Southern California but also the October fires in Northern California that burned through wine country.
Scott McLean, a spokesman for the California Department of Forestry and Fire Protection, said it's too early to know the cause of any of the state's recent fires and if any blame falls on the utilities.
"In the past there have been fires caused by power lines," McLean said. "So no stone is left unturned in the investigation."
Failure of power lines and other electrical equipment has regularly ranked among the top three singular sources of California wildfires for the last several years. In 2015, electrical power problems sparked the burning of 149,241 acres — more than twice the amount from any other cause.
In response to fires caused by power companies, regulators have hit the state's investor-owned utilities with tens of millions of dollars in fines related to wildfires, including $37 million for the 2007 Malibu fire (Southern California Edison); $14.4 million for the Witch, Rice and Guejito fires the same year (San Diego Gas & Electric); and $8.3 million for the September 2015 Butte Fire (Pacific Gas & Electric).
Edison quickly worked to calm concern about the utility contributing to the ongoing Southland fires, issuing news releases and announcing an increase in the company's stock dividend.
For 2018, Edison International's annual dividend rate will be $2.42 per share, an increase of 11.5% from the current annual dividend rate of $2.17 per share
The utility company said in a statement that it was assessing fire damage and working to guard public safety and the electric system.
Without any official assessment of the cause of the fires in its Southern California service territory, Edison said in a news release that "SCE has no indication that the company's facilities were a source of these fires."
In a separate statement, the utility said: "As part of their normal procedures, Cal Fire and other agencies are investigating the Southern California wildfires. SCE is fully cooperating with these investigations."
Until those investigations are concluded, the shareholder-owned utilities could see their stock prices bounce around, analysts said.
"I think what the market is pricing in right now is the uncertainty," said Pourreza, the Guggenheim Securities analyst. "The market pricing is on a bumpy road for awhile."
For more energy news, follow Ivan Penn on Twitter: @ivanlpenn
---
Sign up for the California Politics newsletter to get exclusive analysis from our reporters.
You may occasionally receive promotional content from the Los Angeles Times.