Southern California Edison unveils plan to prevent wildfires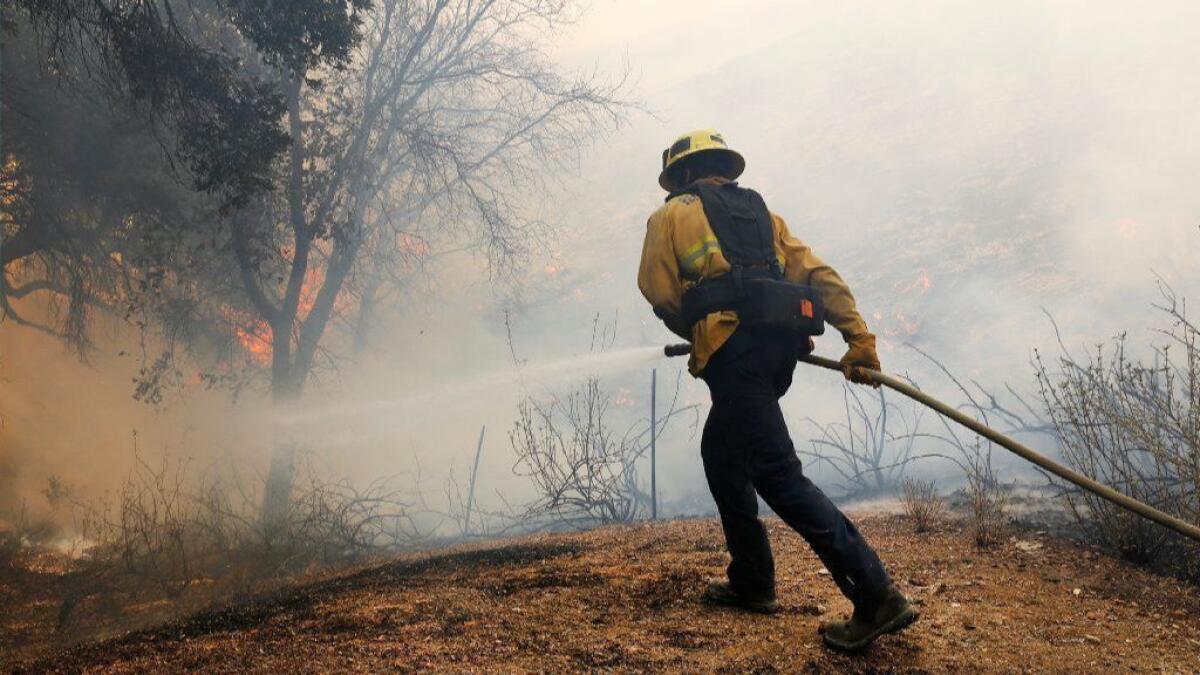 California's second-largest power company plans to cut down tens of thousands of trees in high-risk areas, inspect thousands of miles of power lines and consider the use of preemptive power shutoffs this year, part of a $582-million plan to reduce the risk of fires sparked by the utility's infrastructure.
Southern California Edison submitted a wildfire mitigation plan to the California Public Utilities Commission on Wednesday, as required by Senate Bill 901, which was passed by the Legislature last year. Although the Rosemead-based utility doesn't face the same level of fire liability as Pacific Gas & Electric — which filed for bankruptcy protection last week — Edison's electrical equipment may have ignited the Woolsey fire, which killed four people and burned nearly 100,000 acres in Los Angeles and Ventura counties last year.
Edison already asked the Public Utilities Commission in September for permission to charge ratepayers for $582 million worth of fire-prevention projects, such as insulating exposed wires that could spark blazes, building more weather stations to better forecast fire risks and deploying infrared cameras to monitor equipment. The mitigation plan provides more details about what Edison expects to do this year.
The company plans to inspect at least 125,000 trees in high-risk areas that could topple into power lines, on top of its existing plans to remove or trim 7,500 potentially hazardous trees this year. The company also plans to inspect all 19,000 miles of power lines it operates in high fire-risk areas, with a more rigorous protocol than in past years, said Phil Herrington, Edison's senior vice president of transmission and distribution.
"We're targeting having these inspections wrapped up by summertime," he said.
Preemptive electricity shutoffs are also part of Edison's strategy.
By de-energizing power lines during dry, windy conditions, utilities can dramatically reduce the odds of their infrastructure igniting fires. But Edison and PG&E have rarely taken that step, which can anger local communities despite the potentially enormous benefits.
PG&E canceled a planned power shutoff in the Paradise area just before the Camp fire broke out in November, and Edison is being sued by victims of the Woolsey fire who say the utility company should have de-energized power lines on the dry, windy day the deadly fire started.
California looks to electricity shutoffs as a faster, cheaper wildfire solution »
At least in Southern California, preemptive power shutoffs may become more common. Although the company's criteria for de-energizing lines won't change, Herrington said the 850 weather stations and 160 high-definition cameras Edison hopes to deploy by 2020 "could easily result in more exercising" of preemptive shutoffs.
"We have much more information to make that decision," he said.
Pacific Gas & Electric and San Diego Gas & Electric also filed wildfire mitigation plans late Wednesday.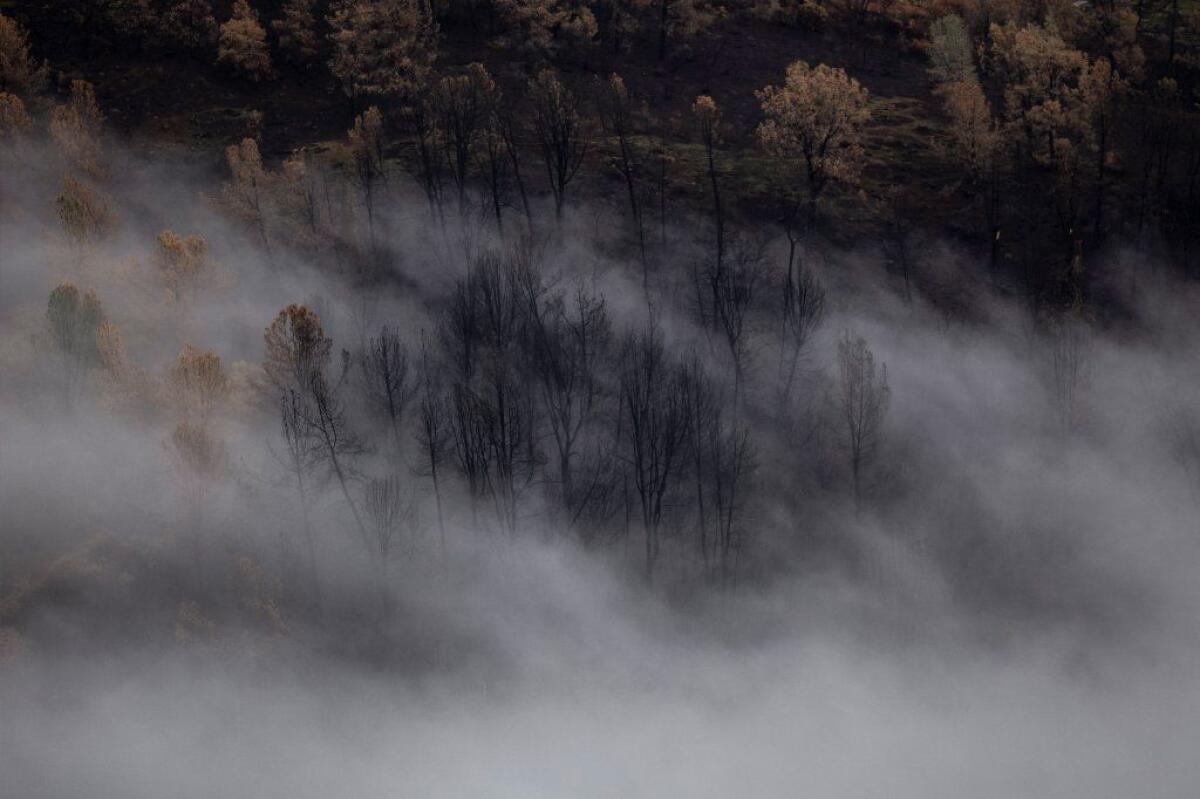 SDG&E has won praise over the last decade for its fire prevention efforts, including the installation of more than 175 weather monitoring stations and a greater willingness to shut off power preemptively.
But PG&E has faced mounting criticism. State officials say the San Francisco-based company's infrastructure ignited or contributed to more than a dozen fires that killed 22 people in 2017. Cal Fire has yet to determine whether PG&E is responsible for the Camp fire, which killed 86 people and destroyed most of the town of Paradise.
William Alsup, a federal judge overseeing PG&E's criminal probation stemming from a 2010 gas explosion that killed eight people in San Bruno, said last month that he may order PG&E to inspect its entire electric grid and do extensive tree-trimming before this summer. PG&E said that could cost as much as $150 billion. Alsup said he would wait for PG&E to file its wildfire mitigation plan before deciding whether to finalize his order.
PG&E hasn't run out of money. So why did it file for bankruptcy protection? »
In its wildfire mitigation plan, PG&E said its plans this year include removing about 375,000 trees and installing 400 new weather stations. The company also said it is "significantly expanding" its preemptive electricity shutoff program and reevaluating the criteria it uses to make the decision to de-energize power lines.
The three investor-owned utilities have already begun many of the initiatives outlined in their mitigation plans, but they'll need approval from the Public Utilities Commission to pass along any of the costs to ratepayers.
Senate Bill 901, the legislation that required the fire prevention plans, also made it easier for Edison, PG&E and SDG&E, to pass on the costs of some utility-ignited blazes to their customers. But those cost-recovery provisions didn't include the 2018 fires, which was one of the factors that led PG&E to file for bankruptcy last month.