Organizers, workers urge El Super boycott; chain disputes health claims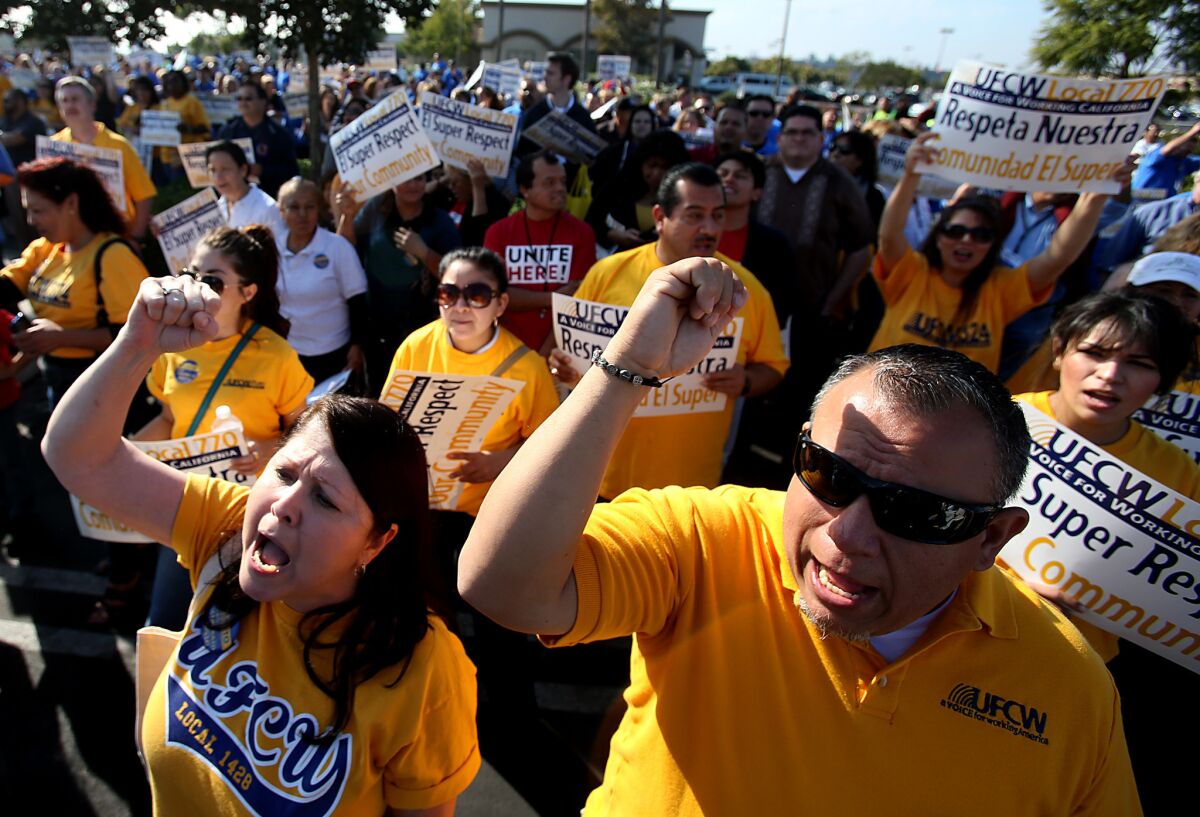 Community organizers and El Super workers -- already pushing for labor concessions from the Paramount-based grocery store chain -- are calling for a boycott of the company amid allegations of health code violations.
Dozens of picketers outside the chain's Highland Park location said El Super refuses to remedy unsafe food handling practices that led to more than 300 violations documented at stores this year by county health inspectors. Findings included flies in the meat department, for-sale food that was expired and vermin feces, organizers said.
El Super disputes the allegations. The chain has 49 stores in California, Nevada and Arizona, including 15 in Los Angeles County, according to its website.
Community organizers said the unsanitary conditions stem in part from El Super's poor treatment of its workers, accusing the chain of paying below market rate, withholding paid sick days and attempting to bust up union negotiations.
"This is connected to workers not being able to call in sick -- there are many things that can be spread at work," said Mari Mercado, a leader at community group Strategic Concepts in Organizing & Policy Education, or SCOPE. "It just becomes a negative ripple effect in our community."
Mercado said hundreds of employees and members of participating community groups -- including East L.A. Community Corp., Pueblo y Salud and Strategic Action for a Just Economy -- would participate in the boycott, with more consumers likely following suit.
Los Angeles City Councilman Jose Huizar was also at the gathering. Though he said he wasn't as familiar with the health complaints, he said he hoped El Super would come to an agreement with workers about "basic things" such as guaranteed hours and better compensation.
"In light of the discussion in the city right now about minimum wage, we want Los Angeles to be known as a city that supports its workers," he said.
Mike Shimpock, a UFCW Local 770 spokesman, said the chain is in effect also mistreating its shoppers, many of whom are low-income immigrants who have few other grocery options.
"The idea that we're operating solely for the benefit of union members is ridiculous," he said. "We're trying to raise standards for all workers and consumers."
In response to organizers' complaints about its food handling practices, El Super said it asked the union repeatedly for information to support the claims. The company said it filed an unfair labor practice charge with the National Labor Relations Board in April after being ignored by the union.
The company said health inspectors from Los Angeles, San Bernardino and Riverside counties have given the chain A ratings in all but three of more than 150 inspections since January 2012. The chain has a perfect pass rating in Orange County, it said.
El Super said in a statement that it "monitors for, and rotates or replaces, any product that is nearing its expiration, destroying expired or damaged product in the process." The chain said it "has a demonstrated track record of compliance" with food safety standards and regulations, often performing audits and training and certifying employees in food preparation.
The company also addressed the labor-related allegations, saying that its "protracted and deadlocked negotiations" with the UFCW began well before its contract with employees was due to expire on Sept. 27, 2013. The chain said it made a final offer in April after presenting several other proposals.
On Sept. 22 of this year, El Super implemented the plan, which it said allows for up to four days of additional paid time off, guaranteed weekends off for long-term employees and, upon ratification of the contract, wage increases for all employees over the next five years.
Twitter: @tiffhsulatimes