Larry Ellison, Oracle founder, resigns as CEO but is far from retiring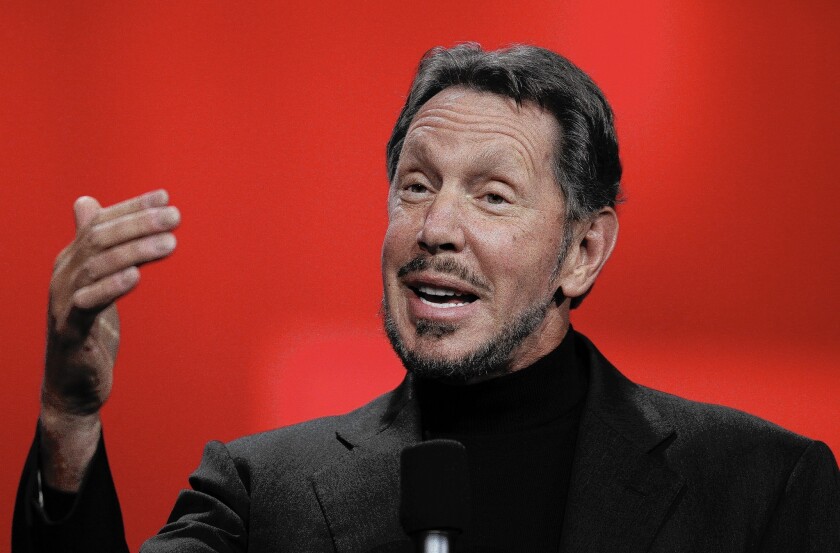 Larry Ellison, among the last of the old lions who transformed a fruit-and-nut-growing backwater into Silicon Valley, is stepping down as chief executive of the company he founded, Oracle Corp.
Ellison, 70, won't be retiring to Lanai, the Hawaiian island he owns, or to his Malibu estate or to roam the oceans racing yachts. He'll stay on at Oracle as "full time" executive chairman and chief technology officer, trying to navigate the company through massive technological change that threatens Oracle's future.
The CEO reins go to co-Presidents Mark Hurd and Safra Catz, and "all the other reporting relationships will remain unchanged," Ellison said in a statement.
"He's not going anywhere," said Tim Bajarin, tech analyst and president of Creative Strategies.
Some analysts believe that Ellison will still be running the show. Rob Enderle, principal analyst of Enderle Group, suspects that Ellison's move is designed to hide the full breadth of his Oracle pay package, because CTO salaries don't need to be disclosed.
Some institutional investors have complained about his outsized compensation, from which Ellison has built a personal fortune estimated by Forbes at $51.3 billion — making him the fifth-richest person in the world.
"When you're dealing with someone like Larry, you figure he's dealing with some problem creatively. He already doesn't work a 9-to-5 day now, so what more would he need to cut back?" Enderle said.
"The only problem he's got is that some stockholders have been screaming about his salary being excessive."
The shift "doesn't really change things," said Scott McNealy, former Sun Microsystems CEO and current chairman of social media marketing start-up Wayin. "He's going to continue to do the things he's going to continue to do."
Whatever Ellison's continuing role at Oracle, his move marks the end of an era. Contemporaries like McNealy, Andy Grove of Intel and Jim Clark of Silicon Graphics have moved out of the spotlight. The founders of Hewlett-Packard, Bill Hewlett and David Packard — the original start-in-the-garage entrepreneurs — died years ago. Apple founder Steve Jobs died in 2011.
"Larry Ellison is one of the top technology CEOs of all time," said John Chambers, Cisco Systems' chief executive.
Ellison's move is similar to the one that Bill Gates made when the Microsoft founder stepped down as CEO in 2000. He moved into a newly minted role of chief software architect and let new CEO Steve Ballmer run the company. It didn't work well. Microsoft lost out to new innovators on the Internet, in smartphones, tablets and more. Ballmer resigned as CEO and bought the Los Angeles Clippers basketball team this year.
Although a profitable behemoth with $38 billion in annual sales, Oracle faces similar struggles as nimble young innovators nip at its heels.
The biggest threat to Oracle's core database business is cloud computing. Apparently, Ellison figures that the best chance to safeguard his company is to focus on its technological challenges, letting others handle the day-to-day grunt work.
Ellison is a rags-to-riches story — or JCPenney trousers to riches, anyway. In 1969, at age 25, he packed a convertible Thunderbird and fled the tough South Side of Chicago for Northern California, where he started Oracle when businesses had just started converting file cabinets full of paper into bits and bytes. He didn't invent these so-called relational databases, but Oracle did more than any company to popularize them.
Oracle grew fast, and Ellison took on the ways of a stereotypical Californian. A health fanatic, he turned breakfasts of half orange juice, half carrot juice into a ritual. Once he could afford a mansion in tony Atherton, he built an estate modeled after a feudal Japanese village.
Like other tech contemporaries who'd gotten rich on IPOs, he developed a taste for yachts, which soon became a passion for racing.
Ellison owns Oracle Team USA, a yacht-racing syndicate he first formed to compete for the 2003 America's Cup — the oldest active trophy in international sport. Ellison's team won the cup during the 2010 challenge and then successfully defended it in San Francisco in 2013. The second win was a dramatic comeback. Oracle had won just one race to Emirates Team New Zealand's eight when it then rallied to win eight races in a row.
Real estate became another passion. Ellison's real estate holdings are legendary, including trophy properties in Malibu and Lake Tahoe and a Rancho Mirage mansion with a golf course.
In 2012, the billionaire bought nearly all of Lanai, the sixth-largest Hawaiian island at 141 square miles. And Ellison has embarked on a decade-long real estate binge along the Malibu coast.
Ellison has won the America's Cup, he's rich, he has all the luxury a person could covet — along with a secure place in the history books as one of the legends of Silicon Valley.
But it's a safe bet that he wants to die with Oracle on top of the database pile, even in a world of Facebooks and Googles and Snapchats and LinkedIns.
"Mark Zuckerberg is the new school," said Richard Spindler, a sailing magazine publisher who might echo the views of Silicon Valley's new generation. "Larry started 35 years ago. He's the last of the original guys."
Today, Oracle faces serious threats from competitors. Investors aren't complaining just about compensation, but are desperately looking for a better plan to counter cloud computing.
"I just look at the results and my conversations with Oracle clients. They are worried about Oracle missing the shifting model from big upfront investments in software and computing to pay as you go," said John Rymer, an analyst at Forrester Research.
In 2008, Ellison ridiculed cloud computing as pure hype. "Maybe I'm an idiot, but I have no idea what anyone is talking about," he said. "What is it? It's complete gibberish. It's insane."
Later he would declare repeatedly that Oracle was "all in" on cloud computing, as his company struggled to catch up.
Amazon, NetSuite, SalesForce and others are besting Oracle in the cloud, Rymer said. SalesForce, which has drilled into Oracle's market share, might carry a special sting: It was founded by former Oracle executive and now SalesForce CEO Marc Benioff.
Some might be getting ready to sing Ellison epitaphs. But Ellison doesn't want that to happen to Oracle.
Times staff writers Andrew Khouri, Lauren Beale and Chris O'Brien contributed to this report.
---
Your guide to our new economic reality.
Get our free business newsletter for insights and tips for getting by.
You may occasionally receive promotional content from the Los Angeles Times.