Tesla stock dives as a tearful Elon Musk prompts speculation about board actions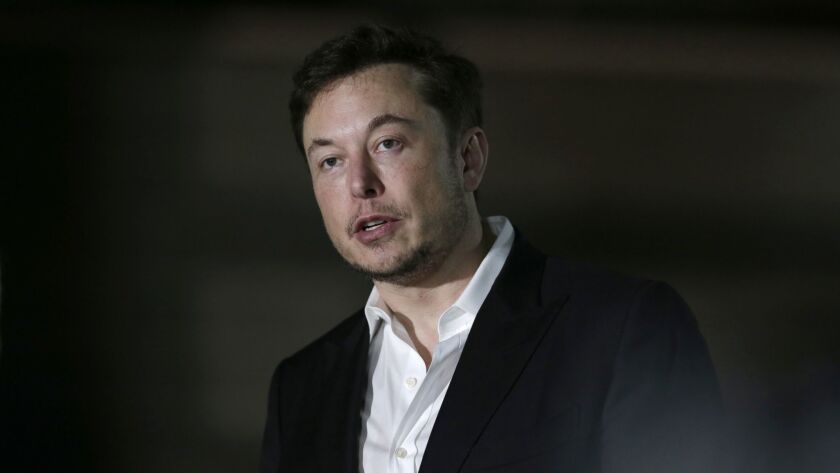 Speculation mounted Friday that Tesla Inc.'s board will hire an executive to run the electric carmaker's daily operations after the erratic behavior of Elon Musk, its billionaire founder and chief executive, roiled the company and its stock price.
Musk raised new questions about his leadership in an interview with the New York Times on Thursday. An emotional Musk was described as alternating "between laughter and tears" as he discussed an intense work schedule and health problems during what he called an "excruciating" year.
Musk is juggling assembly problems and huge financial losses in ramping up production of Tesla's Model 3 sedan. Musk — who is also founder and CEO of SpaceX, the Hawthorne rocket company — recently sparked more turmoil by unilaterally proposing to take Tesla private with funding he claimed would be available from Saudi Arabian investors.
Tesla's stock initially jumped after Musk's bombshell disclosure on Twitter on Aug. 7. But the stock has fallen ever since as doubts promptly grew about the validity of the Saudi backing, which, in turn, reportedly has prompted securities regulators to investigate Musk's comments and led to at least three shareholder lawsuits against the company.
In the New York Times interview, Musk said he has been working up to 120 hours a week, sometimes staying in the auto factory for days. His health has "not been great ... I've had friends come by who are really concerned," he said.
He said he suffers from insomnia and sometimes takes Ambien to fall asleep, the paper said, adding that according to an unnamed source, some Tesla board members are worried the drug might have contributed to Musk's Twitter habits.
Some outsiders said the turmoil now rocking Tesla, and the board's role in looking out for its stockholders' interest, almost demanded that some of Musk's daily responsibilities be shared with another executive in hopes of bringing stability to the Palo Alto automaker.
"I think it has to be done," said Efraim Levy, an analyst with CFRA Research. "There is too much pressure on Elon Musk, too much fallout and even more distractions now than there were with the [Model 3] operational problems."
Musk, 47, said that "to the best of my knowledge" there was "no active search right now" by Tesla's board to find such an executive and that he had no plans to relinquish his dual roles as chairman and CEO.
The New York Times reported sources as saying there is indeed a hunt for such an officer, although it wasn't clear whether directors were looking for a new CEO or a second-in-command chief operating officer, which Tesla currently lacks.
But a person familiar with the matter told the Los Angeles Times that, as far as they knew, Musk and the Tesla board have not interviewed anyone to lead the company's operations in more than a year, and that the search has not intensified or been reactivated in light of recent events.
Over the years, Tesla has looked at several candidates to lead the company's operations, similar to the role Gwynne Shotwell occupies as president and chief operating officer at SpaceX.
Potential candidates at Tesla have included Sheryl Sandberg, currently chief operating officer of Facebook Inc., and Tony Bates, former chief executive of Skype, said Ashlee Vance, author of "Elon Musk: Tesla, SpaceX and the Quest for a Fantastic Future" and a Bloomberg Businessweek reporter.
Musk appeared ready if Tesla's other directors recruit another executive, saying in the New York Times interview that "if you have anyone who can do a better job, please let me know."
"They can have the job," he said. "Is there someone who can do the job better? They can have the reins right now."
Asked to comment, Tesla's directors — excluding Musk — responded with a statement saying there "have been many false and irresponsible rumors in the press about the discussions of the Tesla board," although it did not identify the rumors.
"We would like to make clear that Elon's commitment and dedication to Tesla is obvious," the statement said. "Elon's leadership of the Tesla team has caused Tesla to grow from a small start-up to having hundreds of thousands of cars on the road that customers love, employing tens of thousands of people around the world, and creating significant shareholder value in the process."
The comments came as Tesla's stock dropped an additional 9% on Friday, to $305.50 a share. That's nearly 20% below its closing price of $379.57 on the day Musk tweeted his going-private plan, and 27% below the $420 a share Musk proposed under his idea. At $420 a share, Tesla would be worth nearly $72 billion.
Musk, who owns about 20% of Tesla's stock, told the New York Times that no one had reviewed the Aug. 7 tweet in which he announced he was thinking about taking Tesla private.
Although some board members reportedly have told Musk to dial down his Twitter use and focus on business, he told the paper that he doesn't plan to stop using the social media platform and that he doesn't regret the Aug. 7 tweet. "Why would I?" he said.
Levy and others noted that hiring a No. 2 officer to work with a strong-willed founder, not an easy situation under the best of circumstances, could be especially difficult with Musk.
"Typically, being Elon's No. 2 means suppressing your ego almost completely," Vance said. "It's a challenge because he wants some all-star top executive who's probably a CEO somewhere else to come in, and yet that person's going to have to be second fiddle to Elon, no question."
The role would be akin to "being the chief of staff at the White House right now," Levy said. "It doesn't have the same power that it normally does because of the personality of the No. 1 executive. How successful would they be [together]? That's questionable."
Musk historically has seemed reluctant to trust outsiders to fill that role, Vance said. Shotwell was SpaceX's seventh employee and joined SpaceX in 2002 as the Hawthorne company's vice president of business development. In 2008, she was named company president.
Though Musk's speeches on Mars colonization plans generate huge audiences, Shotwell has represented the company at a steady flow of industry events and NASA news conferences. Statements released by the company — particularly after potentially sticky situations, such as the reported loss of a national security satellite in January — are often attributed to her.
"I think she's earned Elon's trust," Vance said. "Whereas an outsider coming into Tesla, Elon doesn't know if he can depend on this person the way he can depend on Gwynne."
RELATED: Tesla board moves to explore going private, and shareholders sue over Elon Musk's tweet »
One reason for Musk's going-private plan is his intense dislike of short sellers, or investors who profit when a stock drops in price and who therefore thrive on negative news for that firm. The "shorts" often are his targets on Twitter.
One of those short sellers, Mark Spiegel, who heads Stanphyl Capital Partners, said Friday: "I think Musk is out as CEO."
"The only way he stays at the company at this point is to make himself chief product architect or non-executive chairman," Spiegel said, adding, "I can't see him prepared to share the limelight with anybody."
When companies have a powerful and central founder, early strengths such as passion, strong will and vision often turn into liabilities, said Noam Wasserman, the Lemann chair in entrepreneurship and founding director of USC's Founder Central initiative. And bringing in a so-called counterbalancing executive is "more likely to fail than to succeed," he wrote in an email.
Vance was more optimistic.
"Anyone who stepped in there would have their hands full with not only getting these cars out the door, but obviously now with all of this financial mess," he said. "But on the other hand, it would be an incredibly exciting job. It's hard to imagine another company where you would have the chance to make that much of a difference and impact. It still seems like an attractive job."
Tesla lost $1.5 billion in the first half of this year on revenue of $7.4 billion. The company said it plans to be profitable in the second half as Model 3 production increases. Tesla also had $9.5 billion of long-term debt as of June 30.
Times staff writer Aurora Percannella contributed to this report.
---
UPDATES:
3:30 p.m.: This article was replaced with staff reporting.
1:25 p.m.: This article was updated with Tesla shares' closing price.
8:30 a.m.: This article was updated with information about Model 3 production and with Tesla's stock movement.
7:35 a.m.: This article was updated with information about the Wall Street Journal report that securities regulators began an investigation last year and with Tesla's stock movement.
This article was originally published at 5:35 a.m.
---
Your guide to our clean energy future
Get our Boiling Point newsletter for the latest on the power sector, water wars and more — and what they mean for California.
You may occasionally receive promotional content from the Los Angeles Times.