Must Reads: For a day, I was one of the millions of Americans without a bank account. It was humbling
Two and a half miles of walking, two failed attempts to cash a $15 check, one toy left behind at a checkout counter and $14 in fees for financial transactions that ordinarily wouldn't cost me a dime.
That was my tally after a recent, frustrating morning in Hollywood spent standing in lines, filling out forms and wondering if I'd have enough money or time to get it all done.
The exercise wasn't for fun. Rather, I was participating in a sort of financial scavenger hunt that aims to replicate how life works for the millions of Americans — about a quarter of all households — who either don't have bank accounts or still rely on storefront check cashers, payday lenders and prepaid debit cards to manage their money.
The event, called FinX — as in "financial experience" — was held this month during an annual conference organized by the Center for Financial Services Innovation and attended by executives from banks, credit unions and financial technology firms, as well as consumer advocates and even federal regulators.
The nonprofit think tank, backed by charitable foundations and major banks, advocates for better financial products, especially for Americans on the fringes of the financial system.
It hopes the exercise can teach just how expensive and time-consuming it can be to manage money for consumers who are known as the unbanked or underbanked.
"The basic idea is, for as long as we've been doing this and as dismal as the facts about American financial health are, we still talk to people who really don't get it," said Jennifer Tescher, founder and chief executive of CFSI. "Everyone walks away with the same reaction: that this is intensely frustrating, it's more expensive than it should be and they can't believe millions of Americans have to deal with this."
About 27% of U.S. households are either unbanked or underbanked, according to the Federal Deposit Insurance Corp. Despite economic growth and the proliferation of online services that have made it easier than ever to open and access bank accounts, those figures have remained little changed since the FDIC started tracking them in 2009.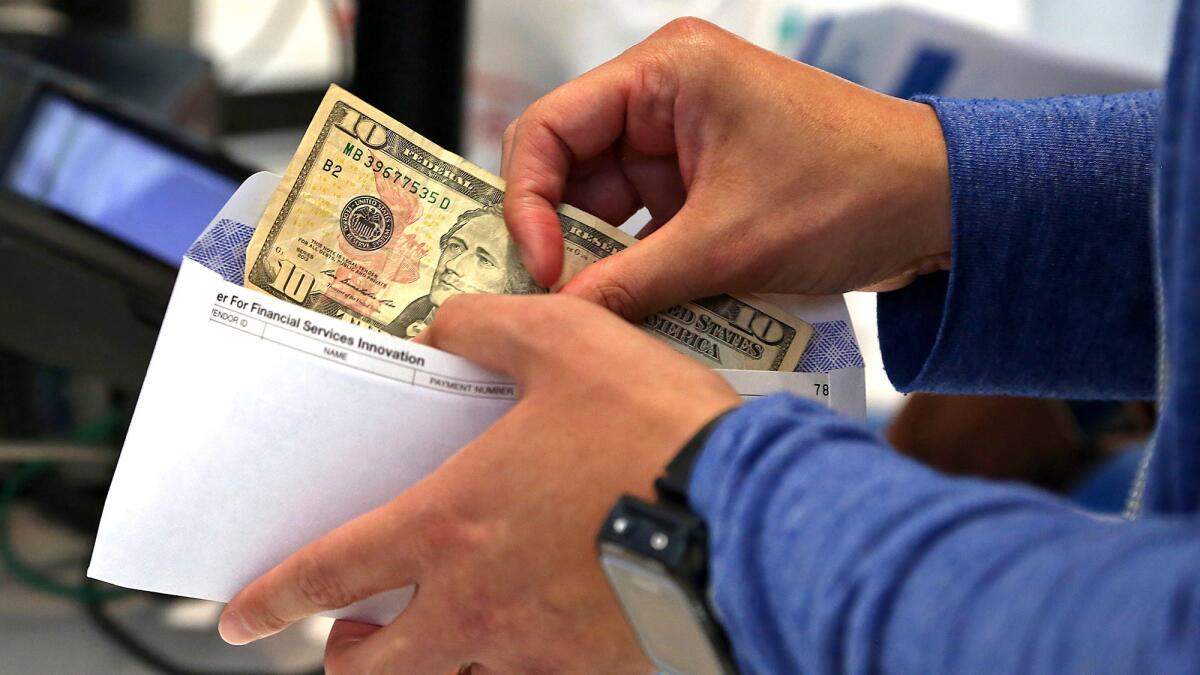 What's more, those households — which are more likely to be poor, less-educated, young, black or Latino — pay a lot for their financial services. CFSI estimated Americans spend more than $100 billion every year for products or services such as payday loans and check cashing, as well as overdraft fees, effectively a penalty for being short on cash.
On June 6, other participants and I gathered in a conference room at the Loews Hollywood Hotel at the Hollywood & Highland shopping center and were put in groups of three or four. Each team was assigned a different L.A. neighborhood and asked to complete several transactions, including cashing a few checks, getting a debit card, asking about a loan and buying a small gift.
There was an extra catch: It all had to be done in about two hours, a time limit many of us thought was generous given our own experiences with financial products.
I was teamed up with Ray Chay, director of operations at a high-interest consumer lending company, and Sybil Mulokwa, a manager at a company that develops software for small banks and credit unions.
Though all three of us work in finance to a degree — I primarily cover finance for The Times — none of us have much experience using the kind of alternative financial services we'd need to get from our list.
We all have bank accounts, we all have savings and we all manage our money online. For FinX, we tried to pretend that wasn't the case.
We were assigned to an area close to the hotel and started out thinking we'd be able to cruise through our to-do list with time and money to spare.
"There was a general sense of optimism — misguided optimism," Mulokwa said.
In the end we got through only about half our tasks and still blew past our deadline. Even if we'd had more time, we wouldn't have had enough cash to finish.
"There's a lot of fees associated with all these services," Chay said. "And it's all for stuff I don't think about at all."
Our first stop was on Sunset Boulevard at a Money Mart, an outlet that cashes checks, makes loans and offers Western Union money transfers.
We started with our checks — a payroll check for $70 made out to Chay and a $15 personal check made out to me. Chay and I had to create accounts with Money Mart, so we each provided a driver's license, address, phone number and thumbprint.
Chay's payroll check was processed relatively quickly, but it cost more than we'd expected. He had called another check-cashing shop, which quoted him a fee of 2.25% of the face value of a payroll check. That would have been $1.58 for his check.
But most shops also charge a minimum fee. In Money Mart's case, it was $3, meaning we paid more than 4% of the check's face value.
Money Mart charges substantially more to cash personal checks: 12% of the face value, with the same $3 minimum. For my $15 check, that fee would amount to 20% of the face value.
But Money Mart wouldn't cash it. The check, written from a Chase checking account, had only the name of the account holder — no phone number or address.
The clerk, who asked not to be identified, asked if I had a phone number for the check writer. I didn't. A few minutes later, the clerk returned to tell me she couldn't cash the check. We'd have to try somewhere else.
Before leaving, we tried to cross a few more items off our list. We bought a $20 money order, for a fee of $1.29. We also asked the clerk if we could get a $500 loan — we weren't going to borrow money, we just needed to ask — and were told we couldn't borrow that amount. We'd have to borrow much less or much more.
Money Mart offers payday loans, which under California law max out at $255 with a $45 fee. It also offers installment loans, which are larger and are paid off over months or years. But, as with many subprime lenders in California, the smallest installment loan Money Mart offers is $2,500 — at an interest rate of either 139.9% or 224.9%, according to a form taped to the bulletproof teller window.
Loans smaller than $2,500 can charge interest of no more than about 30% under California law. But there's no limit on interest rates for larger loans, so many subprime lenders simply don't offer anything below $2,500.
"I was like, 'This is highway robbery,'" Mulokwa told me a few days later. "Still, right now, I'm stunned."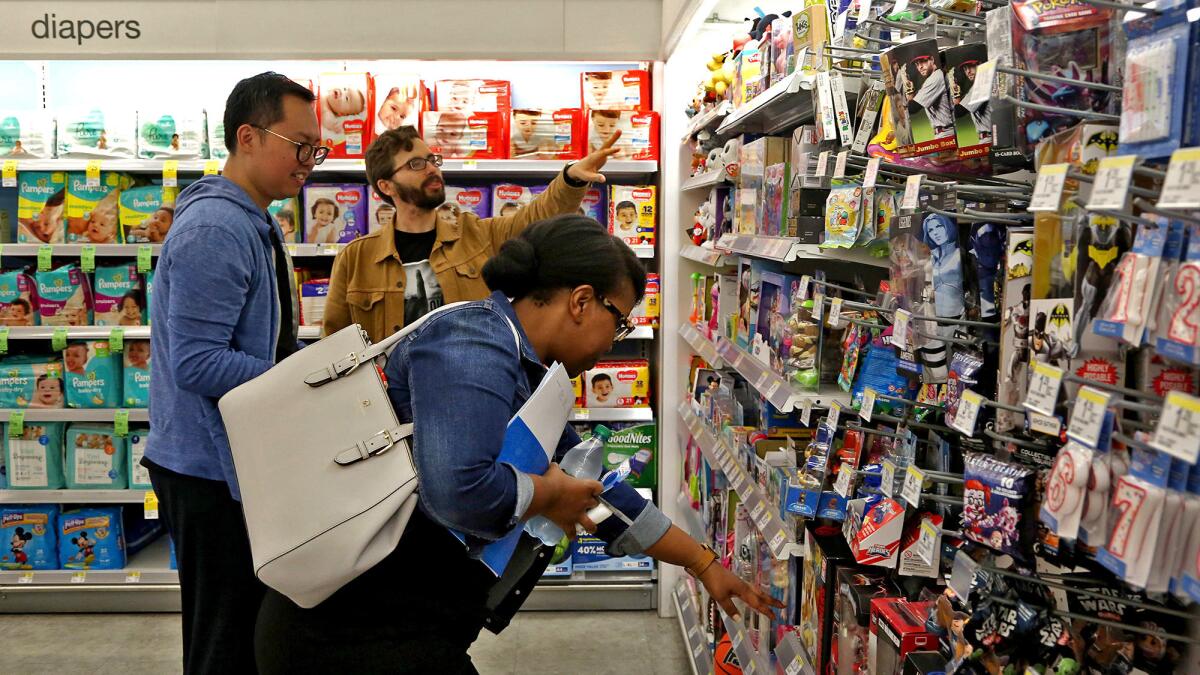 We left Money Mart at 9:50 a.m., having spent nearly 40 minutes there and accomplishing fewer tasks than we'd hoped. At our next stop, too, we'd lose precious time.
We headed for a Walgreens, where we'd try to buy a prepaid debit card — often the only type of noncash payment available without a bank account — and make some purchases.
We found the rack of prepaid debit cards and started to compare prices and fees of the five or six different offerings.
Chay had researched prepaid cards on our walk and found an American Express prepaid card with low fees and good reviews, but it wasn't available at Walgreens and we weren't in a position to spend more time shopping around.
We settled on the option with the lowest purchase price, a $1.95 card from Green Dot, a Pasadena company that was a pioneer in the prepaid card industry.
After choosing our card, we picked out gifts for a fictitious niece: Silly String, a knockoff Beanie Baby and a can of "noise putty," which together should have cost a little less than our limit of $15. We grabbed a bottle of water and some gummy bears — buying snacks was on our list, too — and headed for the cash register.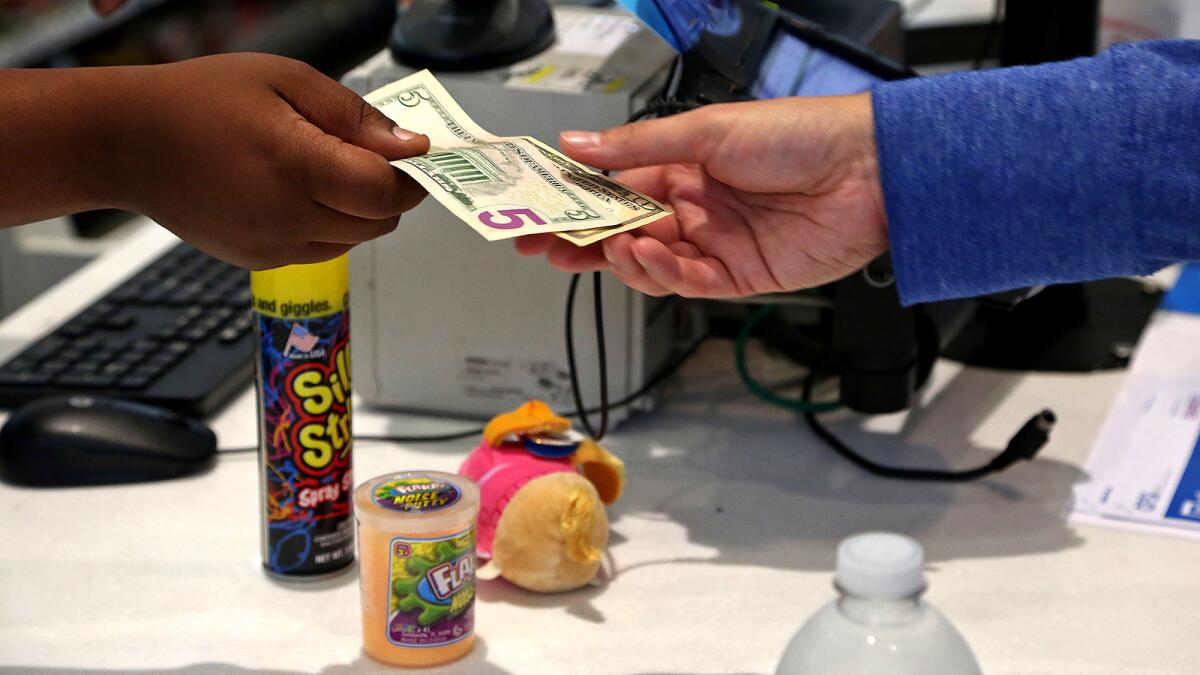 First we bought the debit card and gave the Walgreens checker $20 to load onto it, then tried to purchase the rest of our stuff. But the card wouldn't work.
The checker explained that we needed to activate the card. To do that we'd need to wait at least 15 minutes. It was already 10:25. We had less than an hour to go, and would spend a quarter of an hour waiting to be able to use our money.
Yes, we could have used cash. But what if we wanted to buy something online? And 15 minutes isn't that long, but we'd later learn that other FinX teams had to wait an hour or more to activate some cards.
With a few minutes to kill, we left our snacks and toys at Walgreens and headed across the street to a Bank of America branch, where we'd check off a few more goals: asking about a checking account, a savings account and a $500 loan.
A teller said we could open accounts but would have to pay a monthly fee of $8 on either type unless we met minimum balance requirements or set up direct deposit.
Bank of America doesn't offer personal loans, the teller said, but we could apply for a credit card and might even get a same-day approval if we qualify. If we have bad credit — or no credit history, more typical of the unbanked — we could apply for a secured credit card, which comes with a higher interest rate and would require us to make a security deposit of at least $300.
In either case, if we needed money today, we'd be out of luck: We'd have to wait at least a few days for the card to arrive in the mail.
"You need money or time to do these things, and we have neither," Mulokwa said before we left.
We activated our debit card and went back to Walgreens, but realized we weren't going to have enough money on our card to make all of our purchases.
The debit card cost only $1.95, but it also had a $7.95 monthly fee — charged the first time you make a purchase. So instead of $20 to work with, we really had $12.05.
We left the noise putty behind, paid for the rest and headed out.
"Leaving the toy behind, that felt like a real trade-off," Chay told me later.
From Walgreens, we headed for Continental Currency Services, another check-cashing shop. It was already past 11 a.m., and we were supposed to be back to the hotel by 11:15.
We stood in line for a few minutes, all of us noting that the shop not only cashes checks and offers Western Union money transfers, but also sells lotto tickets, both from behind the teller windows and from a vending machine in the lobby.
When I made it to the window, the teller took one look at my check, asked if I had a number for the check writer and, when I told her I didn't, said she couldn't cash it.
Without that $15, all we had was 48 cents on a debit card and not quite $24 in cash — not enough to send a $30 money transfer, one of the remaining items on our list. And we'd run out of time for a few more goals, including reloading our prepaid debit card and visiting a pawn shop to see what we could get in exchange for a watch.
We headed back to Hollywood & Highland, knowing we'd be back late.
For Chay, the biggest lesson was that his customers — who are typically in some kind of financial bind — may be just as pressed for time as they are for cash.
"The customer I serve spends a lot of time, potentially in their off time after work or on the weekends, trying to accomplish these tasks," he said. "Maybe the best thing I can do is to take as little of their time as necessary."
Chay said he'd like his co-workers to go through FinX themselves. The program is a fixture at CFSI's annual conference, but the group also offers to run FinX for companies that want insight into this side of the financial world.
Mulokwa, too, said she has a new appreciation for the "time tax" of all these services, but her biggest takeaway from FinX is that she doesn't know enough about how underbanked consumers live their lives.
"We haven't really taken the time to immerse ourselves in that world," she said. "And we need to learn before we go build. We're going to talk to users who are in these situations and spend time observing them. That's all I've thought about."
Follow me: @jrkoren