Equifax and other credit reporting companies could get surprising benefits in Senate banking deregulation bill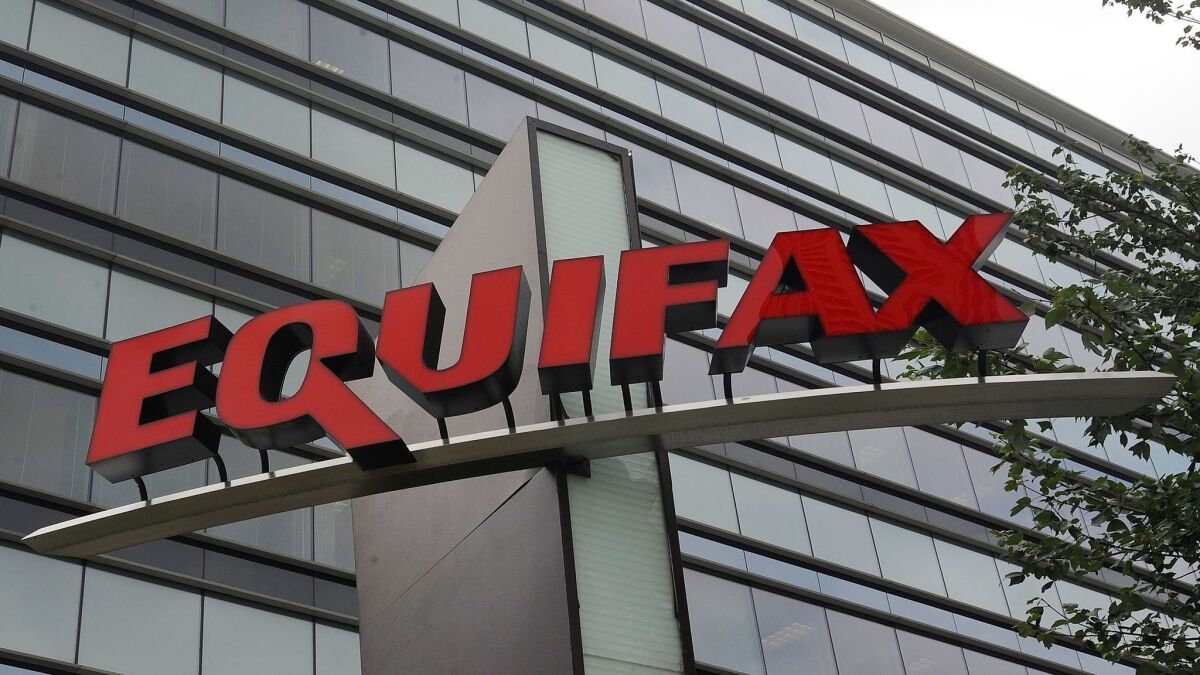 Reporting from Washington —
Equifax Inc. was publicly excoriated by senators last fall for its massive data breach. Now, the company and other credit reporting firms are in line to get some last-minute benefits in a banking deregulation bill that originally was designed to punish them by adding new consumer rights.
The bipartisan Senate bill includes requirements that Equifax and the other credit reporting companies allow people to freeze and unfreeze their files for free and provide free credit monitoring for active-duty members of the military.
Those provisions were in direct response to the outrage over a data breach revealed in September that the company says affected 147.9 million Americans. Consumer advocates generally support those changes.
But as the bill nears final approval in the Senate this week, its main sponsor, Sen. Mike Crapo (R-Idaho), has proposed an amendment with provisions that would offset some of the new requirements for Equifax and the other two major credit reporting companies, Experian and TransUnion.
Crapo's amendment, which included numerous other revisions to the bill, passed a procedural hurdle in the Senate on Monday by a 66-30 vote.
The amendment would prohibit active duty military from suing credit-reporting companies regarding any problems with the free credit monitoring.
Chi Chi Wu, a staff attorney at the National Consumer Law Center, said that, if approved, the provision would be the first time federal law would prohibit a consumer's right to sue regarding their credit reports.
"We think that would be a bad precedent," she said. "It's especially a bad precedent given that this is a right being given to service-members."
Sen. Sherrod Brown (D-Ohio), a leading opponent of the legislation, said he could not understand the change to the bill.
"Americans are furious with Equifax, as they should be, but this amendment ... for reasons I can't fathom includes provisions designed to help Equifax," said
He called free credit monitoring for service members "a small gesture to the people who serve our country" but was too much for Equifax and Republicans.
"In exchange for this token benefit, they demanded that consumers and service members give up their right to take Equifax to court," he said. "So Equifax is willing to do a little bit for people, just a little bit, but damn it, you can't sue us then."
An Equifax spokeswoman said in a prepared statement that the company supported the free credit freezes but did not address the amendment providing immunity from lawsuits on credit monitoring.
Equifax also could get another benefit in an arcane change to the bill designed to open competition for credit scores used for mortgages purchased by Fannie Mae and Freddie Mac, which are under federal government conservatorship.
Crapo's amendment would insert a provision proposed last summer by Sens. Tim Scott (R-S.C.) and Mark Warner (D-Va.) that would require the Federal Housing Finance Agency, which regulates Fannie and Freddie, to create a process to validate and approve new credit scoring models.
Equifax, Experian and TransUnion jointly own VantageScore, a competitor to San Jose's Fair Isaac Corp., the company behind the FICO score now used by Fannie and Freddie.
Consumer advocates have called for updated credit scoring models that are fairer to minorities. But they noted that FHFA in December issued a formal request for input on the agency's credit score requirements and the Senate bill's proposed provision could upend that process.
"It appears to be an attempt to set up a better runway to help them take over the credit-scoring market," Mike Litt, consumer campaign director for the U.S. Public Interest Research Group, said of the credit reporting companies.
An FHFA spokeswoman declined to comment.
Brown is suspicious of the last-minute change.
"Instead of allowing FHFA to take the time it needs to get it right, this bill ignores that, and it sets up its own process," he said. "I have my hunch, though, as to who is pushing for it. Guess who is one of the biggest beneficiaries of this change? … Equifax, of course."
Rachel Cohen, a spokeswoman for Warner, said the provision "will encourage more innovators to update their credit scoring models or invest in alternative credit scoring models, which have the potential to make home ownership a reality for more qualified borrowers who lack access to traditional forms of credit."
Scott's spokeswoman, Michele Exner, said "a handful of Senate Democrats" who opposed the banking bill are trying to use misleading claims to derail it, including singling out a provision that "outside of this bill would be lauded as a bipartisan solution to helping minority families reach new opportunities."
Warner has been an outspoken critic of Equifax. In January, he joined Sen. Elizabeth Warren (D-Mass.) in proposing "massive and mandatory" fines for data breaches by credit reporting companies, starting at $100 for each consumer whose sensitive information is compromised.
Warner also is one of the main Democratic co-sponsors of Crapo's deregulation bill, which backers say is intended to provide relief to small and midsized banks. Warner was among a bipartisan group on the Senate Banking Committee that drafted the bill and told reporters last week he was disappointed the bill wasn't tougher on Equifax. For example, he said he was unable to get Republicans to agree to include the data-breach fine proposal.
Litt said the U.S. Public Interest Research Group supports free credit freezes for consumers, but he's not happy with the bill because of the other provisions.
"For all this talk about action after the Equifax breach, Congress hasn't done anything in six months but now is moving to make things worse," he said.
Twitter: @JimPuzzanghera