E-sports promoter ESL becomes world's biggest video-game events company
The Reicherts watched their sports-crazy son in a dramatic match-up, taking on some of the world's top players.
Benjamin played soccer, which always got their adrenaline flowing. But this wasn't soccer. It was "Quake" — a video game. Laser-eyed teenagers sat in front of screens, killing each other with axes, nail guns, rocket launchers and other virtual weaponry.
The Reicherts weren't expecting much fun. But by the time Benjamin vanquished his foes to take second place in the tournament at a small Internet cafe, they'd turned nervous, almost excited. They clapped, they cheered. It wasn't quite World Cup soccer, but they were into it.
Benjamin's older brother, Ralf, took in the scene. The thought came in a flash: If my parents get this excited watching a video-game tournament, the potential is there for millions of others around the world to do the same. And millions of dollars to be made.
In that moment — in an Internet cafe in Gothenburg, Germany in 1999 — Reichert became one of the first eSports entrepreneurs. The next year, at age 24, he and several business partners formed their own company, known as ESL.
Since then, ESL has grown to become the biggest video-game events company in the world, vaulting the high-stakes virtual battles from little cafes to giant stadiums and arenas with tens of thousands of roaring fans.
This month ESL filled the 18,200-seat Madison Square Garden in New York City as the Vega Squadron team defeated Team Secret in a "Dota 2" championship. More such events in California and elsewhere will follow, as Cologne, Germany-based ESL rapidly expands its North American operations, centered in Burbank. It also aims to produce Hollywood-style programming around competitions and to work with major broadcasters looking to capitalize on a burgeoning new market.
ESports, or competitive gaming, is on the verge of becoming a $1-billion global industry, according to analyst estimates. Professional players are joining teams with investors, coaches and even personal trainers. Some 200 million people play, tune into online broadcasts or attend events at cafes, bars and major venues like Staples Center.
Players themselves collected at least $30 million in prizes last year, with ESL awarding $15 million alone through its tournaments. The eSports promoter expects $60 million in revenue this year, with surges soon to come from boosting the 3-year-old arena-events business, signing TV deals and entering new countries.
Reichert and his colleagues were prescient, but the road to success has been long, hard and uncertain. Reichert had a dream, but many people told him that's all it would ever be.
Starting out, the company launched an online gaming league and a gaming magazine. Reichert and his partners rented out computer servers for competitions. They even stooped to setting up convention booths for game publishers and developed websites to earn enough cash to survive.
The concepts didn't catch fire as fast as hoped. In the mid-2000s, ESL's biggest competitors folded.
But Reichert persevered. The company had built patience into its name, incorporating under the brand Turtle Entertainment. Investors and employees stuck with them. By 2013, the patience began to pay off.
Twitch, YouTube and other online video-streaming services let fans watch games and follow stars. Game makers plunged into the eSports market, fine-tuning games for spectator appeal.
This week, the nation's largest video game company, Activision Blizzard Inc., announced the hiring of former ESPN and NFL Network Chief Executive Steve Bornstein to oversee new eSports initiatives.
ESPN broadcast college games earlier this year. TBS and talent agency WME/IMG plans to run and televise an eSports league in 2016.
ESL is poised to take advantage. Kevin Lin, chief operating officer of Twitch, said ESL's deep roots in the industry and ability to adapt has made them "one of the top eSports event organizers in the world."
Dennis Fong, chief executive of game streaming app Plays.tv and one of the first pro gamers, said he recently partnered with ESL because it has "proven that they are the best" organization of its kind.
ESL's big break came in early 2013, when the city of Katowice, Poland offered use of the 11,500-seat Spodek arena. Katowice officials had seen eSports as an economic stimulant. The idea that he could draw 50,000 spectators over a weekend surprised Reichert, but it fueled him with boldness. It was ESL's first stadium-size production — and gave Reichert the "turning point mentally to say we are here."
Today, it's hard to find gaming events without workers in ESL T-shirts rushing about, manning cameras and calling shots behind the scenes. Nine offices worldwide provide unrivaled scale, ESL says, with expanding presence in India, Russia and Australia and forthcoming projects in the Middle East and Latin America.
The company said annual viewing of ESL productions more than doubled from 2012 to 2014, to more than 50 million hours, reaching 70 million individuals, mostly online.
ESL operates leagues, with a regular season and playoffs. It attracts players with free-to-enter tournaments, identifies the best and then makes money by showcasing their games at venues and online broadcasts. Next month, teams will compete for $150,000 at the SAP Center in San Jose over "Counter-Strike" and "League of Legends." It will mark a major milestone: ESL's 10th arena event.
At about $45 a seat, the five events in 2015 should generate $3 million in ticket revenue, Reichert said.
ESL also manages competitions for top game makers. Activision Blizzard turns to ESL to put on its annual fan convention BlizzCon in Anaheim. Riot Games, the Los Angeles company behind eSports' biggest hit "League of Legends," has been a customer since it launched. Microsoft's "Halo" league is maintained by ESL.
On a Sunday in August, for instance, Activision Blizzard took over ESL's studio in Burbank, working alongside ESL's crew to stream big matches for computer game "World of Warcraft" on Twitch. A spot at the BlizzCon championship in November and $100,000 were at stake.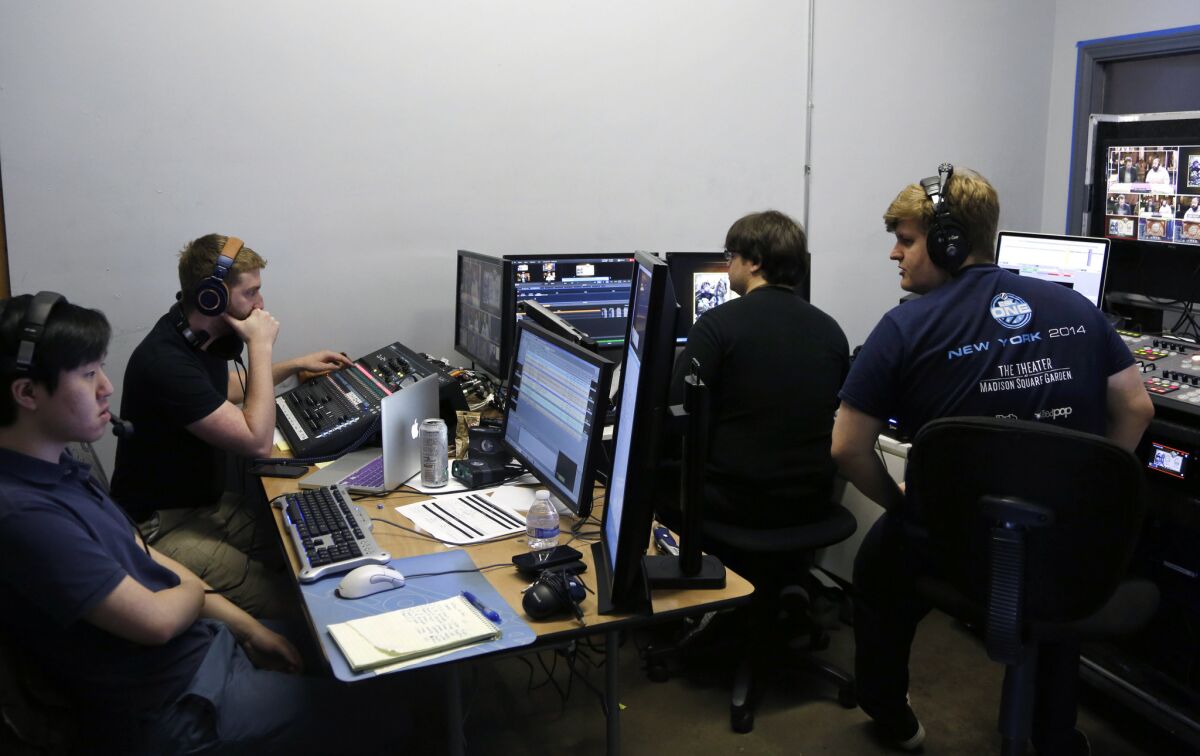 To accommodate more projects, the Burbank office is doubling in size to 25,000 square feet this fall, just 16 months after opening. About a third of the company's 300-plus workforce will be based there.
More employees are in New York City, working to add top-notch sponsors to a roster that includes T-Mobile and Pizza Hut.
They're also talking to media companies to bring ESL content to TV worldwide. Reichert said he never imagined discussions with ESPN and NBC about broadcasting video games. But he's on board to get eSports in front of as many people as possible because "a sport can only be commercially successful if a lot of people watch it," he said. Generating monstrous rights fees, he expects, will come with time.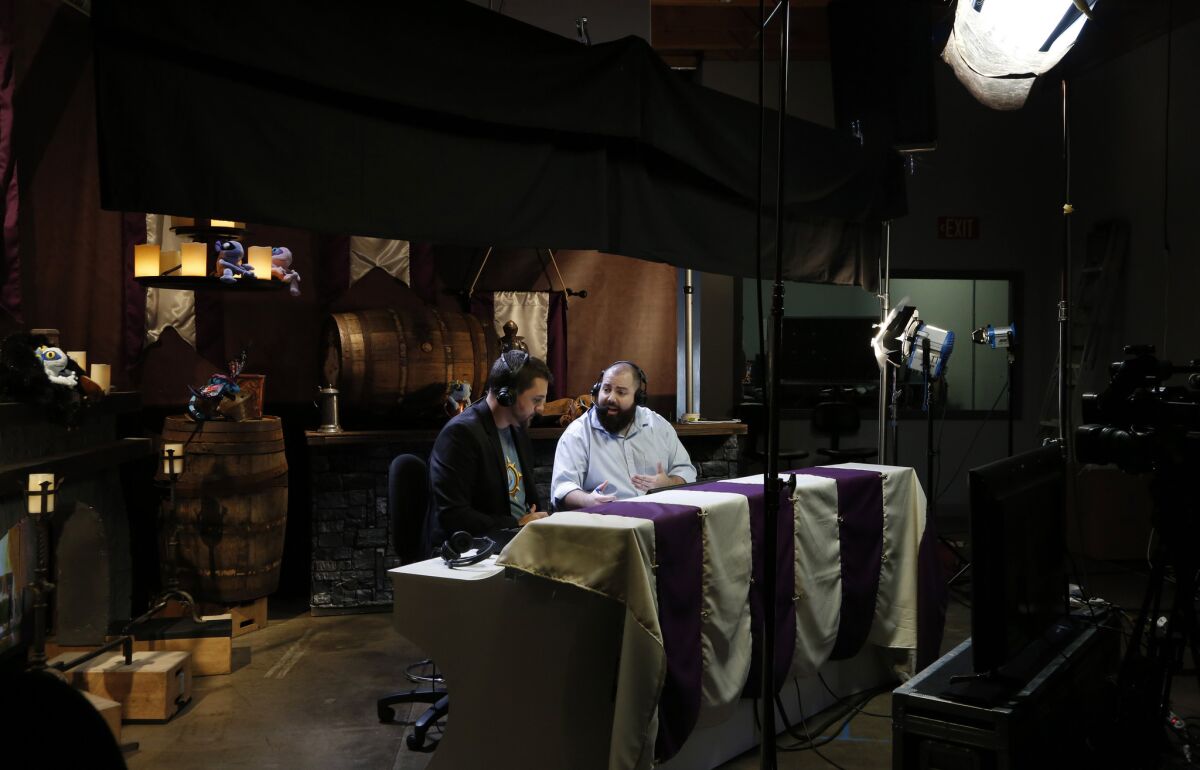 Industry experts fear that game makers could cripple ESL by bringing eSports projects in-house. ESL's hedge is dedicating 15 employees to developing fan bases for smaller, newer games. Executives also argue that publishers — or new entrants — would need a long time to match ESL's skills and efficiencies.
ESL also is busy branching into related businesses. It's looking to spearhead drug testing, betting regulations, stat-keeping and other industrywide standards. If the pieces come together, Reichert sees media rights fees, ticket sales and sponsorship deals booming. Merchandise, tournament entry fees and online ads also contribute revenue.
To accelerate growth, the company took $87 million from Swedish media giant Modern Times Group last month, surrendering a majority stake. Early investors cashed out, but executives including Reichert held onto shares with the belief that the eSports market is still in its early days.
Twitter: @peard33

Our six-week newsletter will help you make the right decision for you and your property.
You may occasionally receive promotional content from the Los Angeles Times.