FDA says firms have twice failed to show scopes can be rid of superbugs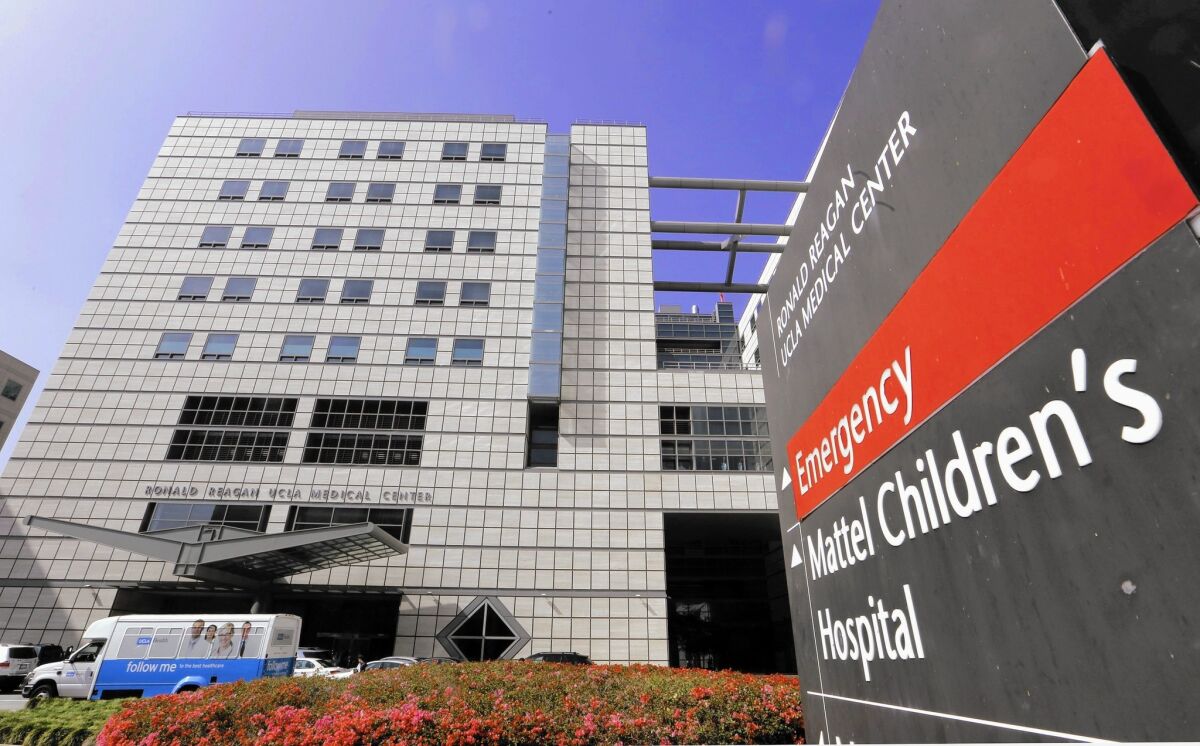 The Food and Drug Administration, already under fire for its response to superbug outbreaks at U.S. hospitals, has tried and failed twice to get medical scope manufacturers to prove their controversial devices can be cleaned of deadly bacteria.
The embattled agency said Monday that it didn't request the information until spring 2014 — despite earlier warnings about tainted scopes — and that it has given device makers three chances to validate their cleaning protocols.
Those new disclosures drew immediate criticism from a federal lawmaker and some consumer advocates.
All this comes after two patients died at UCLA's Ronald Reagan Medical Center from contaminated duodenoscopes during a procedure known as ERCP, or endoscopic retrograde cholangiopancreatography. Five more were infected by an antibiotic-resistant superbug and 179 others may have been exposed.
UCLA's was the latest in a string of similar scope-related outbreaks across the U.S. The FDA said it's aware of 135 possible patient infections from January 2013 to December 2014 linked to these scopes.
"I think it's unacceptable that FDA didn't ask for this data much earlier when it's clear they were aware of these outbreaks for years," Rep. Ted Lieu (D-Torrance) said. "If the FDA had acted earlier there would be fewer unnecessary deaths."
After the UCLA infections became public, Lieu called for a congressional investigation of the federal agency and the three main manufacturers of these devices. He said he plans to meet with FDA officials this week.
Agency officials have defended their response, saying it took time to investigate the source of the infections and what could be done to reduce the risks to patients.
Karen Riley, an FDA spokeswoman, said officials requested information from industry leader Olympus Corp. and two other companies in spring 2014 after a bacterial outbreak in Illinois.
She said that the agency deemed the first two submissions of testing data insufficient and that it's awaiting more details from Olympus, Pentax Medical and Fujifilm.
"All three companies have had insufficient validation data," Riley said. "We are still working with them for those improvements to testing methodologies and cleaning validation protocols."
The FDA and medical experts have warned that following manufacturers' cleaning instructions does not ensure that these scopes are free of bacteria, which can become trapped in tiny crevices near the tip of the devices.
Under a 1996 federal guidance, the companies were required to attest only to the effectiveness of cleaning these reusable instruments when they initially brought them to market.
Regulators also said Monday that Olympus never sought the necessary government approval for a redesigned duodenoscope it introduced in 2010.
The agency said it won't pull the device now while a belated application is under review because that could make instruments too scarce for the ERCP procedure.
"We view Olympus as having made a good-faith effort in complying with the rules," Riley said. "They manufacture a significant number of duodenoscopes so we were concerned that could lead to a potential shortage."
Lisa McGiffert, director of Consumers Union's Safe Patient Project, said the agency's handling of this crisis reflects an agency culture that's too secretive and too protective of industry.
"This is a real flawed system," McGiffert said. "It is outrageous that the FDA is giving them a third try to prove these devices can be cleaned properly and the public didn't know about it till today."
A spokeswoman for Fujifilm said the company is working closely with regulators and customers to protect patient safety.
"Fujifilm, along with other industry members, has been working in cooperation with the FDA to evaluate and respond to concerns regarding the possible association of certain reprocessed endoscopes … with disease transmission," company spokeswoman Diane Rainey said.
Representatives of Olympus and Pentax Medical couldn't be reached for comment Monday.
Riley said the FDA is also establishing an advisory committee to examine the problem of scope-related infections and make recommendations to regulators.
Two lawsuits were filed last week in Los Angeles County Superior Court against Olympus, accusing the company of negligence and fraud for selling a scope it knew was difficult to clean and prone to spreading deadly bacteria. The company hasn't responded to requests for comment about the litigation.
One lawsuit was filed by Aaron Young, an 18-year-old still hospitalized at UCLA for his infection with CRE, or carbapenem-resistant Enterobacteriaceae. It's highly resistant to antibiotics and can kill up to 50% of infected patients.
The family of Antonia Cerda also sued Olympus. The 48-year-old liver transplant patient died Nov. 8 at UCLA after becoming infected from a tainted Olympus duodenoscope, according to her suit.
Twitter: @chadterhune