Federal Reserve vice chairman to resign, opening another seat for Trump to fill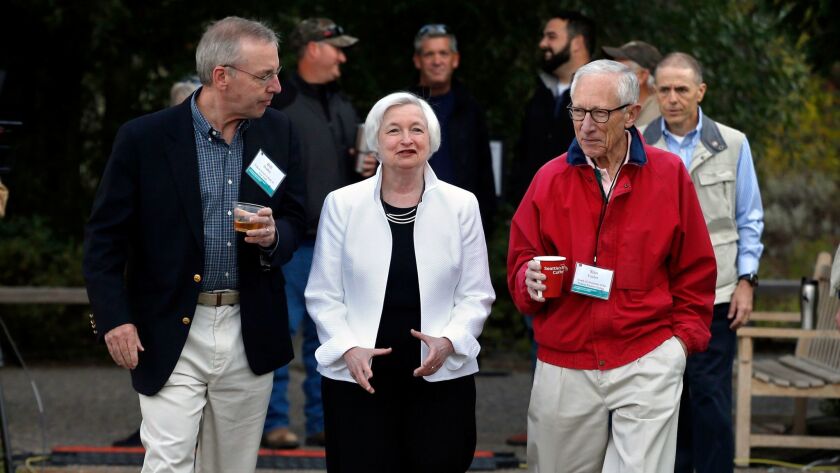 Reporting from Washington —
Federal Reserve Vice Chairman Stanley Fischer announced Wednesday that he will step down next month for personal reasons, opening another seat on the central bank's board for President Trump to fill.
Fischer, 73, is a well respected economist and former Citigroup official who headed Israel's central bank during the 2008 global financial crisis. He has been Fed Chairwoman Janet L. Yellen's right-hand man since taking office in 2014 after being nominated by President Obama.
Fischer's departure and three existing vacancies on the Fed's seven-member Board of Governors give Trump the opportunity to completely reshape the panel.
"It's the largest potential regime change in the leadership of the Fed since 1936," said Diane Swonk of DS Economics, who closely follows the central bank. "It introduces a whole new level of uncertainty."
Trump already has nominated investment fund manager Randal Quarles to fill one of the Fed's vacancies and is considering whether to nominate Yellen to another four-year term. Her term expires in February.
Trump has said Yellen and Gary Cohn, the former Goldman Sachs executive who is the top White House economic advisor, are the leading candidates for Fed chair.
But the Wall Street Journal, citing unnamed sources, reported Wednesday that Cohn is unlikely to be selected because of critical comments he made about Trump's response to the Charlottesville, Va., violence.
Cohn told the Financial Times in an interview last month that the Trump administration "can and must do better in consistently and unequivocally condemning" white supremacists, neo-Nazis and the Ku Klux Klan.
The central bank's monetary policy decisions will affect Trump's push to improve economic growth. The Fed plays a key role in regulating large financial firms. Trump and key congressional Republicans are pushing to loosen that regulatory oversight.
Fischer supported Yellen's efforts to slowly raise a key short-term interest rate as the economy has recovered from the Great Recession and to tighten financial regulations to try to prevent another crisis. New Fed officials selected by Trump could slow the pace of rate hikes so the cheaper money would provide more economic stimulus. And they could loosen financial regulations that, Republicans have complained, restrict business' and consumers' access to credit.
In a letter to Trump, Fischer said it "has been a great privilege to serve on the Federal Reserve Board and, most especially, to work alongside Chair Yellen as well as many other dedicated and talented men and women" at the central bank. He said his resignation would be effective "on or around Oct. 13."
"During my time on the Board, the economy has continued to strengthen, providing millions of additional jobs for working Americans," Fischer wrote. "Informed by the lessons of the recent financial crisis, we have built upon earlier steps to make the financial system stronger and more resilient and better able to provide the credit so vital to the prosperity of our country's households and businesses."
Yellen praised Fischer.
"Stan's keen insights, grounded in a lifetime of exemplary scholarship and public service, contributed invaluably to our monetary policy deliberations," she said in a statement. "We will miss his wise counsel, good humor, and dry wit."
Fischer's four-year term as vice chairman was set to expire in June. Although he could have remained on the board until 2020, Fed chairs and vice chairs usually leave altogether once their leadership term ends.
For that reason, experts speculated that Fischer would step down in June, particularly if Trump decided not to renominate Yellen. She likewise would be expected to step down if not reappointed, even though her board term doesn't end until 2024.
Fischer's resignation "presumably lowers the odds" of Yellen's renomination and could be the beginning of a shift to a more deregulatory stance at the Fed, Paul Ashworth, chief U.S. economist at Capital Economics, said in a research note.
But Swonk said the loss of Fischer could increase the odds of Trump keeping Yellen to avoid the disruption of more change.
"This is the most powerful policy-setting central bank in the world and … to leave it so understaffed creates a level of uncertainty about policy that is unnecessary," Swonk said. "It argues stronger for Yellen to stay on, if the administration could find themselves to do that."
The Senate Banking Committee is expected to approve Quarles' nomination on Thursday and he could be confirmed by the full Senate before Fischer departs.
Twitter: @JimPuzzanghera
ALSO
Richard Cordray could step down soon, leaving the Consumer Financial Protection Bureau in limbo
House approves $7.85 billion for Hurricane Harvey aid, with Senate passage expected by week's end
Trump administration picks former official at for-profit DeVry University to head student aid enforcement unit
---
UPDATES:
2:30 p.m.: This article was updated with a report from that Gary Cohn is unlikely to be nominated to be Fed chairman.
9:55 a.m.: This article was updated with comments from economists Diane Swonk and Paul Ashworth.
This article originally was published at 8:55 a.m.
---
For reporting and exclusive analysis from bureau chief John Myers, get our California Politics newsletter.
You may occasionally receive promotional content from the Los Angeles Times.