Five things to watch for as the Federal Reserve readies for a key interest rate increase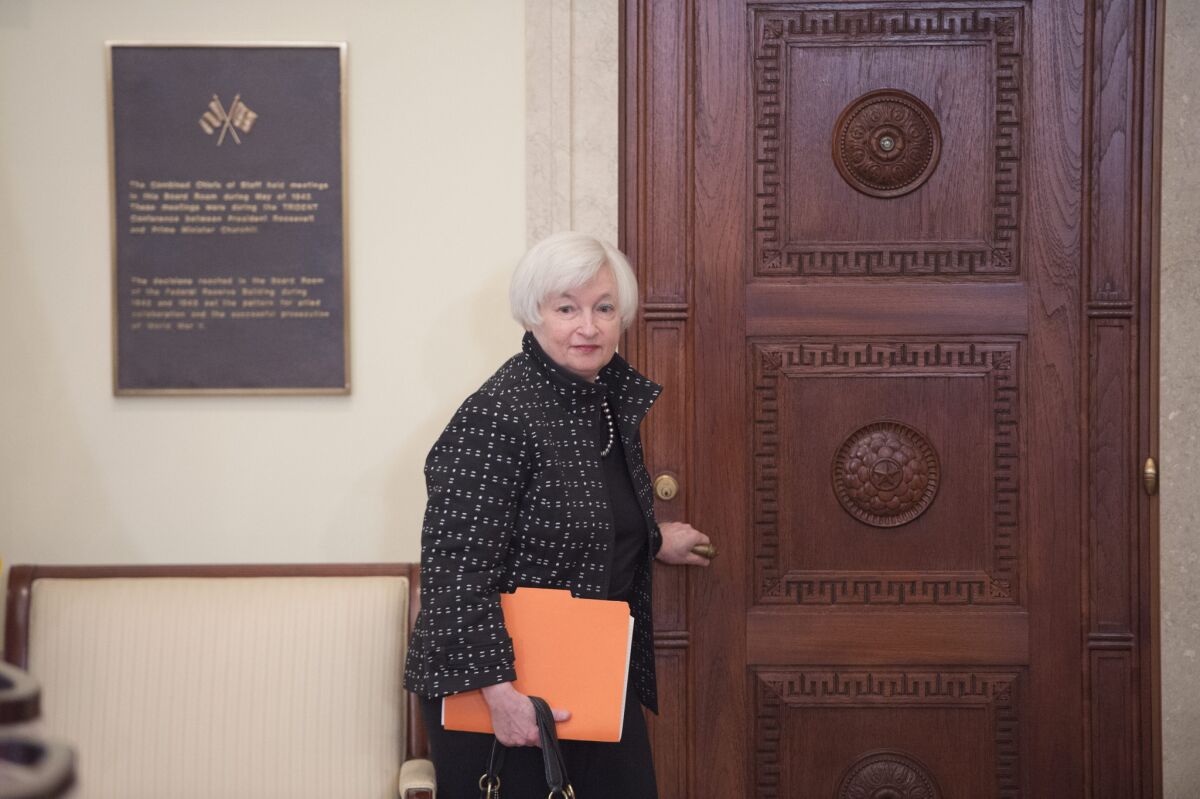 Reporting from Washington —
All systems appear to be go for the long-awaited liftoff of the Federal Reserve's benchmark short-term interest rate on Wednesday.
Now the question is: How fast and far will the rate-hike rocket travel?
The Fed is expected to gradually nudge up the rate — 0.25 percentage points at a time — from the near-zero level where it has been grounded for seven years.
SIGN UP for the free California Inc. business newsletter >>
"We have the same Fed funds rate today as we did during the depths of the recession and the financial crisis," said Greg McBride, chief financial economist at Bankrate.com, a financial information website.
"The economy is significantly healthier so we don't need the stimulus of 0% rates anymore, and the Fed is just going to tip-toe their way out of that," he said.
Fed policymakers will give some indications of where the so-called federal funds rate is headed in a short, written statement and new economic projections to be released at 11 a.m. Pacific time.
But the real job of setting expectations, particularly for financial markets, will fall to Fed Chairwoman Janet L. Yellen when she meets with reporters for an hourlong news conference at 11:30 a.m. Pacific time.
Here are five things to watch for as the Fed readies for the first rate increase in nearly a decade.
One small step for the economy ... and then what?
Yellen and other Fed officials have sent strong signals for weeks that they would raise the rate at this week's policymaking meeting, so most analysts and investors would be shocked if that doesn't happen.
And when analysts and investors are shocked, market turmoil usually follows.
So there's little doubt the Fed will inch the rate up Wednesday.
But what will the policy statement and Yellen say to set expectations for the next rate increase?
In the past, the Fed has raised the rate after nearly every one of its eight annual meetings, once it launched into a rate-hike cycle.
This time, however, the rate is starting from an unprecedented low. And the recovery has been stubbornly slow.
Policymakers don't want to move too quickly out of fear they will damage the economy, which still is struggling to produce the necessary wage and inflation growth.
"Rates will stay low for a long time," Yellen assured lawmakers during a hearing this month. Expect her to say something similar at her Wednesday news conference.
Fed officials probably will be as vague as possible about when they might act next so they can watch the economic data and gauge the effects of the increase.
They next meet in January, and that could be too soon for another rate hike.
Analysts are focusing on the meeting after that, in March, when Yellen will hold her next quarterly news conference and would be able to explain another rate nudge.
Connecting the dots
Along with the quarterly economic projections, Fed policymakers will release a chart known as the dot plot. Each of them places dots on a graph to illustrate where they anticipate the interest rate will be at the end of the next four years and in the longer run.
While those dots don't indicate exactly when the Fed will next raise the rate, they give a range for where it is headed.
In survey results released Tuesday by CNBC, experts on average said they expected to see three rate increases next year. That would put the rate at about 1% by the end of 2016.
A poll of economists released this week by the Financial Times showed similar results.
Yellen is almost certain to refer to it during her news conference. The chart will be available here at 11 a.m., under the projection materials for the December meeting.
Slipping on oil

Congress has given the Fed two mandates: Maximize employment and keep prices stable.
Rates will stay low for a long time.
— Federal Reserve Chairwoman Janet L.Yellen
While the job market has shown strong growth this year, price stability has been more difficult to achieve. The Fed wants inflation of 2% a year to help push wages up and keep businesses growing.
Inflation has been running well below that target, largely because of the steep decline in oil prices that began last year.
Consumer prices for the 12 months ended Nov. 30 increased just 0.5%. During that period, energy prices were down 14.7%, with gas prices falling 24.1%.
Taking out volatile energy and food prices, so-called core consumer prices increased 2% during that 12-month period.
Fed policymakers have said they expected the impact of lower energy costs on inflation to be temporary. But after oil prices increased this fall, they have begun declining again.
Low inflation can be a problem for the economy. And higher interest rates usually push inflation down.
The Fed policy statement could once again refer to "the transitory effects" of declines in energy prices on inflation.
And look for Yellen to address the oil issue at her news conference, where she could be pressed on how long those effects will last.
Who's on board?
Fed leaders look for consensus on major decisions to send a clear signal to the financial markets. Waiting until this month on a rate increase could help Yellen get that.
Some of the 10 voting members of the policymaking Federal Open Market Committee expressed concerns this fall that the economy wasn't strong enough to raise the rate.
They've been less concerned about the potential for rising inflation — particularly with it still running low — than with getting stronger wage growth in the jobs market.
But the jobs market has improved. The November report showed strong growth and continued wage gains, which should reduce potential opposition to a rate increase.
On the other side, Jeffrey Lacker, president of the Federal Reserve Bank of Richmond, Va., dissented on the September and October policy statements because he thought there should have been a rate hike.
Yellen said recently she appreciated the "range of views" on the committee and doesn't want to fall "into a pattern of group-think."
"I don't need unanimity. I think we have to tolerate some dissent," she said in a question-and-answer session at the Economic Club of Washington, D.C., this month.
"Nevertheless, I think for the FOMC to be successful and to communicate a coherent policy to the public, we do need a certain degree of consensus," Yellen said.
She promised to try to find common ground. The vote results will show how successful she was.
Market reaction
Financial markets should take news of a small rate bump in stride given the efforts of Fed officials to lay the groundwork in recent weeks.
Anticipation of a rate increase began in the spring and heated up before the September meeting. But one reason the Fed didn't act then was turmoil in financial markets in late summer triggered by China devaluing its currency.
Policymakers wanted to avoid further roiling the markets.
In that way, Yellen has approached an interest rate increase in the same cautious manner that her predecessor, Ben S. Bernanke, tackled the end of the Fed's bond-buying stimulus program two years ago.
The Fed's goal is for the markets to react to major policy decisions calmly. And Patrick Schaffer, a global investment specialist with J.P. Morgan Private Bank in Los Angeles, expects they will.
"We think markets will focus not on the interest rate hike ... but any indications the Fed gives on future interest rate hikes," he said.
Markets can churn during Yellen's news conferences as analysts parse every word. So she could stick to general descriptions of a gradual increase based on economic data rather than send any solid signals of the next rate hike.
Follow @JimPuzzanghera on Twitter
MORE: Get our best stories in your Facebook feed >>
ALSO
Deadline to sign up for health coverage extended as applicants flood Obamacare website
California regulators propose new rooftop solar fees
---
Sign up for the California Politics newsletter to get exclusive analysis from our reporters.
You may occasionally receive promotional content from the Los Angeles Times.