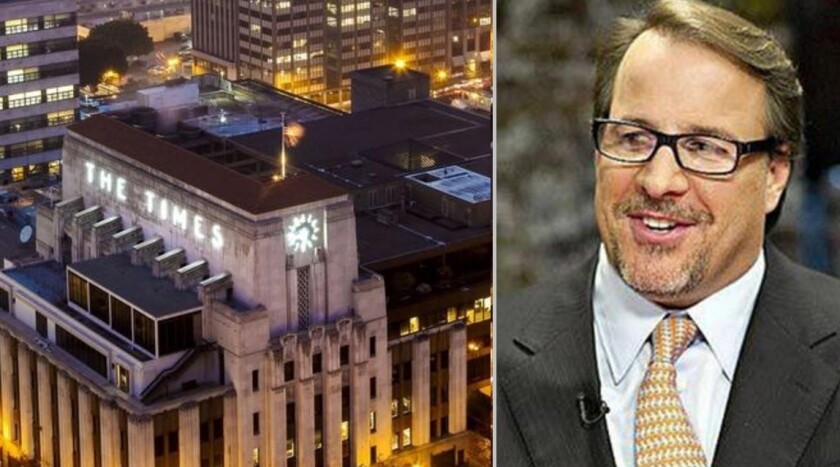 A Chicago entrepreneur who already owns one of that city's daily newspapers is now the largest shareholder in Los Angeles Times owner Tribune Publishing after making a $44.4-million investment — one that could bolster the company's planned bid for the Orange County Register.
Michael Ferro, through his firm Merrick Media, bought 5.22 million newly issued shares of Tribune Publishing stock, giving him a 16.6% stake in the company, which also owns the Baltimore Sun, the Chicago Tribune and several other daily newspapers.
The investment makes Ferro, who also owns the struggling Chicago Sun-Times, the largest Tribune shareholder. It more than doubles the amount of cash Tribune Publishing has available to expand its Southern California footprint by purchasing the Register and the Riverside Press-Enterprise from bankrupt Santa Ana publisher Freedom Communications.
One of Tribune Publishing's key growth strategies is to purchase more newspapers in its existing markets and combine operations to cut costs. Last year, it bought the San Diego Union-Tribune, and adding Freedom's newspapers to its portfolio would strengthen its position in the Southern California market.
An attorney for Tribune Publishing said this week that the company is in "advanced stages" of putting together an offer. Tribune Publishing Chief Executive Jack Griffin said that Ferro's investment "bolsters our ability to actively be in acquisition mode."
It's no coincidence that the Ferro deal comes less than two weeks before a deadline to submit initial bids to purchase Freedom, said media industry analyst Ken Doctor.
"They have a very clear deadline coming up and they didn't have the money," he said.
Tribune Publishing also said it is suspending dividend payments indefinitely, which will preserve cash by saving about $18 million a year but that contributed to a selloff of Tribune stock.
Shares fell by as much as 30 percent Thursday morning before rebounding by day's end to close down $1.02, or 11%, to $7.98.
Hamed Khorsand of Woodland Hills research firm BWS Financial, one of the few analysts who follow Tribune's flagging stock, said investors will not only lose dividend income but also see their Tribune Publishing holdings diluted by the Ferro deal.
"No part of this is friendly to investors," he said.
Still, Khorsand said Thursday's moves put the company in a better position to bid for the Register.
He said the company's balance sheet, with about $41 million in cash and $400 million in debt, already looked lopsided — and loans to buy Freedom would have indebted the company further. "Another bidder could have said Tribune doesn't have the balance sheet to support business in the long term," Khorsand said.
Ferro, 49, a Chicago tech entrepreneur and philanthropist, said on a conference call Thursday that he's putting his personal and business reputations on the line, and that he's committed to Tribune Publishing for the long term.
"I have no intention of ever selling my stake," he said.
As part of the deal, Ferro replaces Eddy Hartenstein, a former Times publisher, as non-executive chairman of the Tribune Publishing board, the company said Thursday. Hartenstein will retain a board seat.
Whether Ferro can help turn around the publishing company's fortunes remains to be seen.
In 2011, his company Wrapports bought the Chicago Sun-Times, a smaller rival of the Chicago Tribune that has continued to face difficulties under his ownership with declining circulation and cutbacks.
Facing the same challenges as newspapers around the country, the paper fired its photographers in 2013 as a cost-saving measure and has also scrapped local business news coverage in favor of content from USA Today. The Sun-Times' weekday print and online circulation in the final quarter of last year was 43% lower than in the same quarter in 2013.
Ferro on Thursday said the Sun-Times is "in a very healthy position."
In 2014, Wrapports sold 38 daily and weekly newspapers serving Chicago suburbs to Tribune Publishing for $23.5 million — a deal that Griffin said ultimately led to Ferro's investment in Tribune Publishing.
Ferro has given up operational duties at the Sun-Times.
Ferro has had success as an entrepreneur and investor. Before his foray into publishing, he founded Click Commerce, a business software developer he took public in 2000, then sold in 2006 for $292 million. His stake at the time of the sale was about $65 million.
His most notable recent payday came last year, when IBM acquired Merge Healthcare, a medical imaging technology company in which Ferro had invested in 2008, for $1 billion. Ferro and his private equity firm, Merrick Ventures, earned a reported $190 million.
A Chicagoan with little profile outside of that city, Ferro said Thursday that he was humbled to be sitting in Tribune's headquarters and excited to be associated with the Los Angeles Times, which he called the "crown jewel" of Tribune's holdings.
"This is both a large financial investment for me and a personal investment," Ferro said. "I couldn't even sleep last night."
His investment comes about six months after an expression of interest by Los Angeles billionaire Eli Broad in buying the Los Angeles Times and the San Diego Union-Tribune from Tribune Publishing. That overture wasn't pursued because company executives said they believe the California papers are a key part of Tribune Publishing's strategy.
Subsequently, Austin Beutner, a prominent Los Angeles businessman close to Broad, was dismissed after one year as publisher of The Times over differences with Griffin.
Shares in Tribune Publishing have lost about 69% of their value since they began trading publicly in mid-2014. Ferro bought in at $8.51 a share, a 5.5% discount to Tribune Publishing's closing price Wednesday, the day the deal closed.
Ferro displaces Los Angeles investment firm Oaktree Capital Management as Tribune Publishing's largest shareholder. Oaktree saw its 17.9% stake shrink to 14.9%, though the company last year filed documents that indicate it plans to slowly sell its Tribune shares.
james.koren@latimes.com
Times staff writer Michael Hiltzik contributed to this report.
---